PDRA Pro Extreme veteran Frankie "Mad Man" Taylor has made it known that he will race against just about anything and anyone. He's lined up against and beaten Scott Palmer's Top Fuel dragster, Howard Farris' Fuel Altered, and most recently, Keith Haney's Pro Nitrous Camaro. At the end of Friday night's Pro Extreme qualifying session at PDRA Dragstock XIII, defending NHRA Top Alcohol Funny Car world champion Jonnie Lindberg joined the list of drivers who Taylor has defeated in grudge race competition.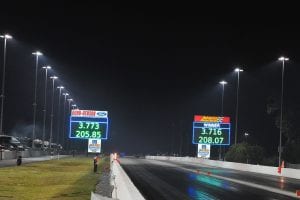 The Taylor vs. Lindberg grudge race was the marquee matchup out of several grudge races set to run during Friday's final qualifying session at GALOT Motorsports Park. Lindberg's clutch-equipped alcohol Funny Car lined up in the left lane alongside Taylor's new Larry Jeffers-built '69 Camaro owned by Jay Diedrich. The Swedish driver brought up the rpms on his flip-top Camaro while Taylor's door car bumped in at an idle. Lindberg snagged the starting line advantage but lost the lead by the time he reached the eighth-mile mark. Taylor won with a 3.716 at 208.07 over Lindberg's 3.773 at 205.85.
"I asked him, 'How'd the back of my car look?' But I really wasn't that far out ahead of him because I had to pedal it. I was trying to run a 3.55. We both tried to run 215 or 216 mph," Taylor explained.
Lindberg, who used the race as a test session for the NHRA Carolina Nationals in Charlotte next weekend, encountered traction issues of his own.
"It was good that he had problems too, because I was trying to run a 3.58 or 3.59. I had friends in the grandstands and they said we both pulled wheelstands and pedaled at the same time. It was a close race. We just got a little overexcited I guess," Lindberg admitted.
While Lindberg couldn't set a specific race for a potential rematch, he did say that the PDRA world hasn't seen the last of his screw-blown Funny Car. He'll also be back to tune for the Pro Extreme team of the Swedish Lindahl twins.
"I love it out here. It's fun to hang out at the PDRA races. I'm so busy with my NHRA schedule this year, so I won't be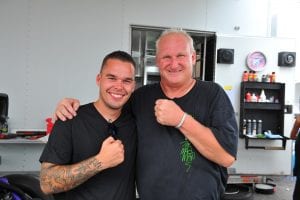 able to bring my car out to one of these races again until next year. I might be in Virginia tuning for the twins. We'll see what happens."
Always looking for his next race, Taylor called out some of Lindberg's competitors from the NHRA side of the sport.
"Maybe we can get some other alcohol Funny Car drivers out here like Jay Payne or Annie Whiteley. Jonnie's not that hard to beat; I don't know why Annie couldn't beat him," Taylor laughed alongside Lindberg, who defeated Whiteley in the Top Alcohol Funny Car final at the NHRA U.S. Nationals last weekend.