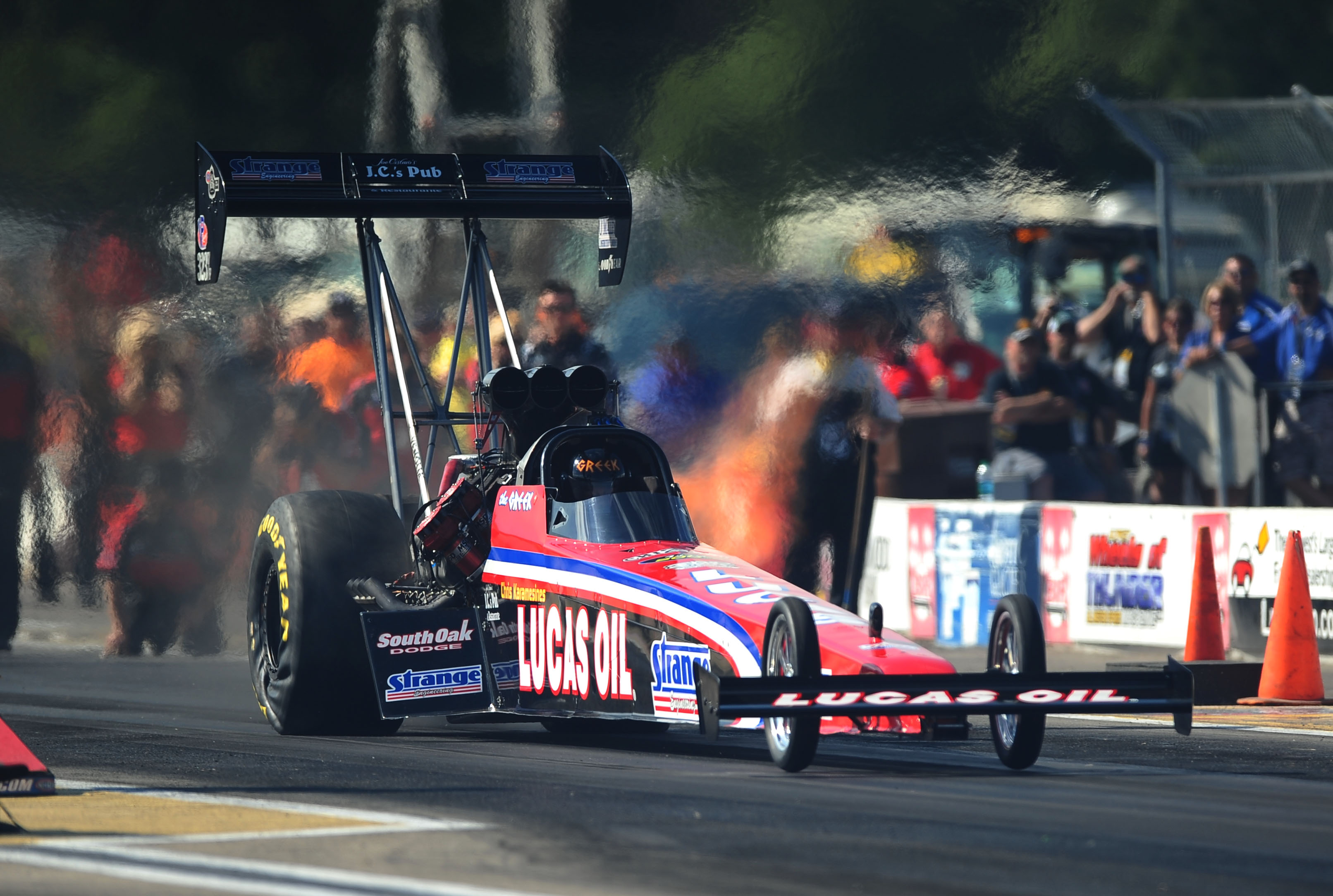 Morgan Lucas will carry a different mind-set into this weekend's NHRA Gatornationals at Auto-Plus Raceway at Gainesville when he returns to drag racing behind the wheel of the Lucas Oil/GEICO Top Fuel dragster.
The nine-time national-event winner stepped away from full-time racing in 2014 to tend to his growing family and the family business, but Lucas, 30, is first and foremost a drag racing fan, and he'll race six or seven times this season to fulfill his passion.
"It's been a change of pace for me not racing in Pomona and not even going to Phoenix," Lucas said. "As excited as I am to get in the car, I'm going to appreciate driving it from a different angle: From the part of me that just loves drag racing and loves to compete.
"We want to be respectable, we want to go down the race track, and obviously we want to win, but being that we haven't tested, we're going down there very open-minded and very enthusiastic. The group we've put together to work on this thing are totally in love with this sport, and that makes a big difference."
Lucas will be part of the "tuning committee" that also includes Jeff Edwards and Jack Wyatt as the team hopes to have a little fun while going fast.
"For the fans, it's going to be an entertaining deal behind the ropes inside that trailer," Lucas said. "Hopefully, people outside can see the joy we're going to have doing this."
Aaron Brooks, crew chief for Morgan Lucas Racing teammate Richie Crampton, will provide the base tune-up before Lucas' tuning committee takes over to make the calls.
Lucas will drive the car he raced to victory last year in Charlotte, the first of the new cars built in the MLR shop.
"We're going to get some starting points from Aaron and try to keep the two cars as close as we can," Lucas said. "That's something we've worked really hard to do, to try to keep the two cars matched up as much as possible. We want to be able to take a part off one car and put it right on the other one, if that's what we had to do."
Lucas hopes to support Crampton and his efforts in the GEICO/Lucas Oil dragster, but he also wants to do well himself.
"We want the GEICO car to thrive," Lucas said. "We want to help that and not hinder it. Most people will be skeptical on what the outcome is going to be, and that's great. Being the underdog is a fun position to be in because we have a chance to go out there and turn some heads."
MLR will not race a second car full time in 2014, but Lucas Oil co-founder Forrest Lucas has supported his son in his racing endeavors this season.
"My dad has been very supportive, and the people at GEICO have really been behind us," Lucas said. "When you look at the car, it's almost like the other car, just with logos inverted, but it's a sponsor-appreciation car. It's only six or seven races, but the intention is to honor the sponsors who have gotten us where we're at and to say thank you."
Qualifying sessions at the NHRA Gatornationals will be held at noon and 2:15 p.m. on Friday and Saturday. Eliminations kick off at 11 a.m., Sunday. ESPN2 will air the qualifying show at 1 a.m. EDT on Sunday and the eliminations show at 7 p.m.
(Photos courtesy MLR; Click to enlarge)