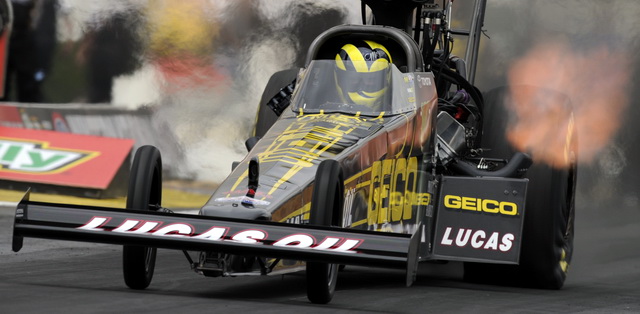 Brainerd International Raceway has become a second home to Morgan Lucas and he's hoping that the familiarity of the Lucas Oil NHRA Nationals will be lucky for him and his GEICO/Lucas Oil Top Fuel dragster team.
"Brainerd is one of my favorite stops on the circuit," Lucas said. "It's an easy spot to enjoy yourself and have fun. The fans are dedicated to having fun. Plus, we've had success there in 2004 and 2009 when we won the race.
"With the way the weather forecast looks, this is going to be a good weekend for our car. It seems to like the cooler weather and it makes a lot of power to run in the cooler conditions. If we do our jobs right, there's no reason why we can't end the day with the trophy in our hands."
Lucas is in line to clinch a spot in the Countdown to the Championship this weekend if he wins a single round or Clay Millican and Bob Vandergriff both lose in Round 1 on Sunday.
"To clinch this weekend takes a lot of pressure off the next race," Lucas said. "It will keep everyone on the team from getting too spun out during the week before Indy. Once we know we're locked in and the pressure is off, we'll start running better.
"If we can do that in Brainerd we can mark that accomplishment off our list and set off to start working on the other goals we have for ourselves this year."
The entire Lucas family has adopted the Brainerd race as their own and sponsoring the event has been beneficial on several fronts.
"My dad (Lucas Oil co-founder Forrest Lucas) doesn't get a lot of opportunity to go to the races and just relax and enjoy his surroundings," Morgan said. "Brainerd has always been one of the places he's been able to have fun and be one of the guys. On top of that, it's a big market for the family business.
"Those two things together are a big win for everybody. We talk about going to Brainerd all year long."
Qualifying for the Lucas Oil Nationals gets under way at 2 p.m. CDT on Friday from Brainerd International Raceway. Qualifying continues at 11:30 a.m. on Saturday with eliminations starting at 11 a.m. Sunday. The qualifying show will air at 11 a.m. EDT on Saturday on ESPN2 and the eliminations show airs starting at 9 p.m. on Sunday.
(Photos courtesy NHRA/National Dragster)