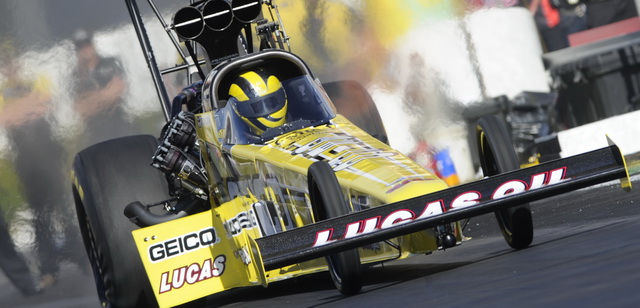 One of the biggest requirements for those who compete in the world of NHRA Top Fuel racing is patience. The competition is so close, that it can be easy for a team to become frustrated when the results aren't immediately matching their expectations.
For defending O'Reilly Auto Parts NHRA SpringNationals presented by Super Start Batteries Top Fuel winner Morgan Lucas, the early part of the 2013 season has been an exercise in patience.
His GEICO/Lucas Oil Top Fuel dragster has shown a ton of promise and has been producing great performances, but he has yet to add to his career win total. In sharp contrast to last season where Lucas opened the season with a pair of dominating victories, this year he is still waiting to grab that first Wally of the year.
Lucas hopes all of his team's hard work will pay off this weekend at Royal Purple Raceway and he can become a back-to-back winner at an NHRA Mello Yello Drag Racing Series event for the first time.  Mike Neff (Funny Car), Vincent Nobile (Pro Stock) and Andrew Hines (Pro Stock Motorcycle) join Lucas as defending winners of the event that will be televised on ESPN2 HD, with live coverage of Saturday qualifying and Sunday's semifinals and final rounds.
Lucas enjoys racing at the ultra-quick dragstrip that sits only 10 feet above sea level just east of downtown Houston.
"Going to Houston is exciting when you're the reigning champion there," Lucas said. "It can be a really fast race track. It was surprisingly good there last year when it was hot out, so the track is capable of so much. We want to go down there and make sure we have our game together to be able to try to repeat what we did in the past.
"We know we have the right parts and pieces and people. It's pretty much the same group as last year. Right now, our focus needs to turn into being consistent going into this race. It'd be nice to win the same race back to back because we've never done that before, and that would be one of those cool things to check off the list."
This season Lucas has posted a runner-up finish at Phoenix and a semifinal effort at the recent NHRA Four-Wide event in Charlotte, N.C. He is currently fifth in the points standings. He feels like his team is right on the verge of moving on up in the series standings.
"We're learning a lot every time we go to the track," Lucas said. "Some weekends don't pan out to be how we like them to be, but the resiliency of the team is getting better and stronger and going the right direction. Sometimes when we have those bad races, we might be able to get up, dust ourselves off and go to the next one and win.
"That's what we're trying to build here, the thought that we can win any race at any time, so when we go into a long stretch of events, we don't need to get ourselves into a mental rut and mess ourselves up.  Big picture, it's consistency, working hard and being able to keep persevering whenever we need to."
Which goes back to the patience motto. With seven-time world champ Tony Schumacher, defending world champ Antron Brown, recent Four-Wide winner Spencer Massey, Al-Anabi Racing's Shawn Langdon, veteran Doug Kalitta and a host of other extremely talented drivers in the category the competition has never been better, Lucas says.
"Everybody's driving at the top of their game, and the cars are all running so close together," Lucas said. "Three years ago, if this many cars were running within a tenth of each other, it would've been a shock. And now, everybody's within five-hundredths of each other. It just goes to show the quality of the class has gotten better.
"As a whole, everybody has to be on their game and everybody's been forced to step up and compete with the demanding changes that are involved."
(Photos courtesy NHRA/National Dragster; Click to enlarge)