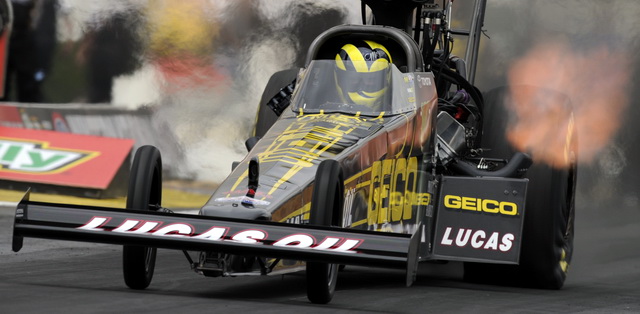 Morgan Lucas will climb out of the cockpit of the GEICO/Lucas Oil Top Fuel dragster in 2014 to devote more time to the family business, Lucas Oil Products.
In his place, Lucas has promoted longtime crewman Richie Crampton, who recently earned his Top Fuel competition license during a test session at Lucas Oil Raceway in Indianapolis.
"I have been blessed to make a career out of driving a Top Fuel dragster thanks to amazing partners like GEICO and Lucas Oil," Lucas said. "I'll still own the team and be very involved with the day-to-day operations; I just won't be attending as many events. For sure, I'll miss all of the great fans who make our sport what it is today and the intense competition on the track.
"The future looks bright. Richie has shown a lot of talent in every role he's played for us, and I have the utmost confidence he will do an outstanding job driving the car in the coming seasons. The team chemistry is there and so is the talent. We need to keep it all together so Aaron (Brooks, crew chief) and the guys can continue to compete for championships."
Crampton, a 33-year-old from Adelaide, South Australia, has been with Morgan Lucas Racing since its inception in 2007. As a young man in Australia, he raced go-karts before moving to drag racing at the age of 16. His first foray into Top Fuel racing came as a crewman with Cowin Racing, which competed in both the U.S. and Australia. Crampton also has worked with Don Schumacher Racing and once served as a driving instructor for Bill Blomgren's Drag Racing School. He is licensed to compete in Super Comp, Top Alcohol Dragster, and Top Fuel.
"This is certainly a dream come true," Crampton said. "In this day and age, it's not very often you have crew guys getting a chance to move up and drive the car. I'm honored that Morgan and Aaron think enough of me to give me this chance. I'm blown away that I'll have GEICO, Lucas Oil, and Toyota on my side. As I said, this is something I've been dreaming about since I was a boy, and now it's happening.
"I feel like a sponge soaking in all the things that are coming at me so fast. I'm sure we'll be on a bit of a learning curve, but I hope to catch up quickly and put us in a position to win rounds, win races, and be a part of next year's Countdown to the Championship."
The team will continue to promote GEICO as its title sponsor in 2014, making Crampton one of the top spokesperson for the insurance giant. They also will banner Lucas Oil, one of the largest growing brands in his native Australia, and Toyota, which sells cars and trucks on a global basis.
"First of all, we thank Morgan for his years of exceptional work promoting GEICO," said Vince Giampietro, Senior Manager, Experiential Marketing and Brand Promotion, GEICO. "We completely understand his decision to be further involved with the business side of Lucas Oil, and I think it speaks volumes about this young man that he is willing to get out of the car and apply 100 percent of his focus to the family business. We know how hard a decision this was for him.
"At the same time, we are excited to see how Richie does in the race car. By all indications, he did a great job in testing and Aaron was very impressed with his ability. We not only expect Richie to run for Rookie of the Year in 2014 but the championship as well. This team has proven again and again that they are fully capable of contending for the Mello Yello Top Fuel title. Plus, Richie has the right accent to promote GEICO, so it should be a very easy transition."
Lucas, who will become a father for the first time in early December, plans to run a handful of races in 2014 in a separate Lucas Oil/GEICO-branded dragster to honor the two main companies that have supported him in his career. The team is now producing its own chassis from its shop in Brownsburg.