With several hours of rain in the forecast for Saturday afternoon, Professional Drag Racers Association (PDRA) officials moved the first round of eliminations up to Friday night at the Mid-Atlantic Showdown presented by Classic Graphix at Virginia Motorsports Park. The low qualifiers in several classes continued their success with first-round wins.
After three qualifying sessions – one on Thursday night and two on Friday – the No. 1 qualifiers were Jim Halsey in Switzer Dynamics Pro Nitrous, Travis Harvey in WS Construction Pro Boost presented by P2 Contracting and Ty-Drive, Johnny Pluchino in Liberty's Gears Extreme Pro Stock presented by AED Competition, Amber Franklin in M&M Transmission Pro 632, Chris Garner-Jones in Drag 965 Pro Nitrous Motorcycle, Tim Essick in Menscer Motorsports Pro Street presented by Afco, and Blake Denton in Afco Super Street presented by Menscer Motorsports. All seven drivers won their first-round matchups.
In the sportsman classes, the low qualifiers were Buddy Perkinson in MagnaFuel Elite Top Sportsman presented by PAR Racing Engines, Victor Puglia in Laris Motorsports Insurance Elite Top Dragster, Barry Daniluk in MagnaFuel Top Sportsman presented by Corbin's RV, and Frank Falter IV in Laris Motorsports Insurance Top Dragster.
The low qualifiers in the Jr. Dragster classes were LJ Lewis in Coolshirt Systems Pro Jr. Dragster presented by PRP and Donald Bean V in Classic Graphix Top Jr. Dragster presented by PRP. Three drivers in Pro Jr. Dragster ran right on the 7.900 index, but it was LJ Lewis claiming the No. 1 spot over Danika Miles and Ava Meloni. The top of the qualifying order in Top Jr. Dragster was also stacked, with Bean taking the No. 1 spot with his .000 reaction time over Jason Geryes, who also had a perfect light.
Top Sportsman and Top Dragster completed the first round of eliminations, while Elite Top Sportsman, Elite Top Dragster, the Jr. Dragster classes, and Edelbrock Bracket Bash presented by COMP Cams will begin eliminations on Saturday.
PRO BOOST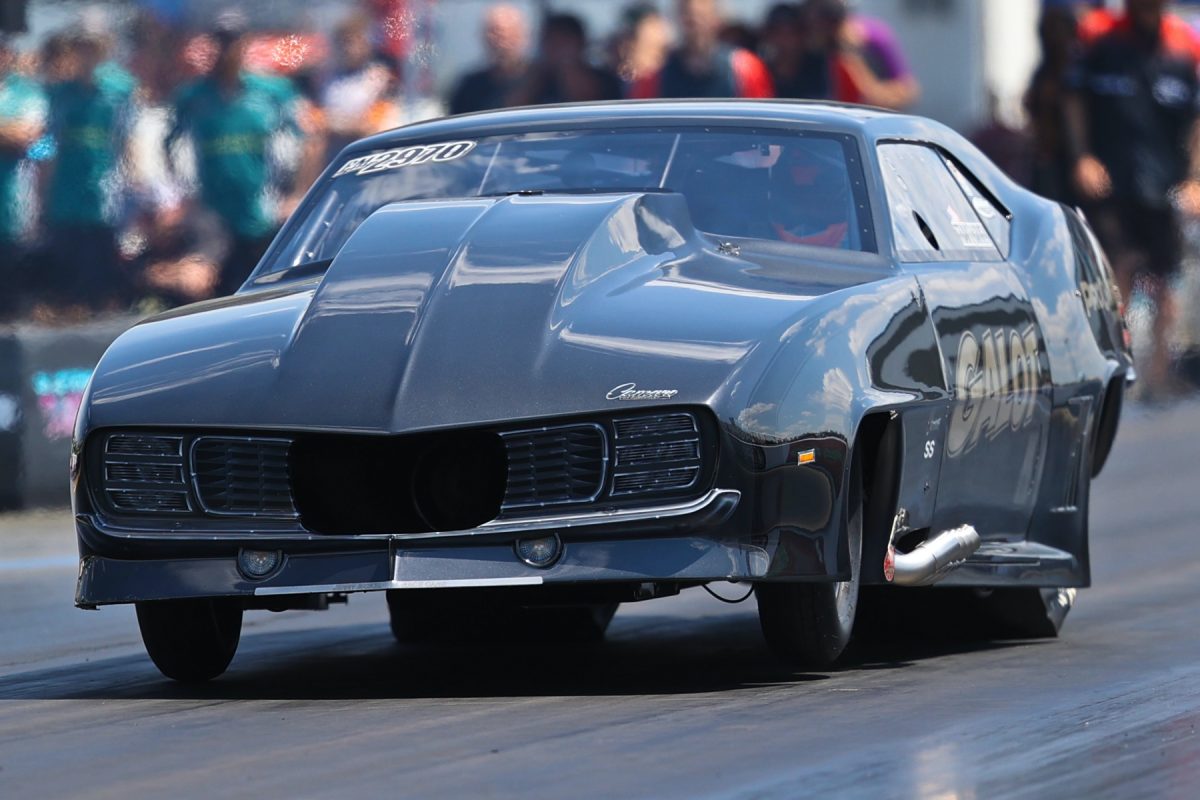 In just his second Pro Boost race driving the ProCharged GALOT Motorsports '69 Camaro, Travis "The Carolina Kid" Harvey earned his first No. 1 qualifier after missing it by just thousandths of a second at the season opener. He then recorded the second-quickest pass of the first round of eliminations, a 3.617, to move past James Beadling and earn lane choice over Scott Lang in the second round.
"We've had a great car all year," said Harvey, who thanked GALOT Motorsports, Pro Line Racing, and Vaughn Miles. "It's just been phenomenal, from the World Series [of Pro Mod] to GALOT to here. Steve [Petty, tuner] is just doing a hell of a job. We're taking it one step at a time, seeing what the racetrack can hold. He detuned it a little bit just to get through first round. We're going to go back to the normal setup that we ran yesterday, and we should be good."
All but one of the other first-round winners also ran quicker than 3.65, so Harvey realizes he'll have his work cut out for him when eliminations continue.
"Anybody can win," said Harvey, who also competed in Pro Nitrous but was eliminated in the first round. "Whoever has the best reaction time, I think that's what's going to determine the win light."
Spencer Hyde, who won the Drag Illustrated World Series of Pro Mod in March, earned the Boost Wars engine builder challenge win for Team Noonan in his screw-blown "Jack & The Green Stock" '69 Camaro. In the third qualifying session, Hyde ran a 3.685 at 205.54 to defeat a red-lighting Kurt Steding, who lifted to a 5.446 in his Wyo Motorsports-powered P2 Contracting Camaro.
First-round results: Travis Harvey 3.617 def. James Beadling (DQ-red light), Scott Lang 3.634 def. Kurt Steding 3.657, William Brown III 3.714 def. Dustin Nesloney (DQ-red light), Ken Quartuccio 3.623 def. Spencer Hyde 3.666, Johnny Camp 3.613 def. Derek Ward 3.672, Melanie Salemi 3.643 def. Randy Weatherford (DQ-red light), Jason Harris 3.624 def. Rob Cox 5.543, Joe Albrecht 5.475 def. Chuck Ulsch (DQ-red light).
PRO NITROUS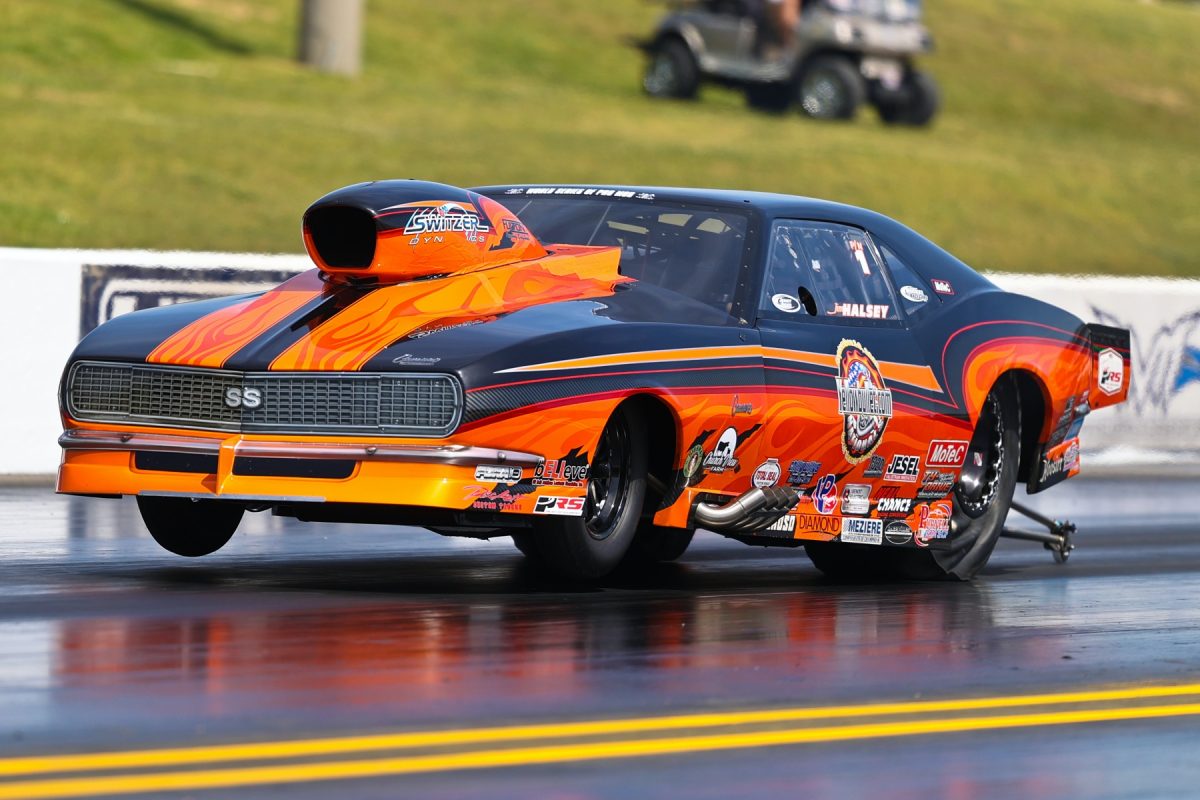 Four-time and reigning Pro Nitrous world champion Jim Halsey had a busy Friday, as his two rounds of qualifying also counted as eliminations rounds in the Structural Concrete Nitrous Wars engine builder challenge. The current points leader won Nitrous Wars, maintained his No. 1 qualifying position, and won first round of eliminations in his Brandon Switzer-tuned "Daddy Shark" '68 Camaro. He ran a 3.665-second pass at 206.01 MPH to beat Blake Housley and his 5.353 at 89.94.
"It's kind of a little different because you get up for the engine builder deal – both rounds – then you get up for first round, then you have to go to bed tonight and think about it," Halsey said of Friday's compacted schedule. "Then you have to wake up and get jacked up again [Saturday]. It's different, but it's exciting."
Representing Fulton Competition Engines, Halsey won race two of the Structural Concrete Nitrous Wars engine builder challenge. Racing against Jay Cox and his Musi-powered "Pumpkin" '69 Camaro in the final round, Halsey recorded a 3.682 at 206.23 to beat Cox's 3.684 at 206.23 by just .005 seconds.
"Gene Fulton's been in the game for a long time," said Halsey, who will face Mike Achenbach in the second round. "He deserves a lot of credit for what he's done over the years. If we can keep carrying the torch for him, then that's what we're going to do."
First-round results: Jim Halsey 3.665 def. Blake Housley 5.353, Mike Achenbach 5.571 def. Chris Rini (DQ-red light), Jay Cox 4.333 def. Billy Albert 4.551, Dane Wood 3.742 def. Travis Harvey 5.475, Fredy Scriba 3.659 def. George Williams (alternate), Ed Burnley 4.059 def. Brian Shrader 5.811, Rickie Smith 3.684 def. Cam Clark 3.725, Tommy Franklin 3.672 def. Jackie Slone 3.740.
EXTREME PRO STOCK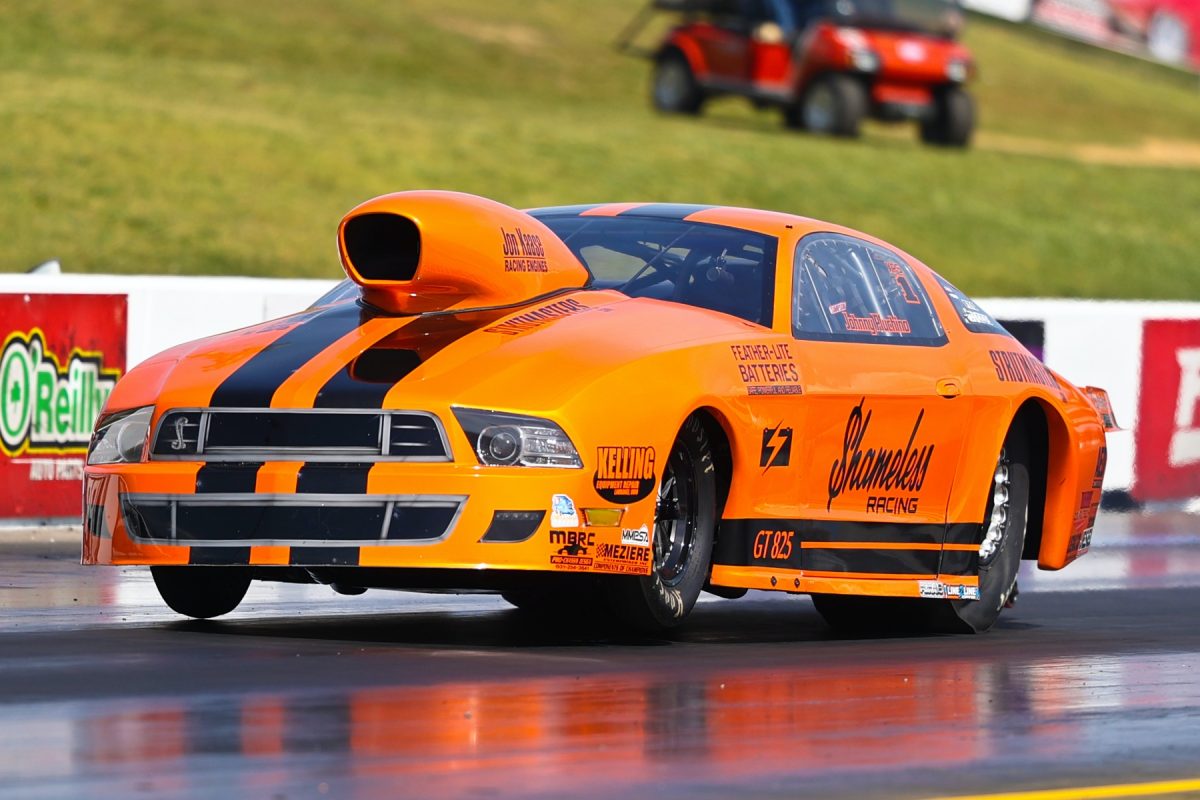 Reigning Extreme Pro Stock world champion Johnny Pluchino didn't have the start to the 2023 season that he was looking for, but after making changes to his Kaase-powered $hameless Racing/Strutmasters '13 Mustang, he's feeling good about his chances at Virginia. The second-generation champion qualified No. 1 before using a 4.045 to knock out class newcomer Jordan Ensslin and his 5.363 in the opening round. Pluchino will have a bye run in the next round.
"We've gotta keep adjusting for these conditions," said Pluchino, who thanked his team and partners like Featherlite Batteries, $hameless Racing, Kelling Equipment Repair, Strutmasters, Ram Clutches, AED Carburetors, and Kaase Racing Engines. "The conditions are going to be ever-changing. Whenever we get this [race] in, whether we get this thing in Saturday or Sunday, the conditions change each day. We have to get our tuner caps on and do the right thing. As a driver, I've gotta stay on my game. Gotta stay consistent and gotta do my job. I have total confidence in my guys, my car, and everyone who puts the pieces into it. I feel great. Everybody else should be concerned. We're ready for battle."
In the new Horsepower Wars engine builder challenge, Elijah Morton and Team Allen scored the win. Pluchino, representing Team Kaase, didn't make the run, while Morton laid down a 4.07 at 177.72 in his Morton Brothers Motorsports '18 Mustang for the win.
First-round results: Johnny Pluchino 4.045 def. Jordan Ensslin 5.363, John Montecalvo 4.060 def. Dwayne Rice 5.929, Chris Powers 4.068 def. Jeremy Huffman 4.134, Elijah Morton 4.083 def. Daryl Stewart 4.086, Dillon Voss 4.207 def. Dave Hughes 5.561, Robert Patrick 4.191 def. Matt Giangrande 4.368, Alan Drinkwater 4.095 def. Steven Boone 4.253.
PRO 632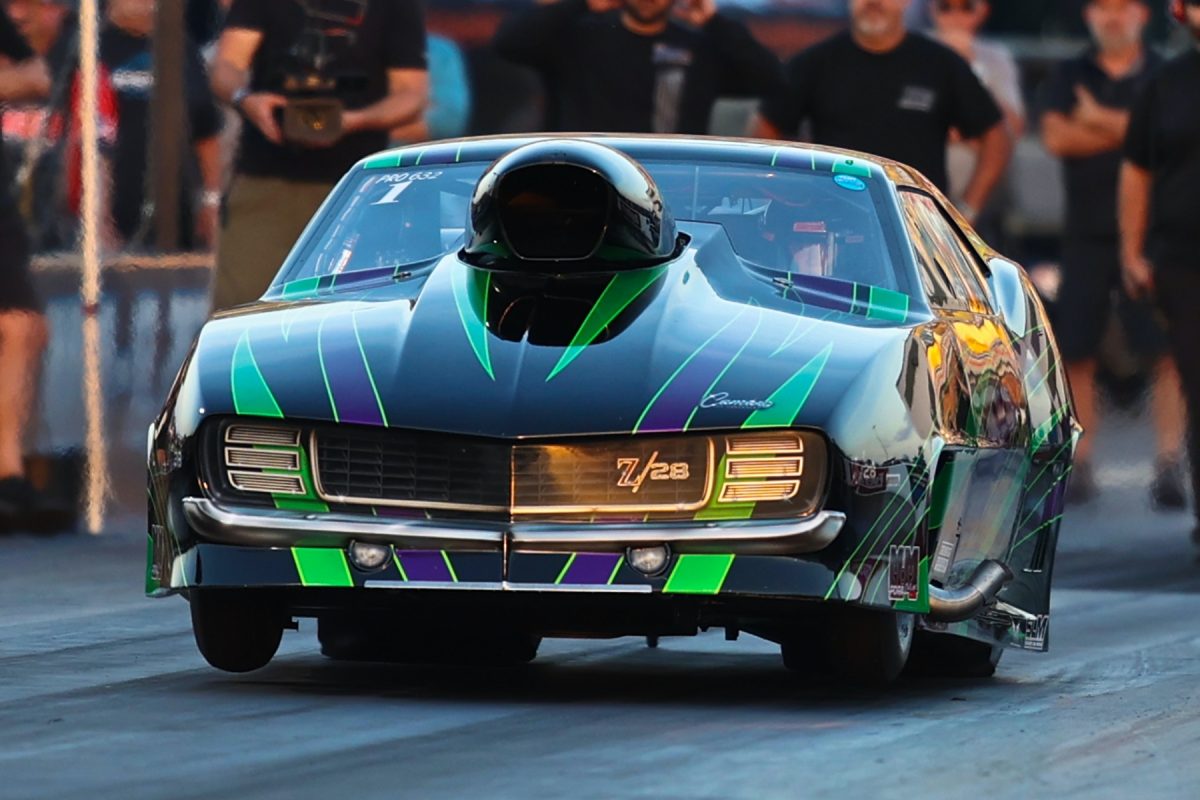 For the second consecutive race, reigning Pro 632 world champion Amber Franklin's Musi-powered "OG Jungle Rat" '69 Camaro was the quickest car in qualifying. The past Pro Jr. Dragster world champion carried that performance level over into eliminations as well. She laid down a 4.131 in the first round, beating Mike Murphy's 4.202 and setting low E.T. of the event. Franklin will have lane choice over Walter Lannigan Jr. in the second round.
First-round results: Amber Franklin 4.131 def. Mike Murphy 4.202, Walter Lannigan Jr. 4.230 def. Lexi Tanner 9.950, Don Nicholl 4.146 def. Patrick Patterson (DQ-red light), Jason Ventura 4.236 def. Brandon Miller 6.735, Alan Drinkwater 4.420 def. JC Beattie Jr. 4.656, Jeff Melnick 4.152 def. Gary Hood 4.371.
PRO STREET
Fresh off a Pro Street win at the season opener, two-time and defending world champion Tim Essick is on his A-game yet again. He qualified No. 1 with a 3.983 in his ProCharger-boosted "Brown Sugar" '18 Mustang, then set low E.T. of the first round with his 3.991 on a bye run. He'll pick his lane over second-round opponent Carmen Damiani.
First-round results: Tim Essick 3.991 (bye), Carmen Damiani 4.332 def. Jesse Lambert 4.748, Nick Agostino 4.062 def. Bill Devine 4.247, Joel Wensley Jr. 4.289 def. Joseph Thomas (DQ-red light), Bill Riddle 4.014 def. Chris Tuten 4.356, Bill Lutz 4.105 def. Ty Kasper 4.148, Jerry Morgano 4.133 def. Ron Green 5.582.
PRO NITROUS MOTORCYCLE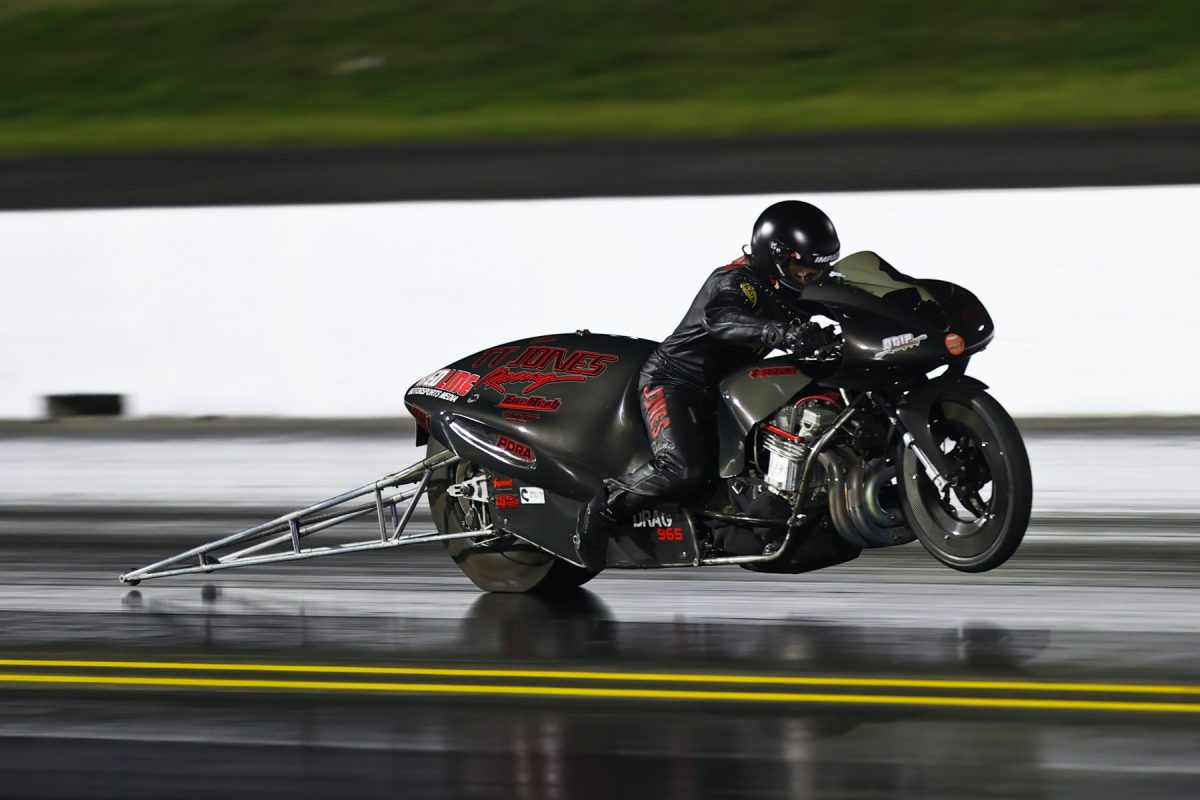 Past Pro Nitrous Motorcycle world champion Chris Garner-Jones is seeking some early-season success at the Mid-Atlantic Showdown as he pursues a second title aboard his TT Jones Racing Hayabusa. The Alabama-based rider qualified No. 1 with a 3.978, then stepped up to a 3.952 on a first-round bye. He'll have lane choice in the next round when he lines up against rookie Brayden Davis, who won the season opener in his debut.
First-round results: Chris Garner-Jones 3.952 (bye), Brayden Davis 3.963 def. Mohammed Alawad 5.009, Meshal Al-Saber 3.985 def. Gerald Smith (no time).
SUPER STREET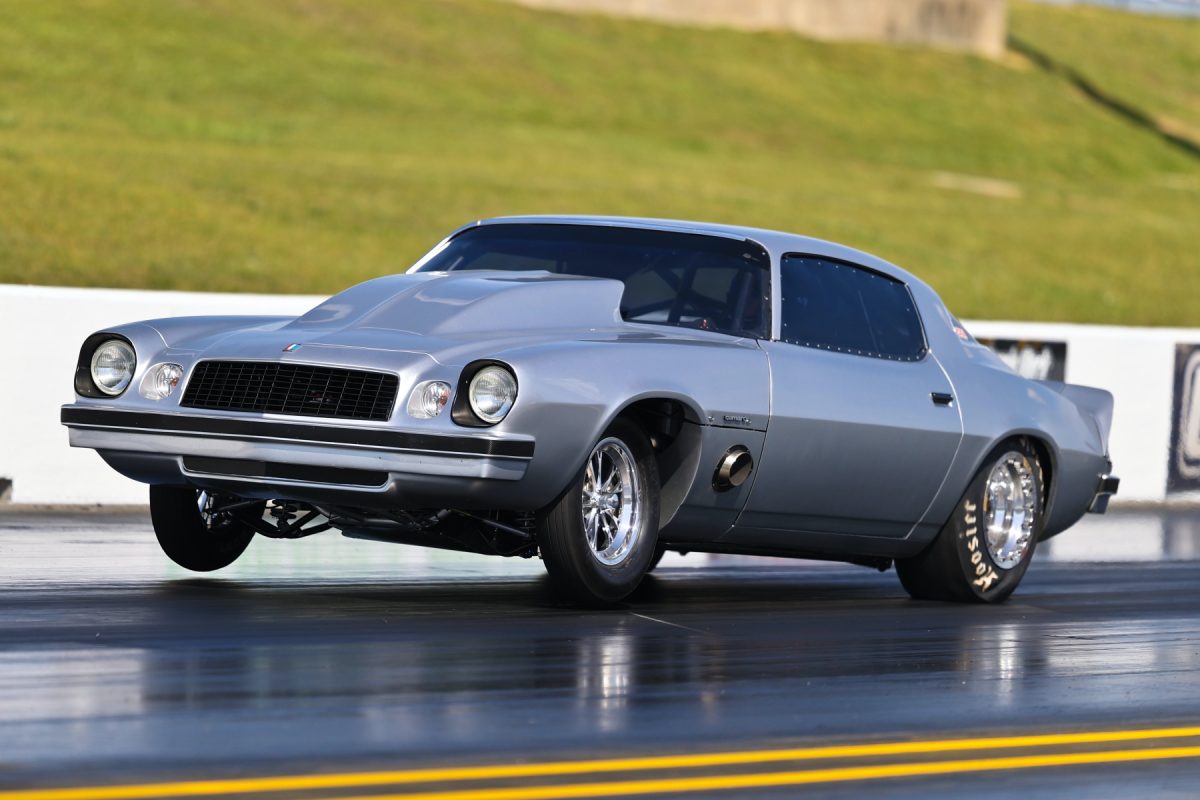 Virginia's own Blake Denton jumped to the top of the Super Street qualifying order in the final session when he laid down a 4.729 at 156.05 in his Musi-powered '76 Camaro. He repeated with a 4.721 at 156.50 on his first-round bye run to earn lane choice over past event winner Dan Whetstine in the second round.
First-round results: Blake Denton 4.721 (bye), Dan Whetstine 4.824 def. Connor McGee 6.655, Wes Ervin 6.260 def. CJ Cave (no time), Derek Mota 4.731 def. JC Beattie 5.056, Paul Curry 4.753 def. Don Barnett 7.144, Matt Schalow 4.904 def. Brad Cox 5.080.
SPORTSMAN
For complete first-round results from Top Sportsman 48 and Top Dragster 48, click here or visit www.PDRA660.com.
Elite Top Sportsman, Elite Top Dragster, Bracket Bash, Pro Jr. Dragster, and Top Jr. Dragster will start eliminations Saturday.
The Mid-Atlantic Showdown presented by Classic Graphix at Virginia Motorsports Park will continue Saturday at 8:45 a.m. Pro eliminations are scheduled to resume around 11:20 a.m.