The Professional Drag Racers Association (PDRA) enters the halfway point in its 2017 season with this weekend's PDRA North-South Shootout, June 1-3, at Maryland International Raceway. The storied Maryland track is considered "home field" for two of the series' stars: Pro Extreme's John Stanley, Hagerstown, MD, and Pro Nitrous' Tommy Franklin, of Fredericksburg, VA. Both drivers are anticipating an exciting weekend of racing at the fourth stop on the PDRA's eight-race tour.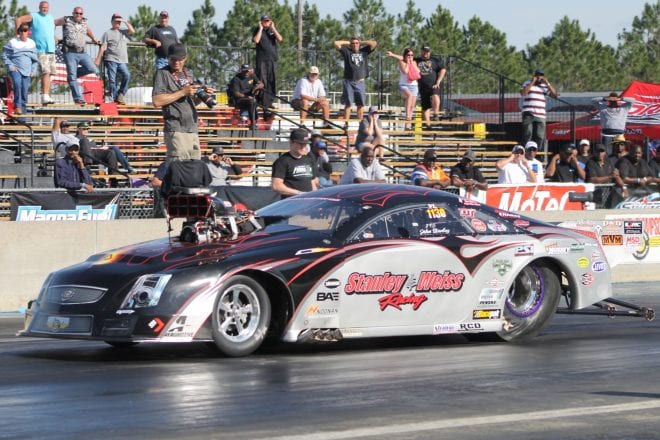 "I'm always pumped up when I pull into MIR, but I'm especially eager to get back to our home track this year," said Stanley, who finished fifth in Pro Extreme points last season. "We've been making some changes on the car, and we're starting to see the results of those changes on the track. The weather should be excellent, and we know this track better than maybe any other track out there, so I'm really looking for big things out of the Stanley & Weiss Cadillac CTS-V this weekend."
Franklin, the defending world champion in Switzer Dynamics Pro Nitrous presented by MoTeC, is in the middle of another fruitful season. The Virginia businessman is coming off an event victory at the PDRA Spring Nationals two weeks ago, when he also claimed the No. 1 qualifying spot. Franklin leads the Pro Nitrous points standings entering the North-South Shootout.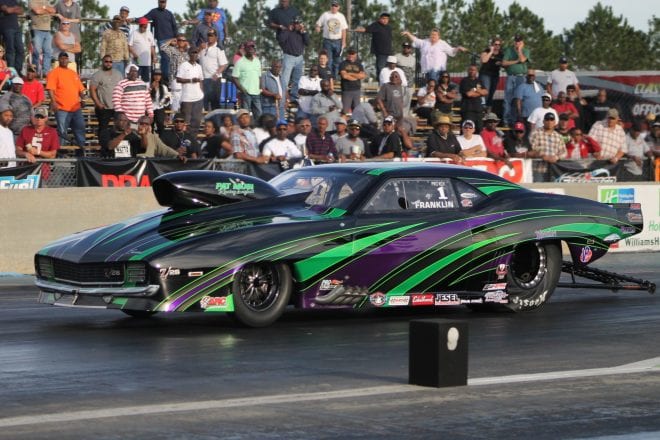 "I think we're going to have a good weekend," Franklin said. "The temperatures are looking good and Maryland is a fast track, so I think we can set records there. Our whole program has been strong at these last few races. We won this race last year, and I'm definitely going for another win this year. But there's a lot of tough competition out there. Any car that qualifies in Pro Nitrous can win. It's a tough field, and you have to feel good if you can string together four round wins in a weekend."
In addition to Pro Extreme and Pro Nitrous, the PDRA North-South Shootout will feature the stars of Andy McCoy Race Cars Pro Boost, Extreme Pro Stock, and Drag 965 Pro Extreme Motorcycle. The sportsman racers of the PDRA in Magnafuel Top Sportsman, Lucas Oil Top Dragster, Campers Inn RV Pro Junior Dragster, MegaCorp Top Junior Dragster and Edelbrock Bracket Bash will also compete at the North-South Shootout.
Thursday, June 1 is reserved for a full day of open testing for all PDRA competitors. Friday's qualifying action begins with sportsman session at 11 a.m., while the professional classes get their first shot at the track at 2 p.m. A fourth and final sportsman qualifying session will kick off Saturday, followed by the third and final pro session at noon. Pro eliminations begin at 5 p.m. A jet car and wheelstander will conclude on-track activities on Friday and Saturday.
Tickets to the PDRA North-South Shootout at Maryland International Raceway cost only $10 for general admission to Thursday's test session, $20 on Friday, and $25 on Saturday. A weekend pass can be purchased for $40. Children aged 10 and younger get in free.