Lizzy Musi and car owner, Frank Brandao, recently took delivery of a brand new Jerry Bickel-built Dodge Dart. The car is in the final prep stages at Musi Racing Engines and will hit the concrete for the first time at Virginia Motorsports Park for the PDRA Firecracker Nationals, June 29 and 30.
The PDRA has opened up two days of testing on Wednesday and Thursday prior to the event, a prime opportunity for Lizzy to make some shakedown passes in the new whip, predictably named King Kong 7.
In full preparation to continue their Pro Nitrous Championship chase, the Edelbrock-backed Musi/Brandao team will also bring King Kong 6 to the event, warding off any setbacks from new car blues.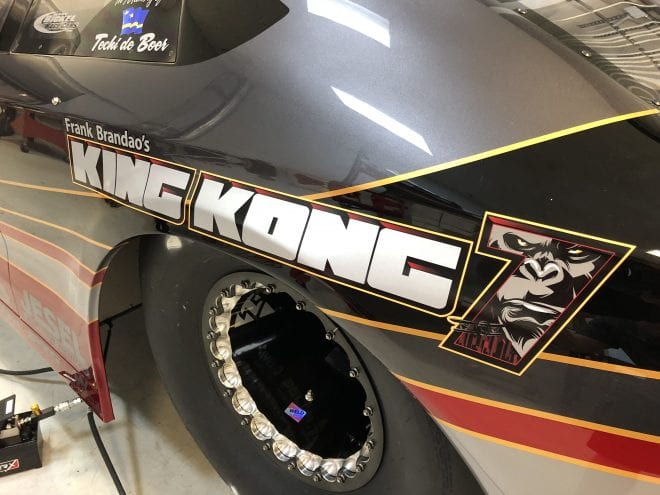 "We're excited for the new car," stated Pat Musi, car tuner and owner of Musi Racing Engines. "We're bringing lots of momentum into Virginia. Virginia is a good race for us. She's won multiple times there, so it's a good luck track for us. She's second in points so hopefully she can move up. We hope to run the new car, but whichever car is the most comfortable for Lizzy during testing is the one we'll race with."
Both cars will remain race ready in the Musi stable with the same engine combination, although King Kong 6 has already been sold. "The old car has been sold to some friends of mine in the Middle East," explained Musi. "He's allowing us to use it and keep the car here for now. They're really good friends."
King Kong 6 will sport the RSG decal of its new owner at Virginia and will be transferred to the Middle East before racing begins there this winter.
Musi customers are doing well in the PDRA and the NHRA this season. Musi customers have won two of three Pro Nitrous races in PDRA. In NHRA, Musi customers have amassed 29 round wins in 7 races so far.
"This year our customers are running even better. Everybody's working on their own program, but engine wise they're all competitive."
Lizzy has obviously had a good start to the year, currently sitting second in Pro Nitrous points, and the team looks to continue to improve their season now with the new car.
"You always want better, but our program is going pretty good. This car's fast. We feel really confident."