The working man's radial class is back in 2018 with some rule changes, new races and the second consecutive points chase. In 2017, there was a seven-race points chase spread across some of the top drag radial events in the country that included the LDR platform. Shane Stack from Huntsville, Alabama, ran rapid on the class throughout the season, showing off an untouched consistency, claiming the inaugural Limited Drag Radial series championship.
Limited Drag Radial came into creation as the Radial vs. The World juggernaut took off in a rapid movement. There was a void between RVW's 3-second elapsed times and the then-4.50s of X275. Flash forward to 2018, RVW is tapping on the barrier to the 3.60s while X275 is slipping into the high 4.30 range. Limited Drag Radial has found a home in the high 4-teen elapsed time range that parlays a large handful of cars from class fillers to front runners. Several cars that were collecting dust in garages across the country are now back on track and competing for event wins monthly.
For 2018, there were minor rule changes to assist the nitrous oxide entries along with the centrifugal
supercharged combinations on both small- and big-block power plants. With the changes, the rules team is hoping to see more across-the-board competition among the top power adder combinations that are available to teams that run the class. The twin turbocharger combination may be the heaviest in the class, but it has been the toughest to tame after two seasons. Shane Stack wheeled his twin turbocharged Chevrolet Monte Carlo to numerous wins and countless round victories to outlast Matthew Bell and Jack Greene for the inaugural championship in LDR. There will be a small ceremony at Lights Out 9, the start of the 2018 series, for the top points earners from the past season and where Stack will be presented with his championship bonuses and prizes, including a gold chain in memory of "Mustang" Mike Modeste, who was a supporter of the class since its inception.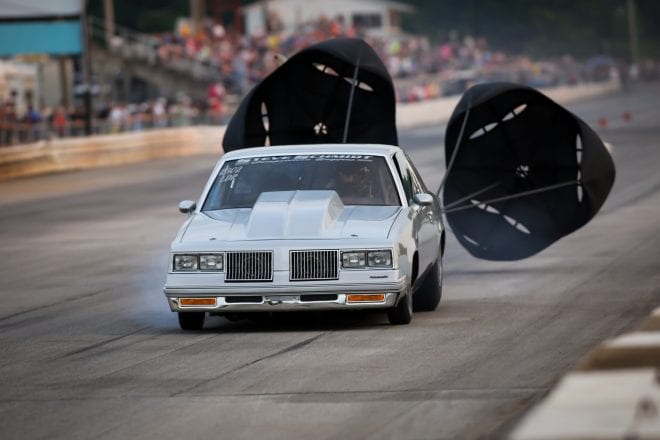 There will be eight select events that drivers are able to accumulate season-ending points, while only the best of six will be counted towards the championship tally. A full season schedule awaits over 65 racers who took their shot at the Limited Drag Radial category in only its second year of existence. Stay tuned to DragIllustrated.com along with LimitedDragRadial.com throughout the 2018 season to see who's who in LDR for yet another exciting drag radial season.
2018 Limited Drag Radial Championship Series Season Schedule

Lights Out 9 – South Georgia Motorsports Park – February 15-18
Outlaw Street Car Reunion V – Beech Bend Raceway Park – April 18-22
Radial Fest – Huntsville Dragway – May 4-5
Heads Up Hootenanny – Gateway Motorsports Park – May 24-26
Prize Fight, Round 5 – Ohio Valley Dragway – June 14-16
Street Car Super Nationals V – Gateway Motorsports Park – August 2-4
No Mercy 9 – South Georgia Motorsports Park – September 27-30
Radial Fest – Huntsville Dragway – October 19-20