At 17 years old, third-generation rider Brayden Davis made PDRA history when he became the first competitor to double-up in a pro class and a Jr. Dragster class. Riding the same Timblin Chassis Hayabusa that his father Travis rode to four world championships – including last year's – Davis opened his Drag 965 Pro Nitrous Motorcycle career with a win at the season-opening Summit Racing Equipment East Coast Nationals presented by FuelTech at GALOT Motorsports, just moments before winning in Coolshirt Systems Pro Jr. Dragster presented by PRP.
It was a dominant weekend in Pro Jr. Dragster for Davis, as he qualified No. 1 out of an incredible 46 cars in the first session and held that spot through to eliminations. That performance gave Davis a solid base going into race day.
[Editor's Note: This story originally appeared in DI #182, the WSOPM Issue, in May/June of 2023.]
"Back at home with our bracket racing in the Jr. Dragster, we race it completely different and we had to make a lot of changes to the car," Davis says from the Davis Motorsports pit area at GALOT. "We didn't test it, so to come out in the first qualifier and go 7.901, it was just awesome."
It was a similar story on the Pro Nitrous Motorcycle side. Davis has made passes on the bike before, even racing it with great success in index classes, but competing in the heads-up format proved to be a new challenge.
"We fought with the bike the whole week just trying to get it right," says Davis, who qualified No. 6. "Even when we got here, it still wasn't right. We kept working hard at it and it finally came back around. We got down the racetrack to go 4.12 and it just showed promise once we finally got a clutch in there that works."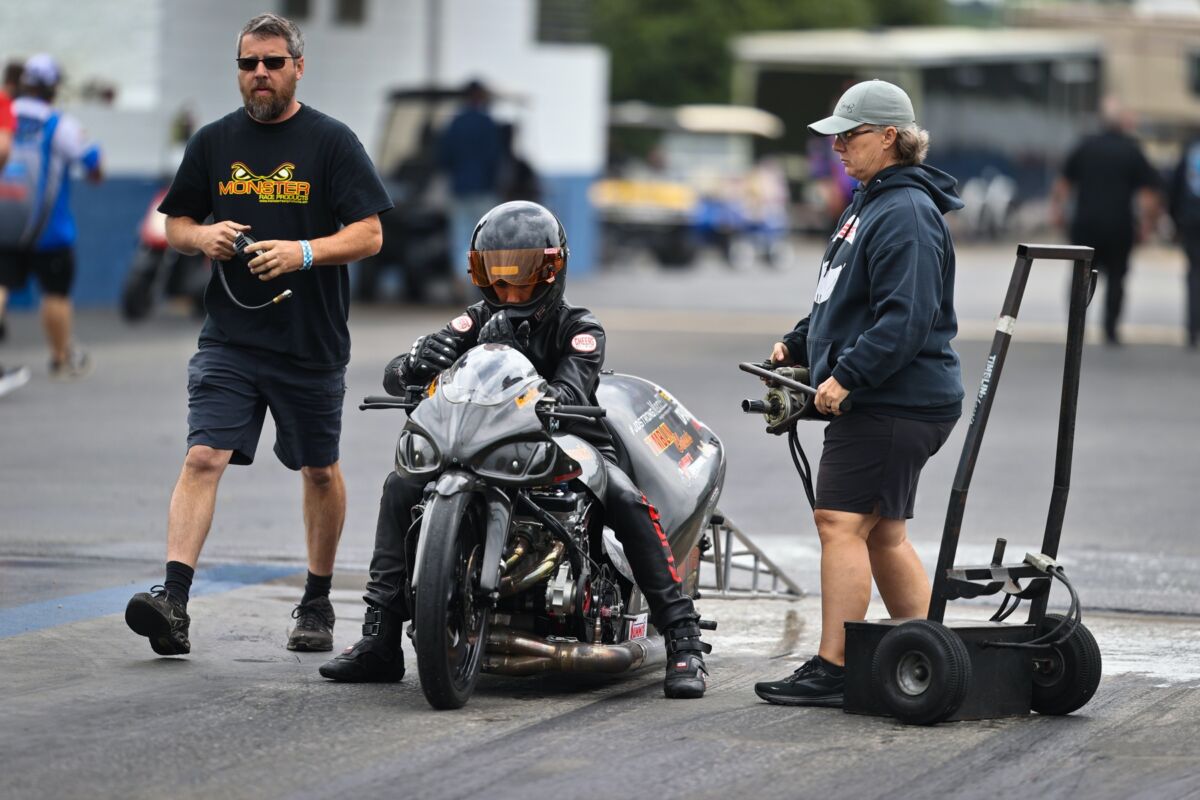 In Pro Jr. Dragster eliminations, Davis raced past Shawn Nardi, Ryan Harris, and Alyssa Tilghman before cutting a .001 reaction time to beat Danika Miles on a holeshot in the final round. Davis ran a 7.962 to Miles' 7.944, both on a 7.90 index.
Just 18 minutes before the Pro Jr. Dragster final, Davis claimed the Pro Nitrous Motorcycle win when he beat Meshal Al-Saber in the final round. The third-generation rider was first off the starting line with a .004 to Al-Saber's .022, and he was first to the finish line stripe with a 3.992 to a 3.998.
"It was a dream, perfect weekend," says Davis, who won the 2017 Top Jr. Dragster world championship. "I knew the performance was there with my dad and Dan Wagner on the computer. When those two get together, great things are just bound to happen. I knew I needed to do my part riding. I felt real comfortable on it this weekend, and like Dad told me, he said just focus on the tree and stay consistent. That got us in the winner's circle."
Davis started eliminations with a holeshot win over 2021 world champion Chris Garner-Jones in a 4.015-to-4.006 race. He also left first against multi-time world champion Eric McKinney in the semis, winning with a 3.985 over McKinney's 4.024.
While the elder Davis was hesitant to unleash all the bike's power with his teenaged son in the seat, he did give him all the power he needed to win. Davis was quick to credit Stuart Crane with Warpspeed Racing, who built a new experimental motor for the father-son duo.
"It's actually smaller CC and it's showing a lot of potential," Davis says of the nitrous-fed engine. "It's showing promise for [Crane] and his business and it ran really good. It stayed together. It had more in it, but we were just trying to play it safe and make sure we could go down the racetrack and be competitive."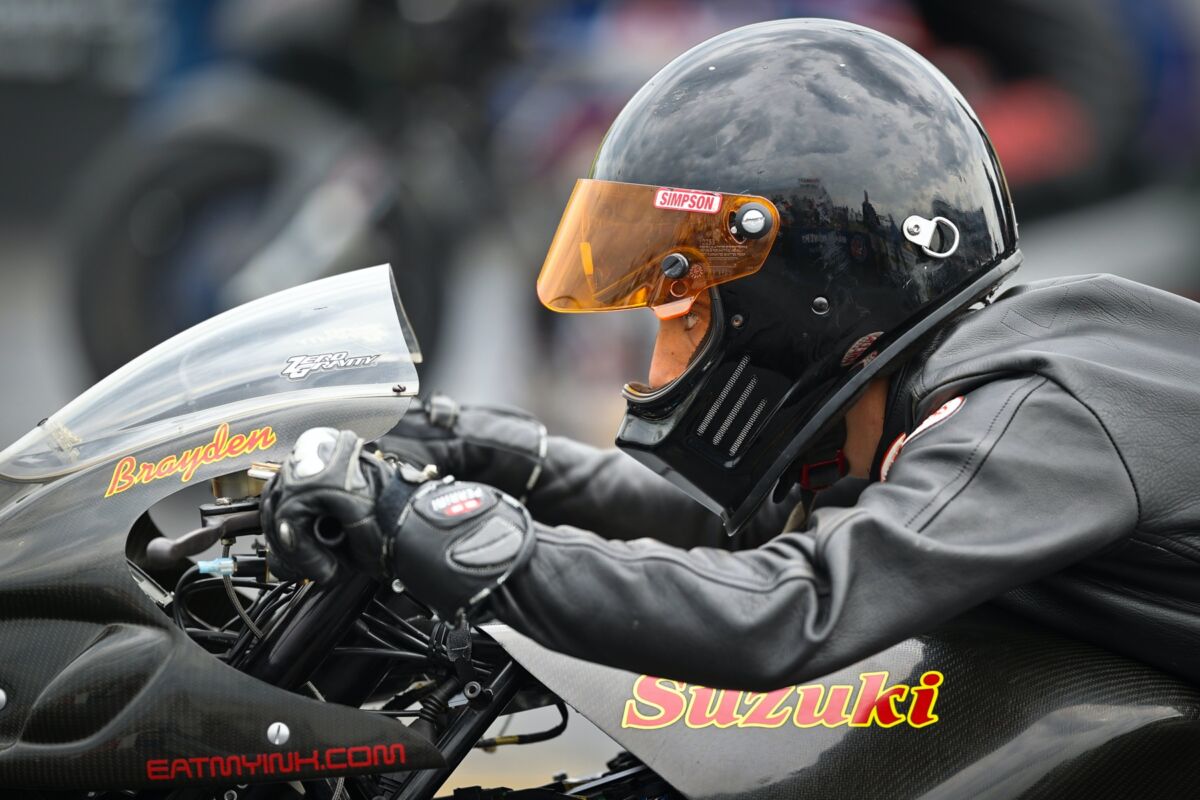 Continuing on the subject of kudos, Davis thanked his parents, Travis and Brandy, for giving him the opportunity to step up to Pro Nitrous Motorcycle and for all their efforts back at home and at the racetrack.
"They work hard at this," Davis adds. "It takes a lot of confidence for him to put his son on a bike that has won multiple championships and is fast. He's such a great rider and I just dream of being like him."
Sounding just like his father in his frequent winner's circle interviews, Davis went on to thank the team's manufacturer partners.
"The Monster Race Products cylinder head – that thing's awesome," Davis begins. "I also want to thank Steve Nichols with MaxxECU and Dan Wagner with DTM Performance, Fast By Gast, and Worldwide Bearings. There's a lot of people who help us and they know who they are. Without them, we wouldn't be where we are today."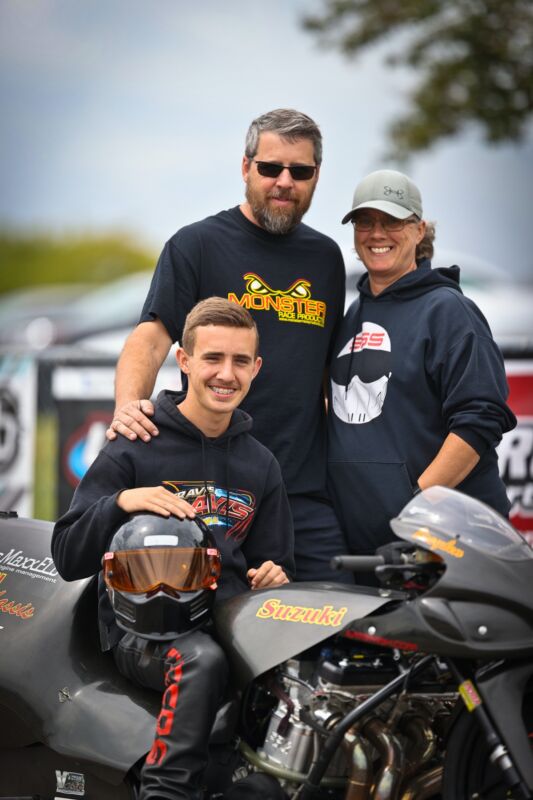 The Davis family went into the season opener with open minds and modest expectations for Brayden's pro debut. But after winning in his debut, Davis is now focused on joining his dad as a Pro Nitrous Motorcycle world champion.
"Dad and I talked about this before we got here," Davis says. "We were kind of just playing it by ear, whether we were going to run the full series. After I won, he said, 'I reckon we'll be doing PDRA all year.' When it starts out this good, it's hard not to. You dream to start a year off like this. To not go [to all the races] wouldn't make any sense. So we're going to do it, we're going to run for it, and just stay consistent. Consistency is the key to winning championships and races and just being a good racer."
True to his word, Davis stayed consistent at the second race on the PDRA tour, the Mid-Atlantic Showdown presented by Classic Graphix at Virginia Motorsports Park. In Pro Nitrous Motorcycle, he qualified mid-pack before laying down a career-best 3.963 in the first round. He bowed out in the semis, going red by .014 seconds to Garner-Jones. However, he found the winner's circle for the second consecutive race in Pro Jr. Dragster, defeating No. 1 qualifier LJ Lewis in the final round.