Things are a lot different than they were just four years ago for Alex Laughlin.
These days, he can look one way and see a Pro Stock Camaro that was decked out in an eye-catching Hot Wheels paint job at last weekend's season-opening NHRA Winternationals. If he looks the other way, Laughlin gets a glimpse of am equally stunning car, this one a baby blue screw-blown C6 Corvette that he will drive at this week's Lights Out 9 at South Georgia Motorsports Park in Valdosta.
It's a debut he is thrilled about, but it all represents a stark contrast from just a few years ago. With the amount of hard work involved to get to this point, the sight of the two cars is something that Laughlin can certainly enjoy.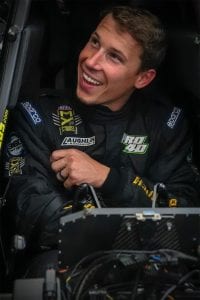 "It's pretty unbelievable," Laughlin said. "Four years ago, I was running Top Dragster, just scraping by, doing the best I could with that old car. I always struggled to get it to run fast enough. With this Pro Stock and now this radial car, it's hard to explain, but we're definitely excited about 2018."
Wild travel schedules excluded, Laughlin is anxious for the next several days in Valdosta. The rising star got his first glimpse of radial racing at Wooostock last year at Darlington Dragway and wanted in immediately. As far as the atmosphere he expects in Valdosta, Laughlin knows it will be something special.
"I've heard all kinds of stuff about it," Laughlin said. "One thing I like about the radial race is it's not super corporate and there's not a lot of politics. It's grassroots racing, people on the starting line. While they are drag racing fans, they're not necessarily NHRA fans. It's a different group of fans and people, but it's still the same sport. It will be interesting and a lot of fun."
Laughlin has only made two passes in the Corvette, which he purchased from Marty Robertson, meaning he isn't headed to Lights Out 9 with grand visions of dominating the competition that will be at an all-time high at this year's race.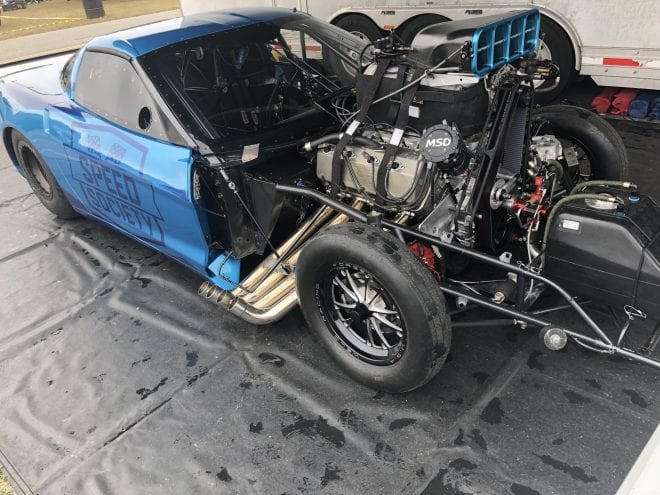 "It has crossed my mind how receptive these guys are going to be coming in," Laughlin said. "I hope they don't assume that I'm thinking I'm some hotshot coming to take over. I'm showing up to take care of my business and do the best job I can."
As far as the trash talking that's prominent at the Lights Out events – both good-natured and serious – Laughlin said he'll likely stay away from that, if only because he admits that quick wit isn't a strength.
"Number one, I'm not good it and, number two, I usually don't know how to respond," Laughlin said. "So I'm not really sure how that will go."
But as far as the competition and adrenaline-filled aspect of radial racing, he's ready to embrace that. Laughlin hopes to compete in 3-5 radial races in 2018, which, in addition to the full 24-race Pro Stock season he plans on running, makes for a daunting schedule for the 29-year old Texan.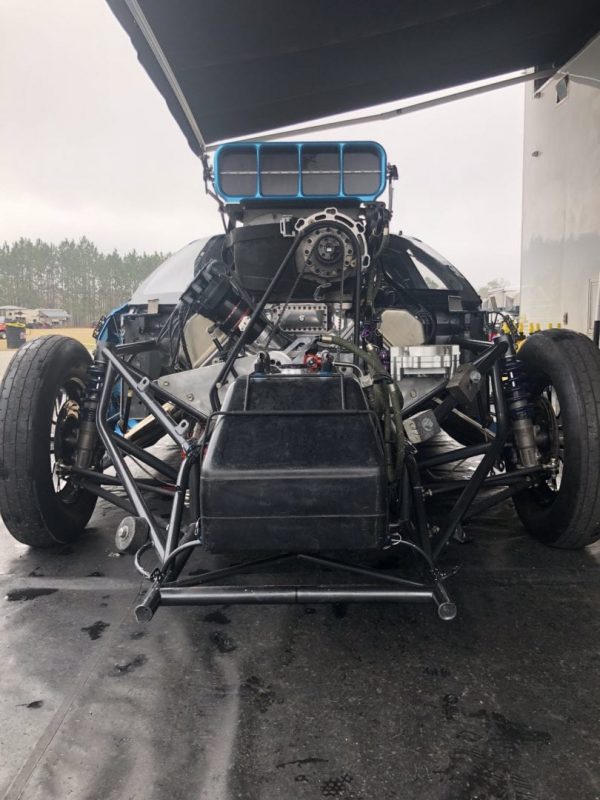 He plans on racing in all of Long's events this year, including the Sweet 16 race next month and No Mercy 9 later this season. Racing upwards of 30 times this year will be rigorous and the biggest step Laughlin has made in his burgeoning career, but it's also scenarios like these that he envisioned when he first became involved with the sport.
"More than anything, there's two things I love – speed and competition," Laughlin said. "It's an addiction and you either like it or you don't. It's not really an acquired feeling. When I first started racing when I was 9 years old, I was nervous before every go-kart race. But I kept going back. You have to love the sport, especially with what I'm doing now."
The appeal is enough to get Laughlin to leave his Pro Stock rig on the West Coast, where he'll return next week for the NHRA race in Phoenix, and borrow one to haul the radial car to Valdosta. It isn't easy logistically, and jumping in with drag radial elite presents a massive challenge, but the motivation for Laughlin is simple.
"I love blower cars and door cars, and I just love speed," Laughlin said. "With this radial car, everybody always says if it gets upset, don't try to pedal it. If it starts getting out of shape, I'm not going to push it. I want to show up, try to run with these guys and not make a fool of myself."