At age 71, Bob Michael still fondly recalls his first trip to the drag strip back in 1958. It may not have seemed like a terribly significant event at the time, but all these decades later his life-long love of the sport remains alive and well. "I was just 14 years old in 1958; that's when my uncle asked me if I wanted to go to Thornhill Dragway in Morning View, Kentucky," Bob recalls.
The sport of drag racing was still very much in its infancy and Thornhill Dragway was about as grass roots as you could get. Bob's uncle wasn't a serious drag racer by any means, just a guy who thought it'd be fun to take his daily driver to the track and make a few passes and, of course, spend some quality time with his nephew. Young Bob was completely in awe of the 1950s-era cars that were screaming down the track, one pair after another, and as expected, this first trip to Thornhill Dragway certainly wasn't their last.
When Bob turned 16, his dad bought him a 1949 Chevrolet for the princely sum of 65 dollars. It was a big, heavy car with a six-cylinder engine and bad tires. How bad? Well, Bob says he once experienced three blow-outs in a single day! "The tires on that old car were like balloons," he laughs. Regardless, among the first places he drove the car was–you guessed it–Thornhill Dragway, where his love of cars was first triggered.
Around this same time, Bob began reading anything and everything he could get his hands on that pertained to hot rods and racing, and from a single news article written nearly 60 years ago, a life-long obsession with Pontiac was born.
"The 1958 Pontiacs were brand new and when I read an article about how they were the fastest thing down at Daytona's Speed Week, well, I just figured that Pontiac was the answer," he says, once more with a laugh. Consequently, since it was a '58 Pontiac that turned the fastest lap in Florida, that's exactly the car Bob felt he needed to drag race, so at age 18 he bought one. "And I've stuck with them through thick and thin," he grins.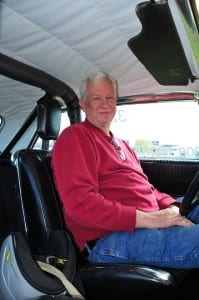 By that time, Bob had also discovered a pair of local drag strips near his home in the southwest region of Ohio. "I raced that 1958 Pontiac at Edgewater Dragway and also Tri-State Dragway, and I probably won 23 trophies with it my first year," he remembers fondly. He kept the car for probably five years before trading it in on a 1964 GTO when he was in his early 20s. It was during this same time frame that he also began traveling to various national events, though he didn't exactly set the world on fire with the Goat. "I didn't do so well with that car at the nationals; I mainly just showed up," he laughs.
Consequentially, the car that Bob enjoyed the most success with was the '73 Firebird he bought in 1977. That car had a 455 Super Duty engine and was quite competitive–especially when Bob remembered to put all the rod bearings in the motor! "Yeah, that's a funny story," he says. "Me and a buddy were moments away from walking out the door to go to the NHRA Springs Nationals in Columbus when my buddy noticed a box sitting on the counter and decided to take a peek and see what might be inside–and it's a good thing he did since the box contained half of a rod bearing that was supposed to be in the motor!"
Bob and his friend quickly tore the engine down again and put it all back together (this time with no extra parts left over), loaded the car up, drove to Columbus and actually won the race. "Yeah, winning the Springs Nationals is probably my best racing memory, especially when you consider we almost left home with half a rod bearing laying on the counter," he laughs.
Later that same year, Bob drove the Firebird to the runner-up spot at the nationals in Englishtown, New Jersey. By 1980, Bob was restless and ready for his next Pontiac, so he sold the Firebird to raise capital to build a '77 Trans Am for Super Stock N/Automatic and captured a pair of divisional wins early on with the car.
The Pontiac pattern would continue for Bob, one after another after another including everything from nostalgia Super Stocks to a screaming Tempest that would run in the 9s. "I've probably forgotten half of them they've been so many," Bob says. "But the Tempest is the fastest car I've ever had."
He also currently owns a 1977 LeMans that runs exceptionally well in N/Stock Automatic. "I take the LeMans to places where there's a class race because it has the best chance of winning."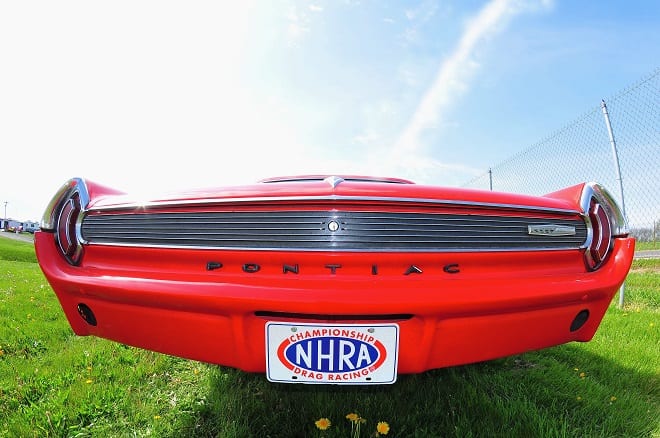 In total, Bob's got no less than 40 national class trophies laying around his house. These days, the car that turns the most heads of any he currently owns is a good-looking 1962 Grand Prix. It's a rare piece, especially at the drag strip, where you'll not likely see another one on the same day–or maybe even in the same year! The 1962 model was the first year of the Grand Prix and Bob has always held a fascination for the way they looked.
"The car was actually a real rust bucket when I first bought it 10 years ago, but my friend, Steve Weaver, took the body off the frame and did some excellent work on it," Bob says. A bored-out 389 cubic inch engine topped off by a trio of two-barrel carburetors is Bob's choice for power. The engine features Venolia Pistons, a Comp Cam and Bill Sempsrott heads, while a 200 metric transmission with Blue Streak converter transfers the horsepower to a 12-bolt rear end. The car weighs in at 3,745 pounds with driver and competes in K/Stock Automatic. The quickest pass Bob has ever turned in the car was an 11.78 at 111 mph while competing in a recent NHRA divisional meet at Lucas Oil Raceway in Indianapolis. "Unfortunately, I went too quick and broke out on that pass," he says.
These days, Bob competes on a limited schedule, usually entering the car once per month in various divisional races, local Stock/Super Stock combo races and nearby national events. He still enjoys the thrill of competition as much as he always has, although the work load represents a bigger burden now than it did when he was younger–or so it would seem.
"It feels like it's turned into 90-percent work and 10-percent racing, whereas it used to be just the opposite when I was a younger man," he says. "I still love drag racing and I'm not sure if it's kept me young all these years, but it's at least kept me alive!"