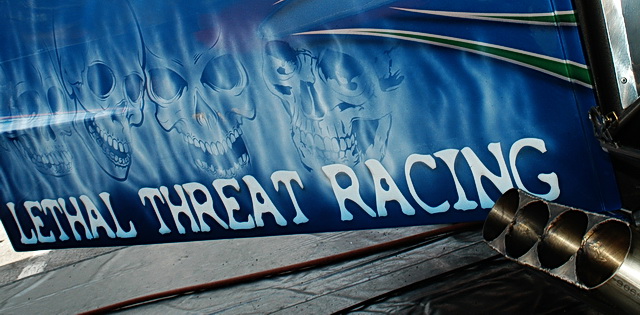 After a standout season in 2012, Lethal Threat Racing, which features the Pro Extreme cars of Todd Martin and Brandon Pesz, has already built significant momentum for the 2013 season.
Lethal Threat Racing announced Mar. 6, it has agreed to associate sponsorship deals with LAT Oil and Trick Titanium for the 2013 drag racing season, which will include races in both the X-DRL and ADRL. Pesz and Martin, who also co-own Lethal Acceleration, a builder of high-quality motors for top doorslammer drivers, quickly formed a strong relationship with LAT, also making Lethal Acceleration Oklahoma's premier dealer when it comes to LAT's transmission fluids, motor oil and rear-end fluid.
"We're excited to be working with such great companies like LAT Racing Oils and Trick Titanium in 2013. We're still currently searching for major sponsorship for the '68 Mustang or the '58 Corvette, but it's outstanding to have support from the likes of LAT and Trick Titanium," said team owner Martin, who drives a supercharged '68 Mustang.
"It's a significant boost to the Lethal Threat Racing team to be working with a pair of standout companies, and we think it's going to lead to great things in the 2013 season."
Lethal Threat Racing will have additional associate sponsors to announce in the coming weeks, but the initial sponsorships with LAT Racing Oils and Trick Titanium gives the two-car team a strong boost heading into the season, which begins for them Apr. 6-7, with the X-DRL Spring Nationals at Osage Casino Tulsa Raceway Park.
With more than four decades of experience in high-performance racing, LAT Racing Oils has been a preferred choice when it comes to the highest-quality lubricants for extreme racing. Both Martin's Mustang and Pesz's supercharged 1953 Corvette will run LAT products in 2013, and Lethal Threat Racing will also be carrying additional LAT product to sell to racing teams at each event it races.
Based in Holt, Mich., Trick Titanium designs and manufactures quality, lightweight titanium products, and it has also formed a tight relationship with Lethal Threat Racing. Martin and Pesz worked with Trick Titanium's Kip Harrison to develop new valves, and its titanium line of parts also made a significant difference in each car. In all, almost 60 pounds were removed from each car as Lethal Threat Racing moves towards its season opener.
"We were able to go an entire season on a single set of the new valves, which was incredible," said Martin, who is also the co-owner of Osage Casino Tulsa Raceway Park. "By replacing all of the steel bolts with titanium and using their special titanium parts, we were able to reduce the weight on the car dramatically. It probably saved us a good 20-25 pounds."
Martin ran as quick as the low 3.60s in advancing to two ADRL semifinals, while Pesz recorded a career-best 3.587 last October during the ADRL season ender at Dallas and advanced to an ADRL final in Memphis. He finished ninth in ADRL Pro Extreme points standings last year.
"With these two associate sponsorship deals and more coming, we're definitely excited to get racing," Martin said. "We just got our blowers back and we finished the cars up last weekend, and hopefully we will be testing this weekend in Tulsa. Lethal Threat Racing has championship aspirations for 2013 and there's a lot of high hopes for the upcoming year."
(Photos by Ian Tocher; Click to enlarge)