After a disappointing 2015 in which she didn't even win one round of racing and finished 12th in NMRA Renegade points, Valerie Clements is looking forward to posting much better results this year.
"I am not necessarily proud of how I performed in 2015; however, it provided a very big learning curve," said
Clements, who recently was accepted into a graduate program for automotive engineering at Clemson University, near her home in South Carolina. "I learned so much last year and I think it made me a better driver, too, just knowing more about what's happening with the car."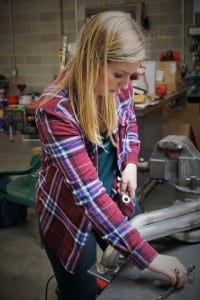 Clements ran last season with a Watson Racing 2014 Mustang powered by a Procharger-equipped, 310-cubic-inch mod motor. This year, she and her father, Alton Sr., swapped the gear-driven F1C-10.5 Procharger onto a new 365-ci pushrod engine going into the 2005 Mustang that Clements drove in her 2012 NMRA Rookie of the Year campaign. It's the same combination that powered her brother, Alton Jr., to 7.60s at 180 mph in his Fox-body Mustang last year.
"My goal for the last two years has been to run a seven-second pass and that is still my goal for this year," Clements said early this January. "Right now we are about halfway into the build. We just finished lining everything up in the car with the K-member, engine, headers, trans, drive shaft, and so on. Next up we are going to start fitting the intercooler tubing in—water to air—and after that we'll get to the wiring. We're going to be using the Spaghetti Menders system and going to tune with BigStuff.
"I've also started learning the tuning process and taken up welding. I started out on steel, moved to aluminum, and most recently I helped out with my stainless steel headers," she added.
Clements offers high praise for the work her father and brother put into her racing, both at home and at the track, but said learning more about the mechanicals of her car has given her even more confidence, too.
"Before I was just a driver, I really didn't know what was going on with the car, whether it ran well or something broke," she admitted. "Now I feel like I can contribute more; I can help fix things and even offer an opinion about what's going on. I also feel like it's going to pay off on the track so I'm pretty happy about that and ready to go racing again real soon."
This story originally appeared in Drag Illustrated No. 108, the Hottest 2016 Issue, in April of 2016.