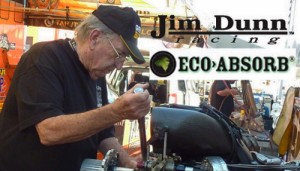 After an explosive, yet promising NHRA Mac Tools U.S. Nationals, Jim Dunn Racing and driver Todd Lesenko are right back in the saddle and will be competing this weekend (Sep. 14-16), at the NHRA O'Reilly Nationals in Charlotte, NC.
The team will be introducing another new sponsor to the sport, Eco-Absorb, after great results with their continuing primary and associate sponsor programs for Grime Boss hand wipes and Tap It Brewing this season.  Damaging two Funny Car bodies at Indianapolis forced the team to bring out a new Dodge Funny Car body, which will be green in recognition of Eco-Absorb's corporate colors.
Lesenko has taken the week to prepare for the NHRA national event in Charlotte following his excitement of qualifying for the NHRA U.S. Nationals and then suffering an engine explosion that catapulted the Grime Boss Funny Car body.  One day later, Lesenko won his opening-round match over No. 2 qualifier Jack Beckman, only to suffer another engine explosion that left the team unable to make the call to the starting line for the quarter-finals.
"Indy obviously had its highs and lows, but we've determined the source of the engine failure, and the team re-grouped with new parts, and a new body for our sponsor this weekend, Eco-Absorb" said Lesenko.
"The car is running much quicker and faster and our goal is to qualify and win rounds at Charlotte this weekend to provide great exposure for Eco-Absorb as well as associate sponsors Grime Boss, Tap It, Lincoln Tech and others."
Eco-Absorb, manufacturer of an environmentally friendly spill clean up product, is headquarted near the race team shop in Southern California, and has an ownership group with strong interest in reaching automotive enthusiasts, as well as the business-to-business connections that exist in the sport.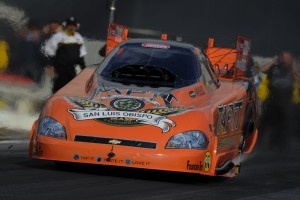 Jim Dunn Racing is not new to bringing sponsors like Eco-Absorb into the sport, and helping them generate new business channels for their products.  Additional Jim Dunn Racing primary and associate sponsors, Grime Boss and Tap It Brewing have experienced this first hand.  Tap It gained distribution into new states and venues along the NHRA tour, and the popular Grime Boss hand wipes have been connected to new retailers.
(Photos courtesy NHRA/National Dragster; Click to enlarge)