Pro Extreme driver Terry Leggett backed up his No. 1 qualifying effort when he won the Professional Drag Racers Association (PDRA) World Finals at Virginia Motorsports Park Saturday night. All other professional-class final rounds and sportsman eliminations were postponed until Sunday morning.
In addition to deciding the Pro Extreme event winner, the PDRA crowned world champions in four of the five professional classes during the completed rounds of elimination.
PRO EXTREME
Leggett drove his supercharged Leggett Logging & Trucking '71 Mustang to a 3.542-second pass at 214.45 mph to defeat Swedish driver Mattias Wulcan's 4.672 at 91.92 in the Pro Extreme final round. It was Leggett's second consecutive event win over Wulcan, who needed to win the race to pass points leader Mike Recchia for the world championship.
"I've got such a good group of people around me," Leggett said. "I don't really know how to put it into words. The car is great, the motor is great, the people who support me are great – not only my team, but manufacturers like Charlie Buck and Shannon Davis who come out to the races."
Leggett, who beat Sweden's Stefan Holmberg and Australian John Zappia before the final round, finishes the season third in points with three No. 1 qualifier awards and the two most recent event wins on tour.
"It's a lot of icing cake. It's a good way to go back to the house, kick your feet up over the winter and think about it all," Leggett added.
Recchia fell in the second round, but earned the 2017 Pro Extreme world championship on the strength of his event wins in his supercharged Agrow Fresh "Chicago Muscle" '69 Camaro at the GALOT spring race and the Mid-America Indy Showdown.
PRO NITROUS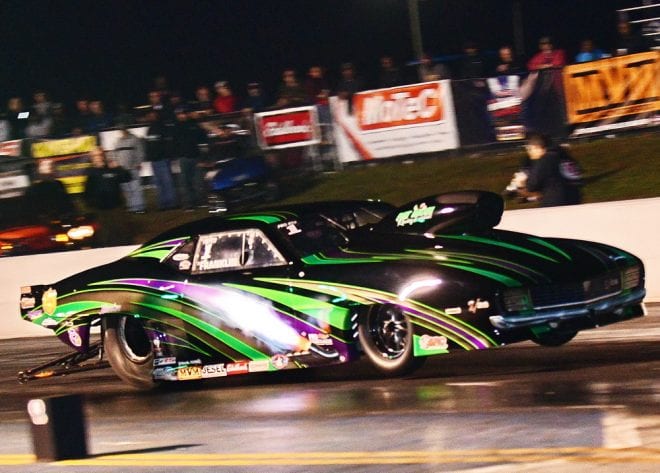 The final round in Switzer Dynamics Pro Nitrous presented by MoTeC will feature the two quickest and fastest drivers in class history. Lizzy Musi used a 3.679 pass at a record-tying 206.54 in Frank Brandao's "King Kong 6" '15 Dodge Dart to defeat John Hall in the semifinals. In a semifinal race for the world championship, Tommy Franklin drove his Musi-powered "Jungle Rat" '69 Camaro to a 3.669 at 205.29 over Jay Cox's 3.702 at 201.10 in his Buck-powered "Pumpkin" '69 Camaro.
"It's pretty special to get the championship because my daughter, Amber, won the Pro Junior Dragster championship, and my youngest daughter finished fourth in her first year in Top Junior Dragster," Franklin said. "I'm so proud of them both."
Franklin reset the elapsed time national record with his 3.653 pass in qualifying. He's appeared in all but one final round this season, and he and Musi have a 1-1 record against each other in 2017 final rounds.
PRO BOOST
After qualifying No. 1, resetting the elapsed time national record, and securing the Andy McCoy Race Cars Pro Boost world championship, Jose Gonzales and Q80 Racing/El General Racing teammate Eric Dillard will not run the final round on Sunday. Gonzales fired off the record 3.638 at 215.34 in his turbocharged "Eleanor" '67 Mustang to take out Jeremy Ray in the semifinals. Dillard in the Pro Line-powered '69 Camaro followed Gonzales with a 3.654 at 215.89 to set the speed national record and defeat championship runner-up Ty Tutterow in the supercharged GALOT Motorsports "Tomcat" '69 Camaro.
"I'll be honest – I was probably more surprised than our competition with the runs we were making today," Gonzales said. "When I saw the scoreboard after making that last run, I went on the radio and asked if the numbers were real. I truly didn't think we could run that fast. It just goes to show that when you have a person like (tuner) Steve Petty, an engine built by Pro Line, and a crew like I have, anything can happen. The car was working perfectly every run."
Gonzales won the first two races of the year at Valdosta and GALOT, where he was also the No. 1 qualifier.
EXTREME PRO STOCK
Finalists Cary Goforth and John Montecalvo ran their PDRA-best and season-best elapsed times in the semifinals to earn their spots in the Extreme Pro Stock final round. Montecalvo ran a 4.02 at 179.76 to defeat GALOT spring race winner Chris Powers, while newly crowned world champion Goforth drove to a 4.022 at 179.25 over Jeff Dobbins. Goforth is seeking his fourth consecutive event win, and Montecalvo is seeking his second victory of the season.
PRO EXTREME MOTORCYCLE
A late-season push has Q80 Racing rider Brad McCoy chasing his second consecutive event win in Drag 965 Pro Extreme Motorcycle. He used a holeshot advantage and 4.037 pass at 174.82 to defeat low qualifier Chris Garner-Jones in the semifinals. Waiting for McCoy in the final round will be Canadian dairy farmer Terry Schweigert, who previously took out T.T. Jones with a 4.058 at 174.32.
Travis Davis was crowned the 2017 Pro Extreme Motorcycle world champion, even though he lost to title runner-up Eric McKinney in their first-round matchup. McKinney bowed out in the second round, preventing him from earning enough points to pass Davis.
The PDRA's four sportsman categories, as well as East Coast Auto Transport Extreme Outlaw 632 and Pilot Electric Outlaw 10.5, will continue eliminations which began Saturday afternoon. Outlaw 10.5 is down to the semifinals, where John Carinci will face Dale Collins Jr. and Mike Decker Jr. will race his son, Mike Decker III. Extreme Outlaw 632, MagnaFuel Top Sportsman, Lucas Oil Top Dragster, Campers Inn RV Pro Junior Dragster, and MegaCorp Top Junior Dragster will resume with the second round of eliminations.
Sunday's continuation of eliminations at the 3rd annual Brian Olson Memorial PDRA World Finals will begin with the second round of Edelbrock Bracket Bash at 10 a.m.