Pro Extreme driver Terry Leggett made a triumphant return to competition Friday when he earned the provisional No. 1 qualifying spot at the Professional Drag Racers Association (PDRA) East Coast Nationals at GALOT Motorsports Park. He drove his Leggett Logging & Trucking '71 Mustang to a 3.527-second, 217.56-mph blast during the second session of the day's rain-shortened qualifying schedule.
Other professional-class low qualifiers are Lizzy Musi in Switzer Dynamics Pro Nitrous presented by MoTeC, Jose Gonzales in Andy McCoy Race Cars Pro Boost, John Pluchino in PDRA Extreme Pro Stock, Burke Forster in Drag 965 Pro Extreme Motorcycle, and Ken Quartuccio in East Side Auto Transport Extreme Outlaw 632.
The leaders in the PDRA's sportsman classes are Randy Perkinson in Magnafuel Top Sportsman and Matt Cooke in Lucas Oil Top Dragster. Alexcis Schultz tops the Campers Inn RV Pro Junior Dragster qualifying order with a 7.909-second run, while Arellyn Garner-Jones used a perfect .000 reaction time to qualify No. 1 in MegaCorp Top Junior Dragster.
PRO EXTREME
After missing the PDRA's season-opening race in Valdosta, GA, earlier this month to recover from major health issues over the winter, Terry "Legbone" Leggett jumped to the top of the Pro Extreme qualifying order with his 3.527 at 217.56 during the night session.
"The fat lady ain't sung yet," Leggett said. "We have one more session. Another red car [past world champion Jason Scruggs] down there will be swinging for the fence in the morning. Right now, it feels really good, though. We'll take it like it is."
A humble logger from Pinetown, NC, Leggett was admittedly just glad to be back at the racetrack behind the wheel of his Terry Coyle-tuned, supercharged '71 Mustang.
"This is our first race back," said Leggett, who underwent multiple operations over the offseason. "I've personally been through a lot. This crew is flawless. It's just great to be back, great to be around everybody you love. To come out here and run as good as we have and be number one right now, it's great. Just to be here would be great – this is icing on the cake."
Texan Frankie "Mad Man" Taylor enters Saturday's final qualifying session as the No. 2 qualifier with his 3.546 at 212.73, followed by Valdosta event winner Tommy D'Aprile with a 3.577 at 213.23. Swedish FIA Pro Mod champion Mattias Wulcan is fourth with a 3.58 at 211.89.
PRO NITROUS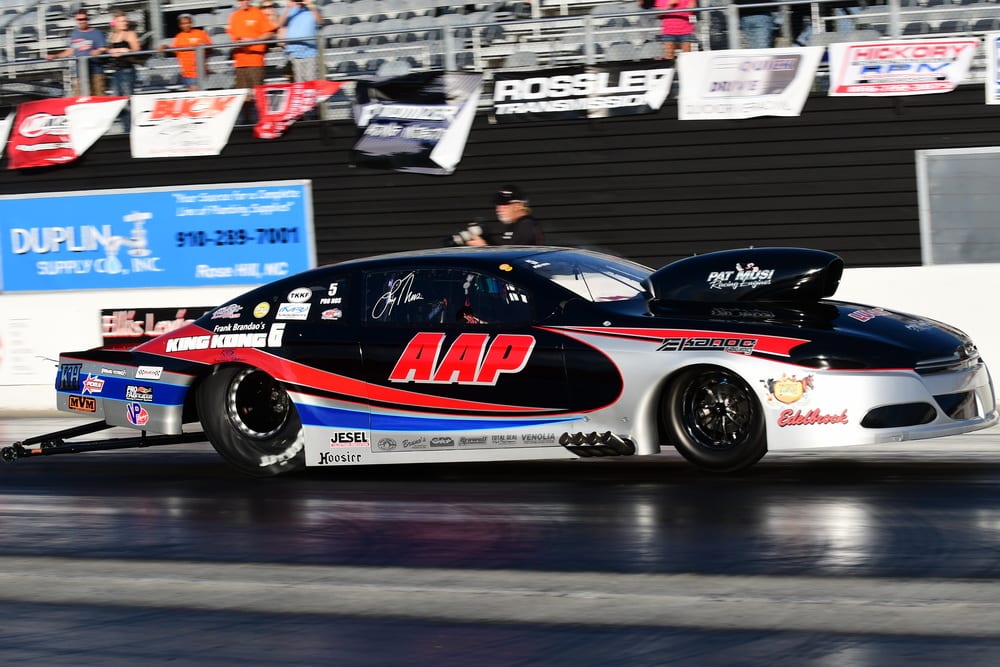 The stars of the ultra-competitive Pro Nitrous class were shining bright Friday night as it took a 3.6-second run to qualify in the top three. Lizzy Musi and Tommy Franklin recorded a pair of side-by-side 3.675-second passes; Musi earned the provisional top spot via her 205.07-mph speed.
It's crazy how close we were," Musi said of her run against fellow Pat Musi Racing Engines-powered driver Franklin. "On the run, the car actually made a little move toward the center line. I saw the scoreboards light up with two 3.675s and thought, how is this even possible? I didn't even know who got the number-one spot until one of my crew guys said we got it by speed."
The run, which is quicker and faster than the official PDRA elapsed time and speed records, was a redemptive run for the driver of the AAP '15 Dodge Dart.
"We actually struggled the first qualifying round," Musi said. "We had something wrong with our purge solenoid and it actually ended up staying stuck open. That's why you saw my purge deal constantly wide open when I staged and made that first pass. We knew it probably wouldn't make the run but we had to just try it. We got that fixed and made a nice run in the second session. Now we can hopefully go some rounds tomorrow."
Franklin, the defending world champion, recorded 204.82 mph on his run to sit second. Valdosta race winner Jay Cox is third in the Clements Mechanical '69 Camaro with a 3.689 at 200.68 and Randy Weatherford is fourth with a 3.701 at 198.76.
PRO BOOST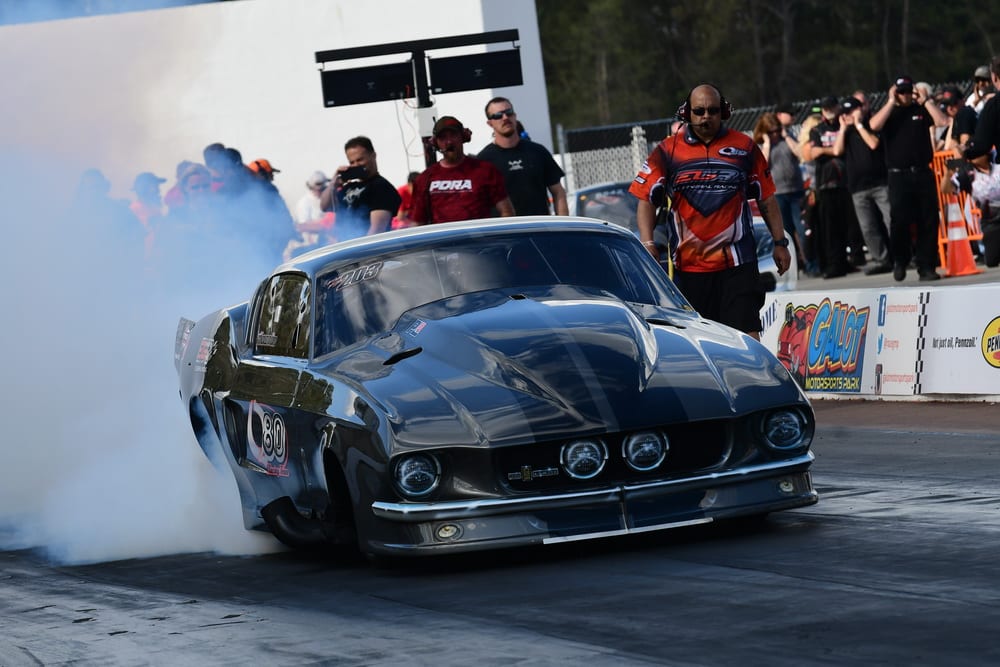 Valdosta No. 1 qualifier and event winner Jose Gonzales maintained his firm grasp on the Pro Boost class with a 3.711 at 212.26 in his turbocharged Q80 Racing '67 Mustang. The Steve Petty-tuned driver is also competing in Pro Extreme this weekend; his Pro Line-powered Corvette is currently qualified ninth.
Longtime Pro Mod racer Tommy Gray and his supercharged "Undertaker" '06 Corvette are second with a 3.733 at 197.02. Turbocharged competitor Rick Hord, who posted an astonishing 218.44-mph blast during the first session, is third with his 3.735 at 206.86. GALOT Motorsports driver John Strickland rounds out the top four with a 3.744 at 197.83.
EXTREME PRO STOCK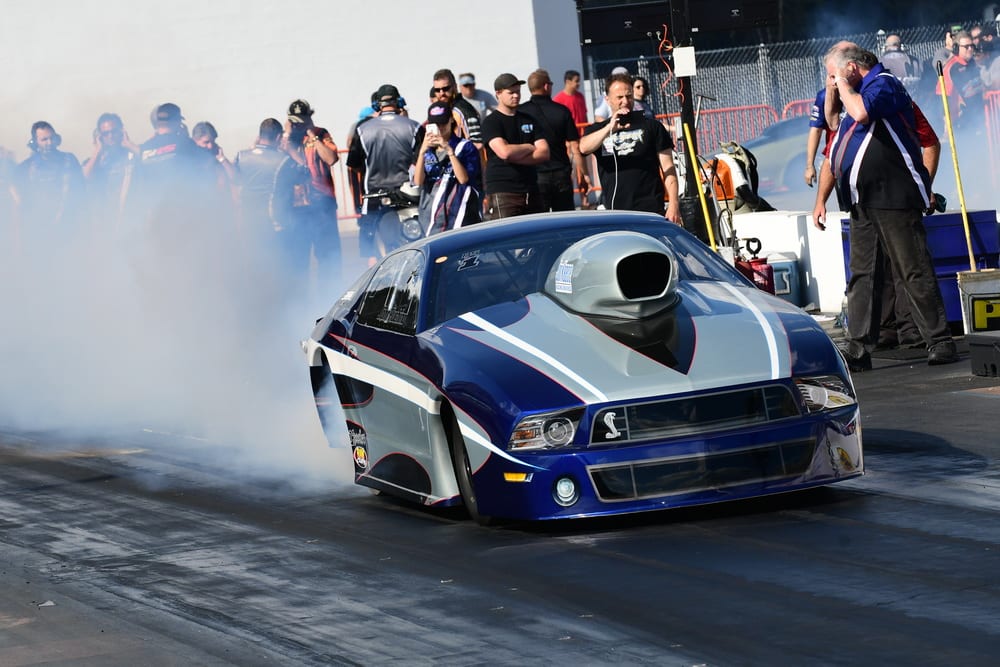 Defending world champion John Pluchino returned to championship form Friday after struggling at the season opener earlier this month. Following behind several drivers who improved significantly in the second session, Pluchino posted a 4.057 at 177.21 to top the field going into Saturday's final session.
"We had all kinds of issues in Valdosta – just a bunch of gremlins – but we knew we had a fast car," Pluchino said. "We came here on Thursday, fixed everything we wanted to fix, and went 4.05 right out of the trailer. We knew we could tune right from there."
With the gremlins cleared up in testing, Pluchino and his New York-based team were able to get aggressive once qualifying began.
"The first run we went 4.09 straight to the top and we just tuned off of that. As a matter of fact, the air changed 10 minutes before they called us up to the lanes for the second session. We pulled the transmission out and we were thrashing, changing ratios. We swapped it around, got it back in the car, went up there and ran 4.05. It was a really good run," Pluchino added.
Trevor Eman, whose wife recently gave birth to the couple's first child, is second in his Aruba.com Mustang with a 4.061 at 177.28. The Camaros of J.R. Carr and Cary Goforth each recorded 4.07s to qualify third and fourth, respectively.
PRO EXTREME MOTORCYCLE
Canadian rider Burke Forster fired off a 3.983 at 173.05 aboard his '15 Suzuki to top the 10-motorcycle qualifying order. Travis Davis is second with a 4.034, followed by Chuck Wilburn's 4.037 at 176.70 and Ashley Owens' 4.041 at 173.65.
EXTREME OUTLAW 632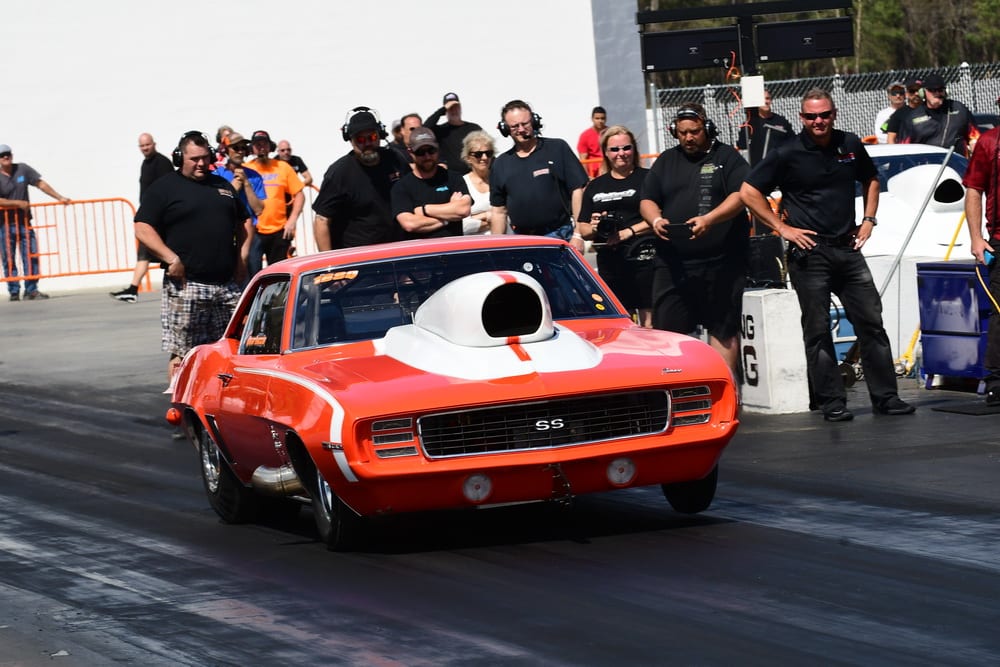 Making their first of four stops on the 2017 PDRA tour, the Extreme Outlaw 632 class is currently led by Ken Quartuccio's 4.296 at 168.20. Johnny Pluchino, the son of Extreme Pro Stock world champion John Pluchino, is second with a 4.376 at 160.35. Jordan Ensslin is third with a 4.443 at 161.04 in his '02 Firebird, and Mooresville, NC's Dom Augustine is fourth with a 4.454 at 156.81.
SPORTSMAN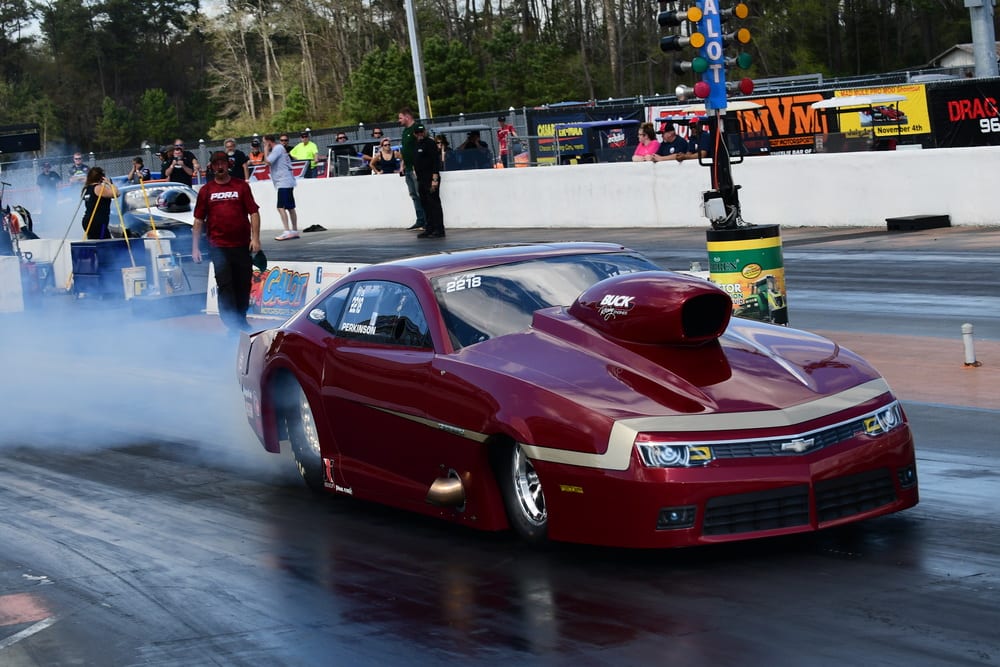 Over 32 Top Sportsman entries made an attempt down the GALOT Motorsports Park eighth mile Friday night. Virginia native Randy Perkinson drove his nitrous-assisted '16 Camaro to the top spot with a 3.812 at 189.47. Engine builder Billy Albert is second in his new '17 Camaro with a 3.843 at 191.95. Defending world champion Dan Ferguson ran a 3.905 at 192.82 to sit third in his second race as the driver of Henry Dogay's '68 Camaro. Barry Daniluk's naturally aspirated Camaro is fourth with a 4.008 at 181.69.
The Horton-built dragster of Matt Cooke currently leads the Top Dragster field after running a 3.863 at 187.16 mph during the second qualifying session. Kathy Fisher and her "Dragoness" Procharged dragster sit second with a 3.88, followed closely by the new-look blown dragster of Paul Daigrepont with a 3.883 in third. Defending world champion Justin Kirk ran 3.934 at 181.18 in his supercharged Spitzer dragster to sit fourth.
The PDRA East Coast Nationals will resume Saturday with Edelbrock Bracket Bash's final time trial at 9 a.m. Pro qualifying will conclude with a third session at 10 a.m., followed by sportsman final qualifying at noon. Eliminations are scheduled to begin at 2:30 p.m.