Pro Boost points leader Tommy D'Aprile recorded a 3.719-second pass at 199.12 mph to claim the No. 1 spot at the Professional Drag Racers Association (PDRA) Summer Drags at US 131 Motorsports Park Friday night. He also defeated Pro Nitrous driver Randy Weatherford in a special "Bottles vs. Blowers" grudge race.
Terry Leggett (Bryant Industrial Pro Extreme presented by Pro Line), Jason Harris (Switzer Dynamics Pro Nitrous presented by MoTeC), John DeFlorian (Liberty's Gears Extreme Pro Stock), Ehren Litten (Drag 965 Pro Extreme Motorcycle), and Dillon Voss (East Side Auto Transport Pro Outlaw 632) are also the low qualifiers in the professional classes at the third of eight races on the PDRA 2018 tour.
In the PDRA's sportsman classes, Billy Albert (MagnaFuel Elite Top Sportsman) and Michael Galafaro (Lucas Oil Elite Top Dragster) lead qualifying in their respective fields after three of four qualifying sessions. Leading in the Jr. Dragster classes after two sessions are Callie Martel in Coolshirt Pro Jr. Dragster with a 7.908 pass and defending world champion Brayden Davis in Gilbert Motorsports Top Jr. Dragster with a .003 reaction time.
Pro Nitrous driver Scott Blake of Red Deer, AB, experienced a violent on-track incident during the third qualifying session when his '69 Camaro impacted the retaining walls on both sides of the track. Blake was transported to a local hospital for evaluation.
PRO BOOST
Tommy D'Aprile (pictured above) will enter Saturday eliminations from the No. 1 spot for the third time in as many races after piloting tuner Al Billes' supercharged '69 Camaro to a 3.719 at 199.12 in the final qualifying session. He finished just ahead of Randy Weatherford and his 3.747 at 200.89 in the "Bottles vs. Blowers" grudge race between Pro Boost and Pro Nitrous final qualifying sessions. D'Aprile's win resulted in a $1,000 donation to his favorite charity, St. Jude Children's Research Hospital, courtesy of Weatherford and WS Construction.
"I really have a great team behind me and we're just thrilled to be riding this wave," said D'Aprile, who also won the PDRA North-South Shootout last month. "We didn't expect it to run that quick, to be honest. It felt great to put up that number and get the win for St Jude. It was a fun race and I think the fans enjoy seeing races between the blown cars and nitrous cars."
D'Aprile, who serves as a God Speed Ministry chaplain, was quick to divert focus to the recovery of Scott Blake.
"I just really ask that people pray for Scott Blake after his accident," D'Aprile said. "That's more important than anything else I could say."
D'Aprile will face JR Ward in the first round of eliminations Saturday afternoon. Pro Modified veteran Raymond Commisso posted a 3.743 at 198.24 in his Billes-tuned '69 Camaro to claim the No. 2 spot, followed by Ric Fleck in the "Dragon III" '41 Willys with a 3.77 at 195.06 in third.
PRO NITROUS

Jason Harris, the 2014 PDRA Pro Nitrous world champion, drove the "Party Time" Boone-Harris Racing '69 Camaro to the top spot, a major milestone for the North Carolina-based team as they work to return to championship form.
"This feels great," Harris said. "I have a good team behind me with Danny Perry and the Boone family. They couldn't be here this weekend, as they recently lost a family member. The Party Time crew has been struggling a bit over the last couple years, but we're starting to get back to running well. We get better and better at every race and learn more every pass.
"The track was phenomenal today. Unfortunately, we had a bad accident involving my buddy Scott Blake. We're all praying for him."
Harris will take on Todd Fontana in round one Saturday. Longtime Pro Nitrous driver Jim Halsey ran 3.719 at 203.53 to qualify No. 2 in his '69 Camaro. Two-time and defending world champion Tommy Franklin is No. 3 in his "Jungle Rat" '69 Camaro with a 3.724 at 195.99.
PRO EXTREME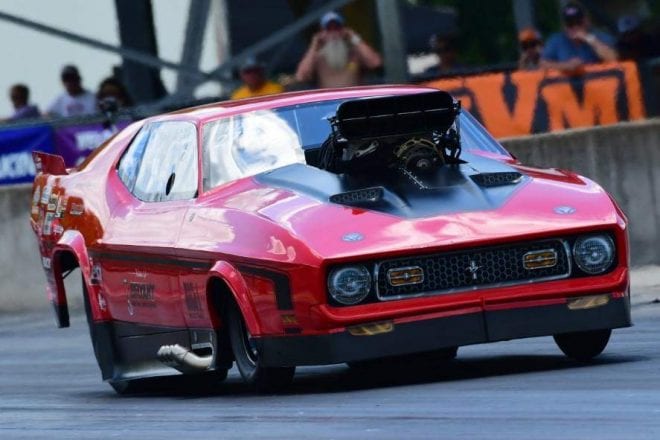 Pinetown, North Carolina's Terry Leggett took the top spot in Pro Extreme for the second consecutive race, solidifying his position as the man to beat in the PDRA's quickest and fastest class this season. Leggett's Terry Coyle-tuned '71 Mustang fired off a 3.554 at 214.08 in the final qualifying session, setting him up for a first-round bye run on Saturday.
"When you put a No. 1 in front of you, it's always good. It doesn't matter what's happening – bike racing, foot racing, biggest fish – number one is always good," Leggett laughed. "That 3.55 is pretty close to what we were trying to run. The air was coming around, but it's been tough to run fast today."
Maryland race winner Adam Flamholc in his screw-blown 5-Day Shutters & Blinds '63 Corvette is qualified No. 2 with a 3.697 at 209.21. Flamholc is scheduled to face Scott Farley, whose '70 Camaro was damaged when it went into the sand trap at the end of the track. Farley plans to make the repairs in time for eliminations.
EXTREME PRO STOCK

As the shop foreman at Jerry Haas Race Cars, John DeFlorian is used to building some of the quickest and fastest Pro Stock cars in the world. As a now two-time No. 1 qualifier this season, DeFlorian is also getting familiar with driving the quickest and fastest Extreme Pro Stock car on the property. His 4.077 at 176.26 in the Amsoil '16 Camaro scored the top spot for the second race in a row.
"The program is definitely heading in the right direction," DeFlorian said. "We really just struggled the last two seasons. We couldn't get a feel for the racetrack. To come out this year and record low ET and top speed of the event at the first two races and wind up the No. 1 qualifying at the last race is exciting. We went A-to-B on the first pass today, then we were able to build on that. We're really happy with the way this Amsoil Camaro is running."
DeFlorian matches up against Chris Powers in the first round of eliminations. Jeff Dobbins nearly nabbed the top spot in his Bear's Performance '14 Dodge Avenger with a 4.078 at 177.03, which was good for No. 2. Past world champion John Pluchino is third in his trusted '13 Mustang with a 4.099 at 176.54.
PRO EXTREME MOTORCYCLE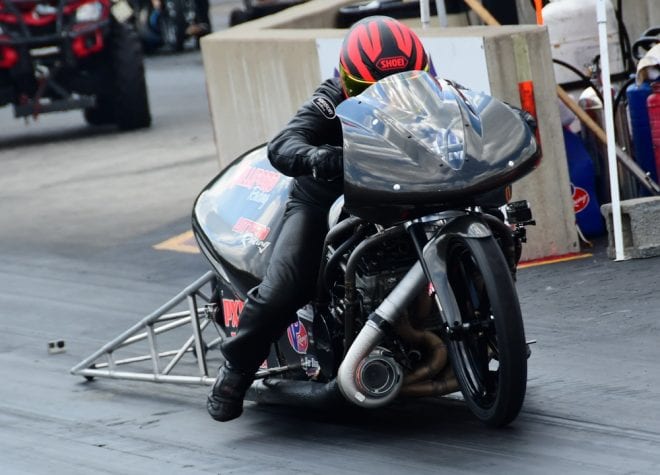 Ehren Litten entered the 2018 season with a combination that was largely unproven in the PDRA Pro Extreme Motorcycle ranks. His turbocharged Hayabusa wouldn't have been allowed in the class prior to this year, as it was a nitrous-only class until a new rules package was introduced over the offseason. Litten made history with the bike Friday night when he recorded a 3.999 at 182.78, which was his career-best, the quickest pass for a turbocharged entry and the quickest pass for a Hayabusa-powered motorcycle.
"It's awesome," said Litten, who had never ridden a Pro Mod-style motorcycle before this season. "This is the result of a lot of years of working on stuff like this and getting to this level. We do a lot of radial racing. I've been as close as No. 2 in the world on a radial bike, right behind my teammate, Rodney Williford. Doing that felt good, but this feels good too. It's something different. The (wheelie) bar boys said we couldn't come out here and do it, so we just decided to come out here and play a little bit."
Litten didn't receive an easy draw for his efforts, as he'll take on three-time PDRA Pro Extreme Motorcycle world champion Eric McKinney in the first round of eliminations. Ronnie "Pro Mod" Smith is second with a 4.017 at 174.96, followed by Brunson Grothus in third with a 4.029 at 174.83.
PRO OUTLAW 632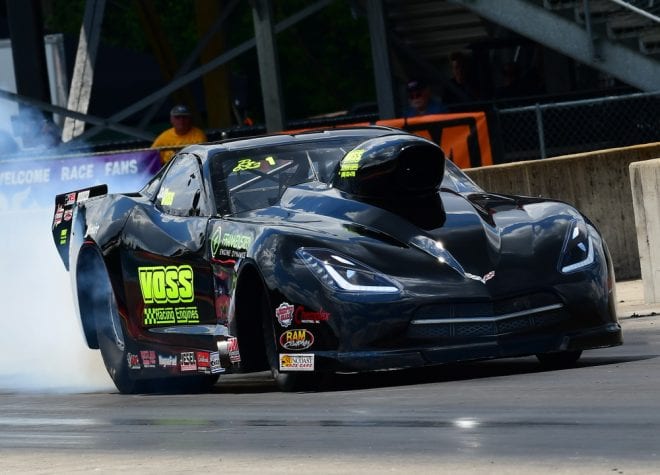 Defending world champion Dillon Voss continued what is becoming a dominant season when he notched his third consecutive No. 1 qualifying position on the strength of a 4.295 at 167.10. Voss, who drives his family's Voss Racing Engines/Suncoast Race Cars '17 Corvette, is chasing his second consecutive event win.
"We should've picked up on the last run. We made a change in the bellhousing and we actually went the wrong way with it – the conditions were better than we thought," said Voss, who welcomed new sponsor Chemplex Industries this weekend. "Coming into the weekend, we didn't think we could run this quick, but (tuner and twin brother) Cory hit the nail on the head with the tuneup. We're definitely happy with where we're at."
Voss will square off with Christopher Holdorf in the first round. Johnny Pluchino, who won the first race of the season, qualified No. 2 with a 4.323 at 164.53 in his family's naturally aspirated '02 Ford Escort. Mike Murphy, also racing out of the Voss camp, is third with a 4.324 at 165.50.
TOP SPORTSMAN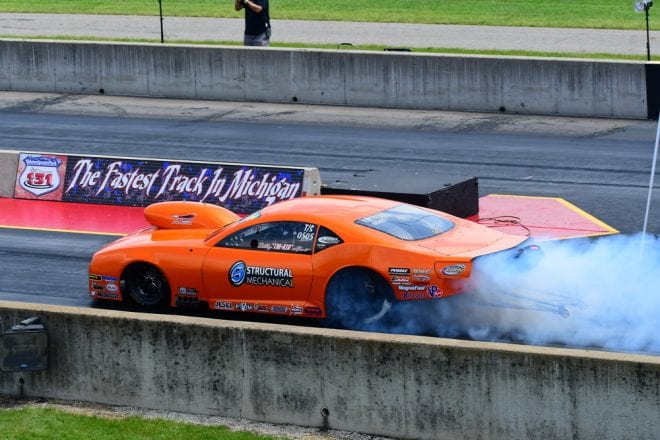 In what is becoming a Friday night routine, engine builder Billy Albert qualified No. 1 in Top Sportsman, powering to a 3.888 at 190.84 in Stan Nance's Structural Mechanical '17 Camaro. John Benoit is No. 2 with a 3.986 at 183.45, followed by championship runner-up Randy Perkinson and his 4.03 at 177.73.
TOP DRAGSTER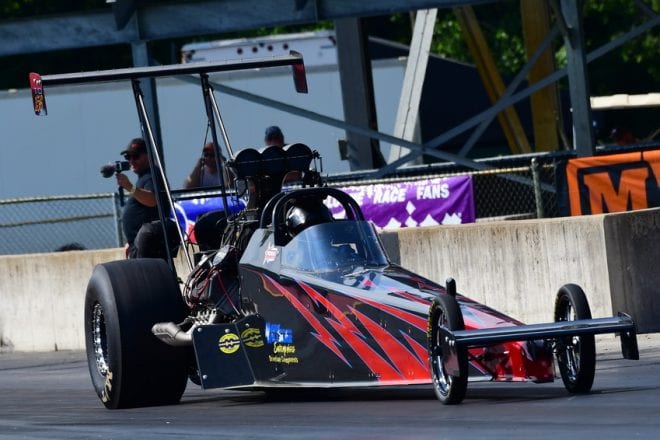 New Jersey's Michael Galofaro jumped to the top of the Top Dragster qualifying order with the 3.897 at 185.72 he recorded in his supercharged '17 Page dragster. Kathy Fisher and the ProCharger-boosted "Dragoness" dragster are No. 2 with a 3.904 at 181.82, while Chaz Silance is third with a 3.924 at 187.03 in his supercharged entry.
The PDRA Summer Drags at US 131 Motorsports Park will continue Saturday, June 2, with sportsman final qualifying at 9:30 a.m. The pre-race ceremony is scheduled for 1:45 p.m, while the final rounds for all classes are set for 9:30 p.m.