A record turnout of nearly 400 cars was on hand for Friday qualifying at the Professional Drag Racers Association (PDRA) World Finals at Virginia Motorsports Park. Performance records were also set as the all-eighth-mile series completed three professional qualifying sessions.
The provisional No. 1 qualifiers going into Saturday's final session are Terry Leggett in Pro Extreme, Tommy Franklin in Switzer Dynamics Pro Nitrous presented by MoTeC, Jose Gonzales in Andy McCoy Race Cars Pro Boost, Cary Goforth in Extreme Pro Stock, and Chris Garner-Jones in Drag 965 Pro Extreme Motorcycle.
Time constraints forced the cancellation of a third Friday qualifying session for the sportsman classes. The sportsman provisional low qualifiers are Matt Smith in MagnaFuel Top Sportsman and Jeremy Creasman in Lucas Oil Top Dragster. Chase Wagner leads in Campers Inn RV Pro Junior Dragster with his 7.903-second elapsed time, while Will Creasman tops MegaCorp Top Junior Dragster qualifying with a .002 reaction time.
In addition to the PDRA's touring five professional classes and four sportsman categories, East Coast Auto Transport Extreme Outlaw 632 and Porter Electric Outlaw 10.5 filled out the World Finals lineup. Dillon Voss in his '17 Corvette leads Extreme Outlaw 632 with a 4.309 at 165.99 mph. Mike Decker Jr. is the Outlaw 10.5 provisional No. 1 qualifier with his 3.945 at 197.22.
PRO EXTREME
North Carolina logger Terry Leggett charged to the No. 1 spot in Pro Extreme, using a 3.549 at 215.41 to hold off championship hopefuls Mattias Wulcan and Mike Recchia. Mathematically unable to win the championship, Leggett is set on winning the race in his Terry Coyle-tuned '71 Mustang, even if it means upsetting the title contenders.
"I'm hoping I don't end up in the middle of that (championship battle)," Leggett said. "I hope they have to run someone else or even each other. I don't want to be the decision maker because we're going to try to whoop whoever we line up against. I think the world of all these guys, but we came here to win the race."
Leggett is trailed by Wulcan, who ran a 3.608 at 212.69 in his supercharged "Blackbird" '69 Camaro. Recchia, the current points leader, is third in his Agrow Fresh '69 Camaro with a 3.629 at 211.83. Australian drag racing standout John Zappia in the Noonan Race Engineering '69 Camaro is fourth with a 3.656 at 213.81.
PRO NITROUS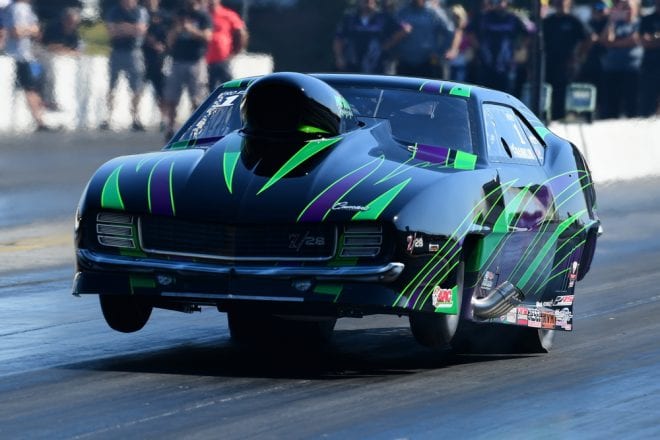 Defending Pro Nitrous world champion Tommy Franklin began his World Finals weekend by announcing that Franklin Companies LLC had reached an agreement to purchase Virginia Motorsports Park. Seemingly undistracted by the new venture, Franklin uncorked a blistering 3.653 at 205.44 in his Musi-powered "Jungle Rat" '69 Camaro to earn the provision No. 1 spot. He will be the new elapsed-time record holder if he can back up the run on Saturday.
"It feels good to come here and be the No. 1 qualifier," said Franklin, who is leading the points over Jay Cox. "We're fighting for this championship. It's going to be a tough battle, but we're doing what we need to do. The primary thing is just getting up and down the racetrack. We're making the right calls for the racetrack. I thought we could've went .63 or .64, but the water grains held us up. This run gives us confidence. We just need to build on it and take this one round at a time."
PDRA Drag Wars winner Lizzy Musi is second with her 3.686 pass at 205.69 in the Frank Brandao-owned "King Kong 6" '15 Dodge Dart. Danny "The Sheriff" Perry sits in the No. 3 spot with a 3.715 at 200.65. On the bump spot is Jim Halsey with a 3.777 pass, making this the quickest field in PDRA Pro Nitrous history.
PRO BOOST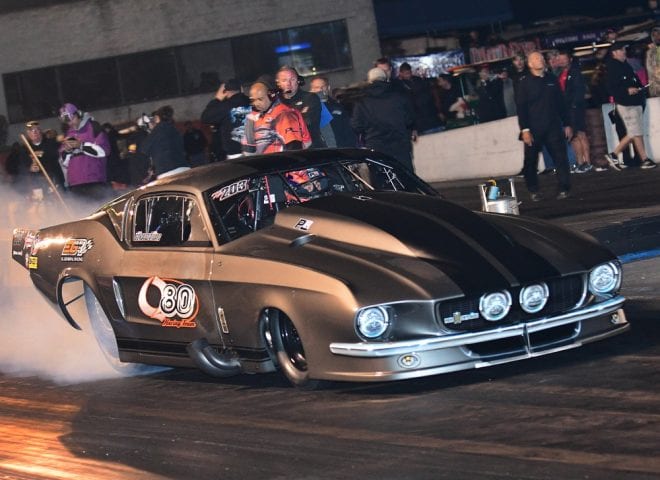 Points leader Jose Gonzales reset both ends of the Pro Boost national record when his turbocharged "Eleanor" '67 Mustang crossed the finish line in 3.658 seconds at 215.75 during the third session. Gonzales's tuner and Pro Line Racing teammate, Eric Dillard, sits behind him in second after wheeling the turbocharged Q80 Racing '69 Camaro to a 3.669 pass at 200.23. Tractor pulling national champion John Strickland is third after posting a 3.712 at 201.64 in the Roots-blown GALOT Motorsports '69 Camaro.
EXTREME PRO STOCK
Past PDRA Extreme Pro Stock world champion Cary Goforth secured his second PDRA season title when he won PDRA Drag Wars last month, allowing the Oklahoma native to focus on two things this weekend: winning the World Finals and recording the first official sub-four-second pass in class history. His Dean's Casing Service/Dewayne Higgins Trucking '14 Camaro first attempted the latter goal Friday night, posting a 4.024 at 178.78.
"The pressure is off in the sense that we don't have to worry about the championship, but the pressure is on to be the first to run in the threes," said Goforth, a three-time winner this season. "We sent three motors back to Sonny's (Racing Engines) after GALOT just to find some more power for this weekend. We ran 4.006 in testing yesterday when the conditions were the best I think we'll see this weekend. It was a priority to make a three-second run, but it might have eluded us. Everything will need to be exactly right, and we're doing everything we can on our end to make that happen."
Tulsa low qualifier John DeFlorian is in the No. 2 spot with his 4.039 pass at 178.73 in his Amsoil '16 Camaro. New York's John Montecalvo is third with a 4.053 at 178.38 in his Haas-built '17 Camaro.
PRO EXTREME MOTORCYCLE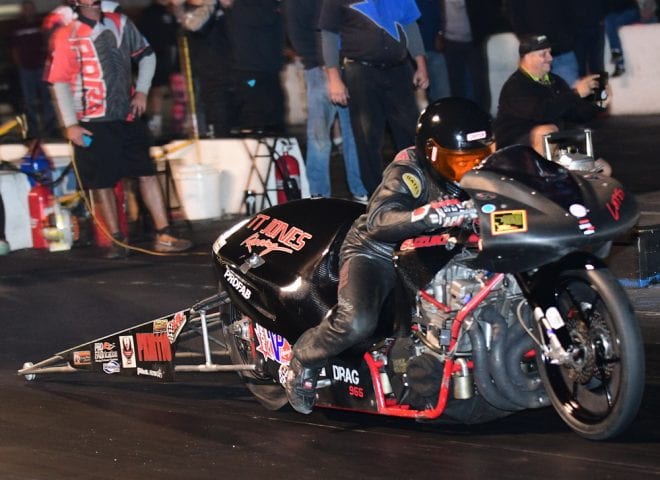 Chris Garner-Jones was attempting to join an elite list of Pro Extreme Motorcycle riders who have dipped into the three-second zone when he fired off a 4.004 at 177.18 in the third session.
After coming so close, the 28-year-old rider believes his T.T. Jones Racing Hayabusa has a chance to break out of the fours on Saturday.
"We were definitely looking for a three, but our 60-foot time was off a bit," Garner-Jones said. "We picked up performance at the 330-foot mark and picked up speed, but the early number wasn't there. But now we know that a three-second run is definitely possible tomorrow. We're focused on getting the win, but a three would be nice."
Brunson Grothus, who won twice on the PDRA tour last year, is second with a 4.04 at 175.68 aboard his Indocil Art entry, followed closely by Terry Schweigert and his 4.041 at 174.80. Q80 Racing rider Brad McCoy, the most recent winner on tour, is fourth with a 4.061 at 174.03.
TOP SPORTSMAN
Ninety Top Sportsman entries made qualifying attempts during the first two sessions, easily filling up the Elite 16 and Top Sportsman 32 fields with dozens of alternates. Two-time NHRA Pro Stock Motorcycle world champion Matt Smith leads the Elite 16 field with a 3.775 at 198.88 in Henry Dogay's "Cajun Nightmare" '68 Camaro. Virginia-based engine builder Billy "The Kid" Albert is second in Stan Nance's '17 Camaro with a 3.818 at 194.77, with 2014 Top Dragster world champion Travis "Carolina Kid" Harvey in third with a 3.887 at 184.84.
TOP DRAGSTER
North Carolina's Jeremy Creasman finished Friday qualifying as the No. 1 qualifier for the second consecutive race, charging to a 3.735 at 192.25 in his ProCharger-boosted dragster. Defending world champion Justin Kirk is second in the supercharged Glockner Truck Plaza dragster with a 3.806 at 188.83, followed by Greg Curtis and his Ohio-based dragster with a 3.815 at 186.72.
The 3rd annual Brian Olson Memorial PDRA World Finals will continue Saturday with a final qualifying session for all categories, beginning with Edelbrock Bracket Bash at 8:15 a.m. Pro eliminations are scheduled to begin at 4:30 p.m.