Terry Leggett (pictured above) led through each of Friday's three scheduled qualifying sessions to earn the provisional number-one start in NAS Racing Pro Extreme for the 2nd annual Professional Drag Racers Association (PDRA) Memphis Drags. Also in first place at Memphis International Raceway with one more qualifying round to go on Saturday before eliminations begin later in the day were Tommy Franklin in Switzer Dynamics Pro Nitrous, Ric Fleck in Precision Turbo Pro Boost and Terry Schweigert in Drag 965 Pro Extreme Motorcycle.
In the PDRA sportsman classes, Buddy Perkinson was first in MagnaFuel Top Sportsman, George Marks led in Dart Top Dragster and Gavin Stanley and David Roloff led the way in Huddleston Performance Pro Jr. Dragster and Huddleston Top Jr. Dragster, respectively.
PRO EXTREME
With a track record 3.546-seconds pass at 214.25 mph over the MIR eighth mile, Leggett and his supercharged '71 Mustang seized the Pro Extreme qualifying lead from Jason Scruggs, who earlier in Friday night's third session had posted a 3.560 run at 216.86 in his '69 Camaro. Leggett opened the day with a 3.625 at 211.63 to lead all 21 class entries, then retained the position with a 3.580 at 212.73 in round two.
"It was huntin' around a little bit at the top end and I thought I'd actually shut it off a little early," the logging company owner from Pinetown, NC, said of his record run. "But then I saw that 3.54 pop up on the scoreboard so I knew it was pretty good after all. We've been working for this for a long time and it feels good to get it done."
Leggett said he feels like the pass should hold up for the top spot even after Saturday's final qualifying session is over, but allowed for the possibility that someone might step up and surprise everyone.
"It's going to be hotter and the track should probably be slicker, but this is a very tough class with a lot of great cars and teams out here," he said. "You know there's a bunch of guys just down the way here with a red Camaro (Scruggs' team) who you just know are going to be going for it."
Following Leggett and Scruggs on the list of 16 qualified entries were Dubai's Badir Ahli in third, Frankie Taylor fourth and Ahli's NAS Racing teammate Mustafa Buhumaid rounding out the top five. The top seven qualifiers all ran in the 3.50s, with positions eight through 15 in the 3.60s and the final spot held by Neal Wantye with a 3.715 pass at 205.44 mph.
PRO NITROUS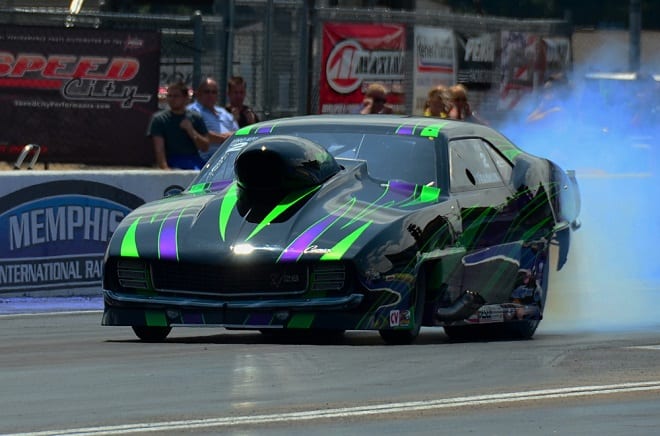 After finishing each of the first two Pro Nitrous qualifying rounds in second place, Tommy Franklin steered his '69 Camaro into the lead with a 3.753-seconds run at 201.58 mph in Friday's third and final session at Memphis International Raceway. Also in a '69 Camaro, "Stevie Fast" Jackson was just three-thousandths of a second behind in the runner-up spot, while Lizzy Musi was third after going 3.774 in her 2015 Dodge Dart.
"The track cooled down and we were really able to get after it in that third round. You know, this Pat Musi motor has been running so good and we're just trying to stay in the points battle," Franklin said.
Regardless, the Fredericksburg, VA-based Franklin team was busy making an engine swap Friday night once qualifying was over.
"No, there's nothing wrong with this engine at all," Franklin said with one hand resting on the pole-sitting piece. "It's just we want to start with a fresh one tomorrow and this will always be here ready as back-up if we need it. They're both good engines; we're ready to go."
Twenty-one entries made qualifying passes, with defending class champion and last year's Memphis Drags winner Jason Harris closing out the top half of the field with a 3.830 at 185.84 in his '68 Firebird and John Camp on the 16th-place bump spot after going 3.860 at 197.74 in his '69 Camaro.
PRO BOOST
For the first time in his PDRA career, Ric Fleck from Lexington, SC, closed out the day in first place with his blown Hemi-powered '41 Willys after posting a 3.866-seconds elapsed time at 189.20 mph in the opening round of Pro Boost qualifying.
"We always run good in the heat and I've been number one before in the early rounds but someone's always been able to step up at night and take it away from us. Not this time," Fleck said. "I was kind of surprised that first run held up all day, but I'm very glad it did."
Fleck's closest challenge came in the night session when Scott Christoffel jumped all the way from 12th before the round began to second with a 3.875 at 187.86 in his supercharged '68 Camaro. The twin-turbocharged 2012 Mustang of Florida's Kevin Fiscus improved to 3.876 at a class-leading 204.39 mph to place third, with Kevin Rivenbark's supercharged 2015 Corvette in fourth and Brian Hicks in a twin-turbo'd '70 Duster fifth. With Millington, TN's own Tony Williams holding down the 16th and final qualifying spot with his blown '69 Camaro, three other drivers–Jerry Prater, Colby Barber and Don Tolley–were left with one last opportunity to qualify.
"I don't know if anyone else will be able to step up tomorrow, but I wouldn't be surprised if we could run a better number in the heat again," Fleck said. "Hopefully this is a sign of things to come and we can go some rounds tomorrow and finish this off with a win, too."
PRO EXTREME MOTORCYCLE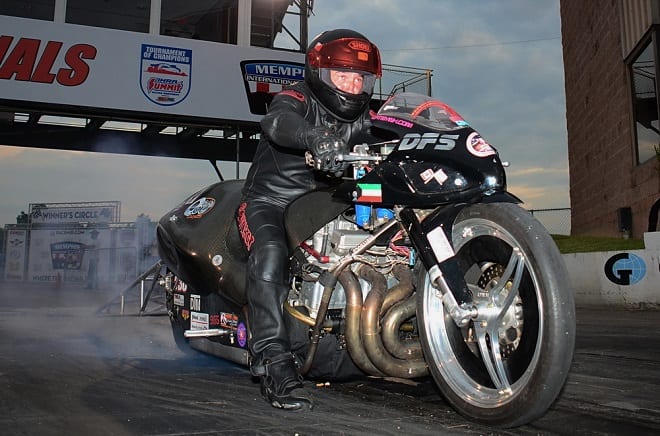 After Eric McKinney qualified first and won the first three Pro Extreme Motorcycle races this season; then Chris Garner-Jones stepped up and did the same at the next three events, it was a big change to see Canada's Terry Schweigert step up with a 4.069 at 173.09 mph in the second round to finish Friday in the number-one position for the PDRA Memphis Drags.
A dairy farmer from Abbotsford, BC, Schweigert said he wasn't surprised by the result, other than he thought he should have been able to run a little quicker in the night session. "We've been doing better lately, but we had a human error with our nitrous bottle that slowed us down," he explained.
Davis, from Douglas, GA, was second at 4.077 and 174.66, with Mississippi's Chuck Wilborn third at 4.109 and 173.05 mph and Mohammad Al Darwish from Doha, Qatar in fourth. Garner-Jones, meanwhile, was fifth and McKinney held on to the eighth-place bump spot with a 4.189 pass at 172.43 mph. The PDRA requires at least 13 entries to warrant a 16-vehicle field in any pro class and only 12 Pro Extreme Bike teams made the trip to Memphis International Raceway.
TOP SPORTSMAN/TOP DRAGSTER
Cousins Buddy and Randy Perkinson held the top two positions in Top Sportsman qualifying with a pair of 2015 Camaros at Memphis. Buddy Perkinson ran a potential class record 3.905 seconds at 192.77 mph in his Billy Albert-powered, RJ Race Cars-built machine, while Randy Perkinson went 3.928 at 187.31 mph in his Jerry Bickel ride with Buck Racing horsepower. In third was Aaron Glaser and his '69 Camaro at 3.962 and 183.92 mph, while past Pro Extreme champ Mick Snyder placed fourth at 4.029 at 181.35 with his unique, roots-blown, fuel-injected '63 Corvette.
"We were going to go into race mode for Q4 tomorrow, but now we'll probably try to back up the record and make it official. If we don't get it then we'll just concentrate on racing and just try to set it again at another race," said Buddy, from Prince George, VA. "No matter what, though, I have to thank my Uncle Christy and my dad, Mark, for everything they do. We're a real family team out here."
In Top Dragster, George Marks came straight off the trailer Friday morning to run 3.952 seconds at 179.56 mph and the run held up through all three sessions to place him number one. In fact, the top four in the class–Marks, Wade Pennington, Chase Murray and Justin Kirk–all made their best run of the day in the opening session.
With one more qualifying round to go on Saturday before eliminations begin, seven Top Dragster drivers were in the three-second zone, while the provisional 16th and final position was held by Eddie Syrek at 4.167 and 176.17 after 20 cars made qualifying attempts.
The all-eighth-mile PDRA Memphis Drags will resume with a fourth and final round of qualifying for all classes starting at 11 a.m. on Saturday (Aug. 22), and a pre-race ceremony scheduled for 3:30 p.m. before final elimination rounds begin.