Mickey Thompson Tires & Wheels is ready for an old-fashioned drag racing showdown. The well-known racing tire manufacturer has announced a sponsorship agreement with Don Schumacher Racing's (DSR) NHRA Factory Stock Showdown Series program and driver Leah Pritchett.
The sponsorship of DSR's SAMTech.edu NHRA Mopar Factory Stock Showdown Series team will involve support for drivers Leah Pritchett and Mark Pawuk. The agreement includes plans for driver appearances, marketing partnerships and exposure on Pritchett's social media channels throughout the 2019 and 2020 race seasons.
"Mickey Thompson is no stranger to championships, and we're thrilled to align ourselves with DSR's championship-winning Stock Showdown Series team and driver Leah Pritchett," said Ken Warner, Vice President of Marketing, Mickey Thompson Tires & Wheels. "We know this is going to be another great year for the DSR team, and we can't wait to hit the track."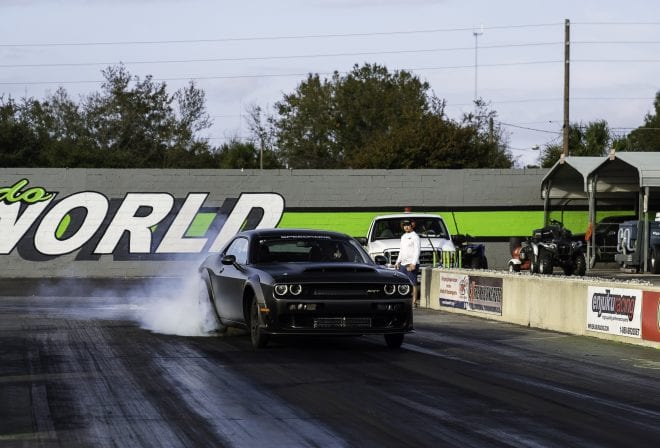 Last year, 30-year-old Pritchett closed out her second full season as a member of Don Schumacher Racing with a championship in the Factory Stock Showdown Series, to go with a top-five finish in the Top Fuel class. Throughout 2018, Pritchett pulled double-duty, competing in the full seven-event Factory Stock Showdown Series schedule while simultaneously competing in the 24-race NHRA Mello Yello Drag Racing Series.
She clinched the 2018 SAMTech.edu NHRA Factory Stock Showdown Series championship in her Mopar Dodge Challenger Drag Pak at the Texas NHRA FallNationals when she raced to her third consecutive win during her first full year competing in the class.
Her first win came at the prestigious NHRA U.S. Nationals, where she raced to victory from her second Factory Stock No. 1 qualifier position. At the very next event, she became the first Factory Stock driver to make a 7-second pass.
The 2018 Factory Stock Showdown crown was the fourth title for Pritchett, who previously captured the 2000 and 2001 Jr. Dragster division 7 championships, and the 2010 NHRA Hot Rod Heritage Series championship in the Nostalgia Funny Car class.
While securing the Factory Stock title, Pritchett was the only professional driver to contend for two world titles during the 2018 NHRA season.
The first race of the 2019 SAMTech.edu NHRA Factory Stock Showdown Series is set for March 14-17 at the Amalie Motor Oil NHRA Gatornationals in Gainesville, Florida. The series will expand to eight races during the year, including inaugural visits to the Virginia NHRA Nationals in Richmond, Virginia, and the Menards NHRA Heartland Nationals in Topeka, Kansas.