The 16th annual Summit Racing Equipment Nationals in Norwalk, Ohio, has come to an end, but not without some exciting milestones being crossed. One of them is Mooresville's very own Lauren Freer, already a multiple-time National Event winner in Top Dragster, Super Comp, Super Gas and high-dollar brackets, etched her name into the history books of the NHRA winning two Eliminator titles at one event by scoring the Super Gas and Super Comp Eliminator honors at the 16th annual Summit Racing Equipment Nationals at Norwalk, Ohio.
For those who've been following Lauren Freer's storied career, you'll know that she's no stranger to the winner's circle. With an impressive trophy collection that includes multiple National Event wins in Top Dragster, Super Comp, Super Gas, and high-dollar brackets, Lauren's latest feat didn't exactly come out of nowhere. She's already experienced doubling up at NHRA LODRS events and major bracket races. But this time, she's carved her place in history as the first woman to clinch two Eliminator titles in one blow.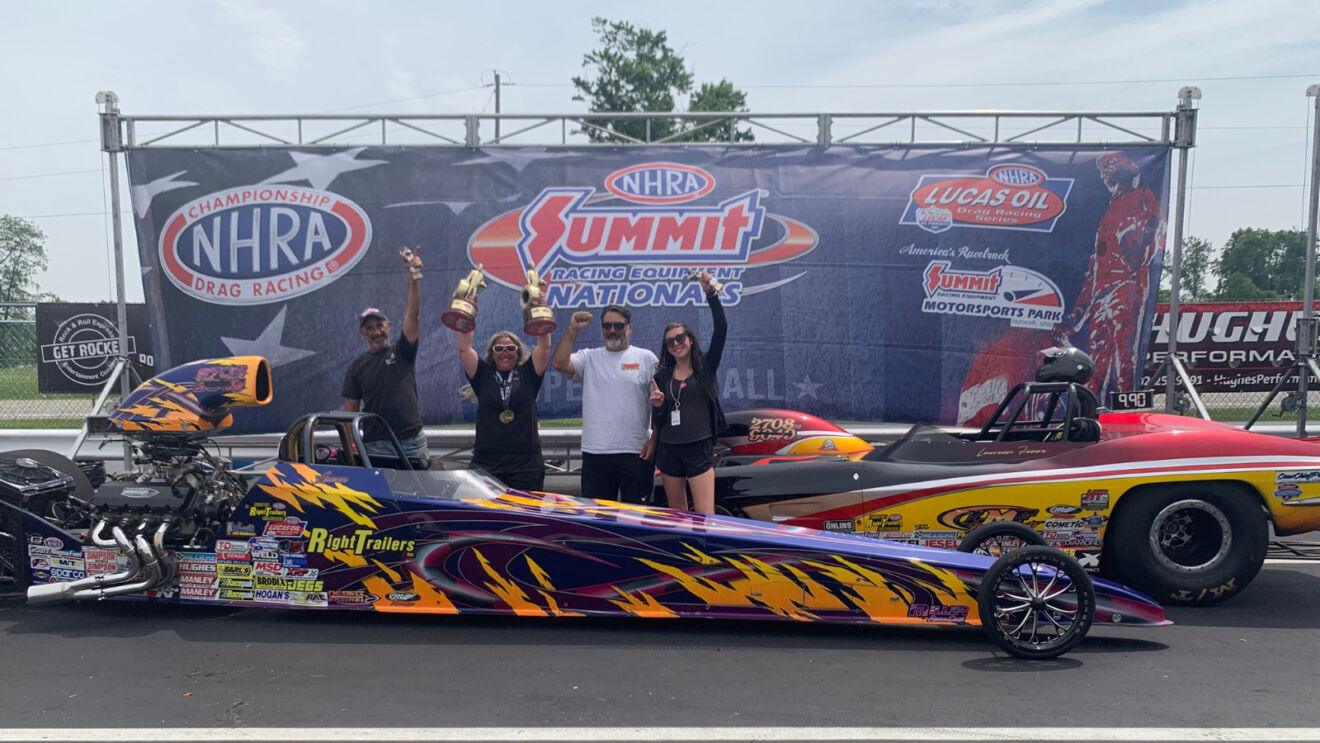 "I've always told my dad I wanted to be the first girl to double at a National [NHRA event]," Lauren said. It had been six years since she had been to a National event win. "Knowing I could win in two classes was crazy!"
Needless to say, Freer was nervous sitting in the staging lanes after racing her dragster to solid 8.91 to drive around David Dahlem's holeshot-initiated 8.94 to collect her fifth career win.
"While we were sitting there waiting to run the finals, Alan Reinhart kept announcing a driver could make history today, and it just made my stomach turn, I was like, 'Can we quit talking about this until we're done,'" explained Freer. "I mean, what if I lose both finals, that would definitely suck."
Despite her nerves, she powered through to finally achieve her first win in Super Gas in the final against Pat Martin, a moment ten years in the making. Both drivers were .00 on the Tree and ran 9.91s. However, Freer got the win light by just .007-second.
"John Labbous stayed with me the entire day and came up to me in the finals of Super Comp and asked how I was feeling. I told him not good! Just nervous, but I was ready!" said Freer. "He looked at me and told me, 'It's done,' and he was the first person down there [at the top end] to congratulate me."
Freer hopes her victory stands as a beacon to younger generations, especially to those girls racing Junior Dragsters, showcasing that anything can be achieved with determination and the right support system.
"The outpouring of congratulations has been awesome," said Freer. "To know that I will always be the first to double – I want girls/kids that race Juniors to know that anything can be done. My dad and mom have supported me throughout the years since '99 when I started Juniors, and my dad still goes everywhere with me!"
This momentous victory was definitely not a solo effort. Freer extended her heartfelt gratitude to a number of individuals who've kept her engine running, from her 'best crew chief ever' dad, B.B. Williams, mom, and husband, to her tireless supporters like John Labbous, Jason Bator, Ray Miller Sr. and Ray Miller III. The support also came in the form of tech gurus like Michael Scott, Brett Nesbitt, Joey Hessling, Kevin from Hughes Converters, Luke Bogacki, and even the entire Division 3 and some Division 2 staff for maintaining a top-notch racing track.
"It still doesn't seem real!"