Alex Laughlin is almost acting like a kid at Christmas. But instead of looking for toys under the tree on Dec. 25, the 27-year-old Bluffdale, Tex., driver already has his toy in the 200-mile per hour Gas Monkey Energy Pro Stock Chevrolet Camaro. For him, Christmas Day comes this weekend at the famed Pomona Raceway for the 56th NHRA Circle K Winternationals drag races, the opening event in the 24-race NHRA Mello Yello national series.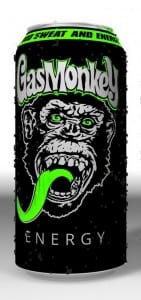 Laughlin announced his alliance with the worldwide Gas Monkey Garage brand last month in Dallas when Gas Monkey principal Richard Rawlings unveiled his new energy drink promotion with three motorsports teams – Laughlin Motorsports in NHRA, Viper Exchange in IMSA and Dreyer & Reinbold – Kingdom Racing in the 100th Indy500.
While Laughlin is still basically a rookie (seven races) in Pro Stock, Alex is a veteran in motorsports dating back to age nine when he began competing in go-karts. He then moved to Legends cars and finally the Top Dragster division in NHRA action.
"I raced on ovals and road courses as a kid," said Laughlin, whose father, Kenny, also drives a Comp Eliminator machine in selected NHRA events. "But I was working with a Pro Mod builder Brandon McKinney in Texas and that got me hooked on drag racing. We were able to meet Richard and Aaron (Kaufman) at Gas Monkey Garage through the 360 Wraps guys and they wanted to run in the Pro Stock class in NHRA. So we are very excited to run the entire 2016 NHRA Mello Yello campaign."
Laughlin admits the jump from a Sportsman dragster to a Pro Stock is huge but he is ready for the challenge.
"We have had a lot of help from Johnny Gray and the Gray Motorsports operation," said Laughlin. "The Grays build our motors too. It's a major adjustment to move into the Pro Stocker. Just the staging and burnout process can be very difficult. Then driving with one hand on the steering wheel and one hand on the shifter the entire track is a wild experience. But I'm doing pretty well in the learning curve."
Laughlin made his Pro Stock debut last year at Sonoma, Calif., where he qualified 13th. He competed in six more events in 2015, including last year's NHRA Auto Club Finals at Pomona.
"The move into the Pro Stock class felt a little crazy at first," Laughlin admitted. "I had absolutely zero experience in the car before the Sonoma race. I had driven a lot of things and you have to just start getting to where you can slow everything down. Then actually process what you are doing one step at a time. But now I have been able to gain the needed experience for 2016.
"I'll admit I was nervous last November coming to Pomona for the first time," he added. "There was a short shutdown area there and I wasn't sure I could get the car stopped in time. But, after the first pass, it was just another track for me. I'm anxious to race in my first Winternationals in a Pro Stock. We are excited to kick off the 2016 season."
With the highly-popular Gas Monkey Garage brand on his car, Laughlin knows he and his machine will receive a lot of attention from the fans too.
"It's great to have the following with Gas Monkey Garage and their new energy drink," said Laughlin, in also talking about the worldwide television show, "Fast n Loud" on the Discovery Channel. "You know that the Fast N Loud show is one of the top cable shows in the world. The show is in over 200 countries and in 38 languages, so people come from everywhere to see the car in action. Now I want to put in a good performance for Richard, Aaron and all of the Gas Monkey Garage folks."
The popular and unique look of the Laughlin Motorsports Gas Monkey Garage Camaro, designed by Wraps 360, brings Laughlin to Pomona in search of a solid showing in the premier sedan class in drag racing.
"We are extremely pleased to announce our new Gas Monkey Garage Energy products and the association of the Laughlin Motorsports team for the popular NHRA Mello Yello drag racing series," said Rawlings. "Alex and the Gas Monkey Garage Pro Stock Camaro will be a crowd favorite this year. We can't wait to see the Gas Monkey Garage Camaro on the track at the upcoming NHRA Winternationals this week."