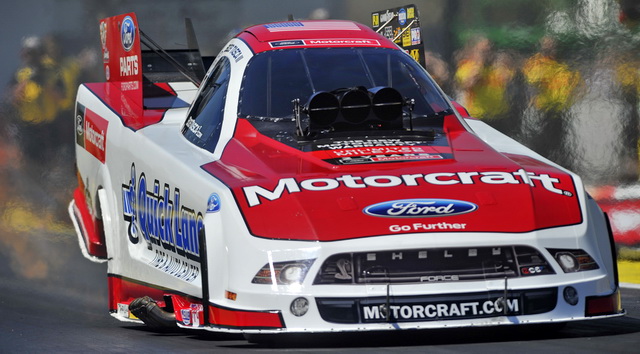 Defending NHRA Mello Yello Series world champ Shawn Langdon raced to the Top Fuel qualifying lead Friday at the Amalie Motor Oil NHRA Gatornationals.
Bob Tasca III (Funny Car, above), Dave Connolly (Pro Stock) and Matt Smith (Pro Stock Motorcycle) also were the leaders in their respective categories after two of four scheduled qualifying sessions at the third of 24 NHRA Mello Yello Drag Racing Series events this year.
Langdon, who struggled in the first two races of the season, rebounded at historic Auto-Plus Raceway at Gainesville by powering his Al-Anabi Racing dragster to a performance of 3.786 seconds at 320.58 mph to take the top spot in the qualifying order.
"As long as the track allows it, you can really throw down some good runs," said Langdon, who is looking for his first career Gatornationals victory. "We're trying to make the best run we can on each session, and we thought a .78 was about all we could get away with. We're trying to get as much information as we can in each lane to get ready for Sunday."
Richie Crampton, who is in the running for the Automobile Club of Southern California Road to the Future Award, sits second after posting a 3.816 at 320.58 in the GEICO/Lucas Oil dragster. Series points leader Doug Kalitta, Phoenix winner Antron Brown and Steve Torrence round out the top five.
In Funny Car, Tasca III got off to a good start by posting a leading run of 4.103 at 304.39 in his Motorcraft/Quick Lane Shelby Ford Mustang. The Cranston, R.I. native won this event in 2009 and was runner-up a year later.
"I don't know what it is about Gainesville, but I love racing here," Tasca said. "This place has been awfully good to me over the years. We set a record in my alcohol car and were on the pole that year. I got my first win here in Funny Car. It's just a special place."
Tasca feels like his race car has even more to show tomorrow.
"We actually put a hole out near the finish line and the car got a little out of shape, but, man, it felt good through the middle," Tasca said.  "I knew that if it could feel like that going through the middle that it would put up a pretty good run. The guys told me before the run that it should run a .10, and that's exactly what it did. The run should give us a little leeway tomorrow to take a swing at it."
After leading the first qualifying session, Jack Beckman was second overall with a 4.108 at 275.96 in his Valvoline Dodge. Chad Head, Ron Capps and Tony Pedregon completed the top five. Series leader John Force qualified 11th and Phoenix winner Alexis DeJoria was 12th overall after day one.
Connolly led Pro Stock with a performance of 6.476 at 213.98 at the controls of his Charter Communications Chevy Camaro. Connolly, who held off Erica Enders-Stevens for the top spot, will be going for his first No. 1 qualifying spot since 2008.
"This is a good feeling," said Connolly. "We're off to a good start because we've put in a lot of hard work since Phoenix. We felt that it was important to have two Haas cars so we could share all the tune-up data. We worked hard to get these cars ready and then we had three good test days in Bradenton and a little bit of good luck in Q1."
Enders-Stevens qualified second and set the Pro Stock national speed record with a 214.69 mph run in her Elite Motorsports Camaro.  Jeg Coughlin Jr., Allen Johnson and Shane Gray will all look to hold on to their top five starting spots during Saturday's two sessions.
Defending Pro Stock Motorcycle world champ Matt Smith set the pace in the two-wheel class with a run of 6.800 at 196.96 on his Matt Smith Racing/Stockseth Racing Buell. Smith, twice a runner-up at Gainesville, was the top qualifier here last year.
"That was a really good run but we got after it a little bit too hard in second gear and it spun the tire so we might have been able to run about a 6.87," Smith said. "We spent the off-season building and testing a lot of new parts and we made progress. I'm excited about this season."
Speeds in the 200-mph range were expected for Pro Stock Motorcycle, but the top speed reached was Smith's 196.96. The King, N.C. resident attributed the lesser than anticipated speeds to a steady headwind that blew all day long.
"I knew this morning that we weren't going to see 200," said Smith. "The wind was blowing the wrong way. I might have been able to go 197 or 198 if I had made a perfect run but we're going to need to see the wind change directions in order to see someone go 200."
Andrew Hines, Smith teammate John Hall, Michael Ray and Eddie Krawiec also qualified in the top five.
Qualifying continues for the Amalie Motor Oil Gatornationals on Saturday at noon and 2:15 p.m. Eliminations are set for Sunday at 11 a.m.
(Photos courtesy NHRA/National Dragster; Click to enlarge)
GAINESVILLE, Fla. — Friday's results after the first two of four rounds of qualifying for the 45th annual Amalie Oil NHRA Gatornationals at Auto-Plus Raceway at Gainesville, third of 24 events in the NHRA Mello Yello Drag Racing Series.  Qualifying will continue Saturday for Sunday's final eliminations.
Top Fuel
1. Shawn Langdon, 3.786 seconds, 320.58 mph; 2. Richie Crampton, 3.816, 316.97; 3. Doug Kalitta, 3.819, 319.37; 4. Antron Brown, 3.836, 315.78; 5. Steve Torrence, 3.839, 319.22; 6. Khalid alBalooshi, 3.847, 316.97; 7. Tony Schumacher, 3.858, 320.28; 8. Clay Millican, 3.861, 308.71; 9. Leah Pritchett, 3.899, 306.67; 10. Morgan Lucas, 3.922, 303.50; 11. Brittany Force, 3.945, 308.92; 12. J.R. Todd, 3.974, 271.46. Not Qualified: 13. Spencer Massey, 4.239, 208.52; 14. Bob Vandergriff, 4.264, 254.62; 15. Terry McMillen, 4.705, 163.39; 16. David Grubnic, 4.801, 149.70; 17. Pat Dakin, 5.152, 128.49; 18. Ike Maier, 5.872, 117.34; 19. Sidnei Frigo, 10.108, 69.25.
Funny Car
1. Bob Tasca III, Ford Mustang, 4.103, 304.39; 2. Jack Beckman, Dodge Charger, 4.108, 275.96; 3. Chad Head, Toyota Camry, 4.115, 300.46; 4. Ron Capps, Charger, 4.121, 302.14; 5. Tony Pedregon, Camry, 4.127, 285.41; 6. Del Worsham, Camry, 4.128, 307.23; 7. Robert Hight, Mustang, 4.132, 303.78; 8. Cruz Pedregon, Camry, 4.148, 305.08; 9. Tim Wilkerson, Mustang, 4.188, 299.60; 10. Matt Hagan, Charger, 4.189, 288.95; 11. John Force, Mustang, 4.380, 246.98; 12. Alexis DeJoria, Camry, 4.799, 167.76. Not Qualified: 13. Tommy Johnson Jr., 5.075, 147.96; 14. Blake Alexander, 6.388, 98.77; 15. Dave Richards, 7.109, 92.05; 16. Jeff Arend, 7.669, 83.02; 17. Courtney Force, 8.184, 73.00.
Pro Stock
1. Dave Connolly, Chevy Camaro, 6.476, 213.98; 2. Erica Enders-Stevens, Camaro, 6.483, 214.69; 3. Jeg Coughlin, Dodge Dart, 6.484, 214.62; 4. Allen Johnson, Dart, 6.487, 213.98; 5. Shane Gray, Camaro, 6.495, 213.60; 6. Vincent Nobile, Camaro, 6.510, 212.56; 7. V. Gaines, Dodge Avenger, 6.518, 213.30; 8. Jimmy Alund, Camaro, 6.527, 212.90; 9. Larry Morgan, Ford Mustang, 6.529, 212.66; 10. Chris McGaha, Camaro, 6.533, 214.04; 11. Steve Kent, Camaro, 6.536, 212.43; 12. Jason Line, Camaro, 6.541, 213.20.  Not Qualified: 13. Rodger Brogdon, 6.541, 212.53; 14. Jonathan Gray, 6.552, 212.16; 15. Matt Hartford, 6.581, 211.39; 16. Shane Tucker, 6.594, 211.53; 17. Kenny Delco, 6.613, 210.24; 18. Robert Patrick, 6.615, 210.28; 19. Lewis Worden, 6.652, 210.83; 20. Mark Hogan, 16.552, 45.53.
Pro Stock Motorcycle
1. Matt Smith, Buell, 6.800, 196.96; 2. Andrew Hines, Harley-Davidson, 6.813, 195.68; 3. John Hall, Buell, 6.830, 195.05; 4. Michael Ray, Buell, 6.853, 196.16; 5. Eddie Krawiec, Harley-Davidson, 6.856, 195.96; 6. Hector Arana Jr, Buell, 6.857, 194.38; 7. Steve Johnson, Suzuki, 6.891, 195.45; 8. Chaz Kennedy, Buell, 6.892, 194.46; 9. Jim Underdahl, Suzuki, 6.901, 196.02; 10. Adam Arana, Buell, 6.910, 196.10; 11. Shawn Gann, Buell, 6.920, 193.82; 12. Jerry Savoie, Suzuki, 6.920, 193.27. Not Qualified: 13. Katie Sullivan, 6.924, 192.85; 14. Fredrik Fredlund, 6.939, 193.99; 15. Mike Berry, 6.987, 188.91; 16. Scotty Pollacheck, 6.987, 187.73; 17. Eddie Reed, 6.989, 190.06; 18. Joe DeSantis, 7.009, 187.55; 19. Freddie Camarena, 7.055, 192.36; 20. James Surber, 7.095, 187.26; 21. Elvira Karlsson, 7.149, 185.92; 22. Hector Arana, 9.994, 81.91; 23. Odolph Daniels, 16.646, 43.73.