There's a lot on Shawn Langdon's plate these days. Coming off his first Top Fuel final round of the season, Langdon is trying to end his first year driving for Kalitta Motorsports on a good note.
There's also the big news that Langdon, a former Top Fuel world champ, revealed last weekend in Dallas, announcing he will be transitioning to the Funny Car ranks for 2018. That means getting acclimated to a Funny Car for the first time in his life, trying to do that as his Top Fuel season comes to a close.
So how does he stay focused with such a frenetic schedule? By racing, of course.
This weekend, Langdon will race at the famed "Million Dollar Drag Race" at Montgomery Motorsports Park, returning to his sportsman roots with the hopes of cashing in big against some of most talented drivers around. For someone like Langdon, who admittedly "lives and breathes this sport," it's the perfect – and perhaps only – way to unwind.
"If I'm not out there racing a Fuel car, on the weekends off I'm racing my sportsman cars," Langdon said on Drag Illustrated Editor-In-Chief Wes Buck's weekly live Facebook show. "Drag racing, it's a way of life for me. I can't get enough of it and I love doing it. It can be hectic and it can be very difficult, not really having many weekends off during the racing season, but it's what I choose to do because I enjoy it, because I love it."
There's nothing carefree and easygoing about this weekend, however. The top sportsman racers will be locked in, trying to claim a life-changing payday, as Jeff Verdi did a year ago when he won $300,000.
The high-stakes nature of top-level sportsman racing is as intense and as mentally draining as any racing out there, but it is something Langdon has always enjoyed. Bracket racing is where Langdon honed his skills, winning Super Comp national championships in the Lucas Oil Drag Racing Series in 2007 and 2008. Langdon wholeheartedly believes those years of experience in the sportsman ranks paid off tremendously when his Top Fuel career started in 2009.
"I definitely think going and racing on off weekends, it makes you better, it keeps you sharp," Langdon said. "Going to these bracket races, it's incredibly tough. You have to be .00 on tree, you've got to have your car dialed in. There's so many key elements you can take from the bracket racing and translate to the Top Fuel car when you're racing in those pressure situations and pressure moments. You're able to block out those distractions and focus on the job at hand."
There's no doubt that weekends like this one are a mental grind, requiring intense mental focus over long hours and up to nine rounds of racing. Langdon has always thrived in pressure situations, relishing the spotlight in big moments, which again is something that only came about after years of intense sportsman racing.
"You're letting go of the button for $50,000," Langdon said. "To be able to block out all of that and perform, it takes a special talent and it takes a lot of practice. That's one thing I really enjoy about going to these bracket races. You get put into these situations of racing the best of the best for a lot of money.
"For me, the money is a huge incentive, but it's the challenge of it. It's not just going out there and being good a couple times throughout the day. It's nine rounds to win these races, so it's keeping your focus. Being able to keep that mental focus for 18 hours a day, it's long and it's grueling."
Overcoming that grind and staying focused for hours upon hours is something that has translated well to Langdon's NHRA career, becoming one of best in the sport on the starting line.
It's characteristics that should also serve Langdon well on his next transition. He only sat in a Funny Car for the first time a week ago and besides the immediate reaction to the clutch dust quickly covering him, Langdon couldn't help but be excited. It's been only enhanced by the enthusiasm from Kalitta Motorsports and his sponsor, Global Electronic Technology, who were quick to get behind Langdon when the opportunity came about.
"Man, I'm so excited," Langdon said. "I sat in the car and it's just so completely different. There's so many things that are different, and it's such a different look. I've been a dragster guy my whole life. I've driven a couple door cars, but obviously the Funny Car is a different animal. It's such a great opportunity. I'm so thankful they would consider me for that ride. It's a huge change of pace for me."
Langdon has been a longtime proponent of the skill level involved in sportsman racing, and he credits the versatility needed to excel in bracket racing for his own improvements as a driver. Transitioning into the Funny Car ranks is next, and that versatility will undoubtedly be needed. He's already spoken to teammate and close friend J.R. Todd, who made the switch from Top Fuel to Funny Car this year, multiple times about the move.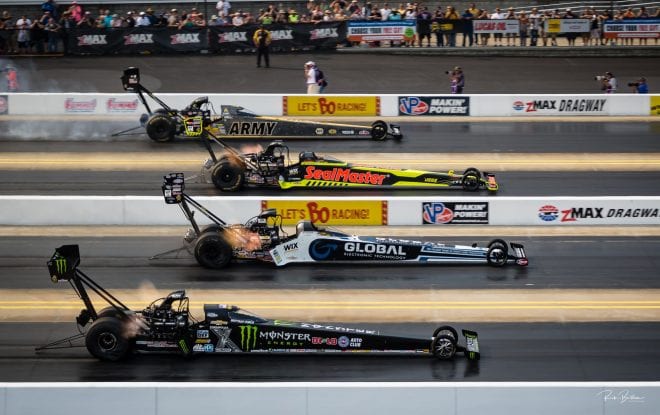 The gameplan is to get licensed next week after the Las Vegas race, and get a couple extra runs in so Langdon can be ready to go for testing early next year. He'll again lean on his sportsman experience with the new challenge, but Langdon has no problem setting big goals for 2018.
"I definitely am hoping that versatility will pay off," Langdon said. "But I have a lot to learn. I've asked J.R. about it, and a lot comes back to you – you're going to need to get in the car. With these cars, you can only tell people so much. It's the seat of the pants feel that you have to get used to over X amount of runs. The second you get comfortable in them, they're going to throw you a curveball. You just have to get in there and drive them and get that feel.
"I want to be ready to go. I want to go into Pomona ready to rock n' roll and be competitive. Making this move, they've put a lot of faith in me, so I want to perform for them."