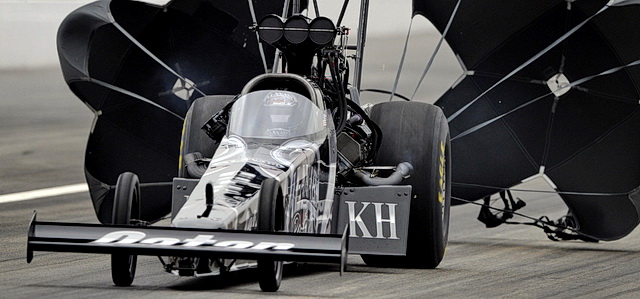 NHRA Top Fuel points leader Shawn Langdon (above) made it a memorable double-win weekend by racing to the Chevrolet Performance U.S. Nationals victory Sep. 2, at Lucas Oil Raceway at Indianapolis.
Robert Hight (Funny Car), Mike Edwards (Pro Stock) and John Hall (Pro Stock Motorcycle) also were winners at the world's most prestigious race, the 18th of 24 NHRA Mello Yello Drag Racing Series events.
It is the last race in the NHRA's regular season and sets the stage for the six-race Mello Yello Countdown to the Championship playoffs which begins Sept. 13-15 at zMAX Dragway near Charlotte, N.C.
A day after winning the special $100,000 Traxxas Nitro Shootout, Langdon earned another $100,000 payday after powering his 8,000-horsepower Al-Anabi Racing dragster to a run of 3.818 seconds at 320.97 mph to beat Steve Torrence in the championship round for the second straight day.
Langdon, who earned a class-best fifth victory of the season and sixth of his career, also beat Pat Dakin, Terry McMillen and Doug Kalitta to reach the final round.
"This is the biggest race of the year by far and this team just did a phenomenal job," said Langdon of his first Chevrolet Performance U.S. Nationals victory.
"With how special this event is and with the history behind the race, it was important for me to win this and I wanted it bad. This team has given me a great car and it's a dream opportunity."
Torrence and Bob Vandergriff secured the final two positions in the Countdown to the Championship. Everyone will start out chasing Langdon, who has plenty of momentum on his side as he is seeking his first Top Fuel world championship title.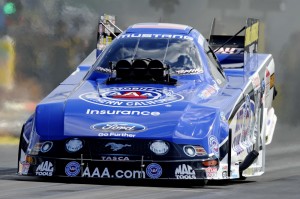 "Having a car like this gives you confidence and now it's up to me to perform," Langdon said. "We have a chance to contend and being part of this team is a great feeling. We want to keep the momentum going and keep working hard."
Hight (right) broke a 35-race winless streak and claimed his 28th career victory and second at Indy by beating Jack Beckman in the final round. Hight went 4.111 at 312.64 in his Auto Club Ford Mustang to earn the victory over Traxxas Nitro Shootout winner Beckman's Valvoline/MTS Dodge Charger. The victory also gave John Force Racing its sixth consecutive Funny Car win at the tradition-rich Indy event.
"This is definitely the biggest win of my career," Hight said.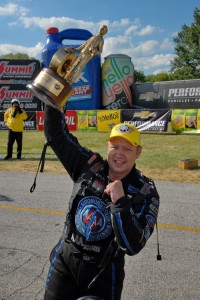 "We won four races in a row last year and then to go into that dry spell, you start wondering and doubting yourself, and that wears on you. (Crew chief) Mike Neff really changed things for me this weekend and this was the perfect time to get a win."
A semifinal finish sent Tim Wilkerson into the Countdown to the Championship, and Del Worsham, who also fell in the semifinals, picked up a clutch second-round win against John Force to move him past Bob Tasca III into the No. 10 position. He will be one of nine drivers chasing points leader Matt Hagan when the Countdown to the Championship playoffs begin. That list includes Hight, who won the 2009 world championship.
"The competition in Funny Car just continues to get tougher," Hight said. "We're going to have to put together six good races and I think we're going to have to win two of those six if we want to have a chance to win the championship."
Pro Stock points leader Edwards earned his sixth season victory and 40th in his career by topping V Gaines on a holeshot in the final round to continue his banner season.
Edwards posted a winning time of 6.637 at 208.39 in his Interstate Batteries/I Am Second Chevy Camaro, using a quicker reaction time to beat Gaines, who went 6.62 at 208.78 in his Kendall Oil Dodge Avenger. It was the second Chevrolet Performance U.S. Nationals victory for Edwards, who claimed his other Indy title 15 years ago in 1998.
"If you keep running well and keep giving yourself opportunities, that's all you can ask for," Edwards said. "It's a tremendous feeling to win this race. That was some of the best racing in Pro Stock in a long time. It's just anybody's race out there and I'm just fortunate to get the win, especially doing it at the Chevrolet Performance U.S. Nationals. It really feels good."
Edwards went as quick as 6.613 en route to the victory, beating Chris McGaha, defending world champion Allen Johnson and six-time Indy winner Greg Anderson to reach the championship round. Edwards will start the Countdown in the top position after dominating much of the regular season.
"I'm ready to start the Countdown," Edwards said. "It's going to be a battle and a fight, and it's going to come down to what drive can perform the best. But I feel like with my car and my team that we're capable of winning, and it's going to be fun."
In Pro Stock Motorcycle, John Hall picked up his second win of the season by beating teammate Matt Smith in the final round. Hall rode his Viper Motorcycle Company Buell to a winning time of 7.034 at 188.38 to knock off Smith, who finished in 7.065 at 189.66 on his Viper Motorcycle Company Buell. Hall beat defending world champion Eddie Krawiec, Michael Ray and L.E. Tonglet to set up the memorable matchup with Smith.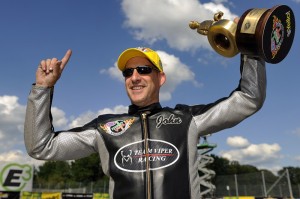 Securing the final four Countdown positions on Monday were Eddie Krawiec, rookie Adam Arana, Tonglet, who advanced to the semifinals to move from 11th into the ninth position, and Shawn Gann. Hector Arana Jr., who has a class-best four wins, will start the Countdown from the No. 1 position, though Hall takes plenty of momentum into the final six races of the season.
"We just went for it and I was lucky enough to get the win," Hall said. "It felt great to get that second Wally and this is huge for Viper Motorcycles. Everybody out there is tough and you have to be on top of your game to win one of these."
The NHRA Mello Yello Drag Racing Series continues Sept. 13-15 with the Carlyle Tools NHRA Carolina Nationals presented by NAPA Auto Parts at zMAX Dragway in Concord, N.C. It is also the first race in the Countdown to the Championship.
(Photos courtesy NHRA/National Dragster; Click to enlarge)
BROWNSBURG, Ind. — Final round-by-round results from the 59th annual Chevrolet Performance U.S. Nationals at Lucas Oil Raceway Park at Indianapolis, the 18th of 24 events in the NHRA Mello Yello Drag Racing Series:
TOP FUEL
ROUND ONE — Billy Torrence, 3.820, 322.50 def. Spencer Massey, 3.970, 236.30; Shawn Langdon, 3.785, 324.44 def. Pat Dakin, 3.806, 317.34; Terry McMillen, 3.847, 319.52 def. Brittany Force, 3.906, 274.11; Morgan Lucas, 3.784, 320.28 def. Antron Brown, 3.825, 321.27; Clay Millican, 3.800, 321.88 def. Tony Schumacher, 3.835, 314.31; Steve Torrence, 3.775, 328.38 def. Tommy Johnson Jr., 3.939, 283.13; Khalid alBalooshi, 3.794, 320.05 def. David Grubnic, 3.787, 320.97; Doug Kalitta, 3.798, 322.42 def. Bob Vandergriff, 4.868, 146.43; QUARTERFINALS — alBalooshi, 4.055, 279.67 def. Millican, 4.387, 197.80; Kalitta, 3.849, 320.89 def. Lucas, 9.170, 75.58; S. Torrence, 10.025, 69.91 def. B. Torrence, broke; Langdon, 3.847, 320.28 def. McMillen, 12.255, 55.11; SEMIFINALS — S. Torrence, 3.870, 318.02 def. alBalooshi, 8.030, 73.38; Langdon, 3.822, 318.99 def. Kalitta, 3.848, 322.81; FINAL — Langdon, 3.818, 320.97 def. S. Torrence, 3.907, 309.63.
FUNNY CAR
ROUND ONE — Ron Capps, Dodge Charger, 4.062, 315.05 def. Alexis DeJoria, Toyota Camry, 4.036, 312.35; Johnny Gray, Charger, 4.060, 313.66 def. Tony Pedregon, Camry, 4.190, 275.96; Jeff Arend, Charger, 4.144, 307.86 def. Matt Hagan, Charger, 4.248, 307.79; Del Worsham, Camry, 4.054, 317.57 def. Courtney Force, Ford Mustang, 5.138, 167.78; Tim Wilkerson, Mustang, 4.028, 315.86 def. Bob Tasca III, Mustang, 4.505, 199.23; John Force, Mustang, 4.062, 319.14 def. Paul Lee, Charger, foul; Robert Hight, Mustang, 4.054, 315.27 def. Cruz Pedregon, Camry, 5.650, 120.83; Jack Beckman, Charger, 4.019, 316.45 def. Chad Head, Camry, 4.129, 308.78; QUARTERFINALS — Hight, 4.557, 273.44 def. Gray, 4.676, 210.21; Wilkerson, 4.155, 300.26 def. Capps, 4.405, 235.10; Beckman, 4.219, 285.71 def. Arend, 4.586, 244.21; Worsham, 4.135, 309.91 def. J. Force, 10.601, 73.27; SEMIFINALS — Beckman, 4.110, 309.42 def. Wilkerson, 4.126, 305.84; Hight, 4.112, 313.15 def. Worsham, 4.182, 300.06; FINAL — Hight, 4.111, 312.64 def. Beckman, 6.072, 111.46.
PRO STOCK
ROUND ONE — Allen Johnson, Dodge Avenger, 6.646, 207.66 def. Mark Martino, Pontiac GXP, 6.721, 206.83; Jason Line, Chevy Camaro, 6.624, 208.68 def. Curt Steinbach, Camaro, 6.647, 206.86; Shane Gray, Camaro, 6.663, 207.85 def. Vincent Nobile, Avenger, foul; Greg Anderson, Camaro, 6.624, 208.49 def. Greg Stanfield, Camaro, 6.680, 206.04; V. Gaines, Avenger, 6.617, 208.65 def. Warren Johnson, GXP, 6.692, 205.66; Mike Edwards, Camaro, 6.613, 208.71 def. Chris McGaha, Avenger, 6.696, 205.94; Jeg Coughlin, Avenger, 6.638, 206.86 def. Rodger Brogdon, Camaro, 6.676, 206.20; Rickie Jones, Camaro, 6.664, 204.66 def. Larry Morgan, Ford Mustang, 6.696, 206.57; QUARTERFINALS — Coughlin, 6.657, 206.80 def. Gray, 15.224, 67.74; Anderson, 6.673, 208.14 def. Jones, 8.027, 125.03; Gaines, 6.625, 208.65 def. Line, 6.644, 207.50; Edwards, 6.640, 208.17 def. A. Johnson, 6.631, 208.62; SEMIFINALS — Edwards, 6.640, 207.46 def. Anderson, 6.640, 208.36; Gaines, 6.637, 208.36 def. Coughlin, 6.640, 206.83; FINAL — Edwards, 6.637, 208.39 def. Gaines, 6.620, 208.78.
PRO STOCK MOTORCYCLE
ROUND ONE — Matt Smith, Buell, 6.994, 190.00 def. Andrew Hines, Harley-Davidson, 7.034, 188.70; Michael Ray, Buell, 7.119, 184.65 def. Steve Johnson, Suzuki, foul; Jerry Savoie, Suzuki, 6.986, 191.67 def. Shawn Gann, Buell, 7.081, 187.60; Scotty Pollacheck, Buell, 7.005, 187.70 def. Mike Berry, Buell, 7.008, 189.79; LE Tonglet, Suzuki, 6.956, 191.00 def. Dawn Minturn, Buell, 7.052, 186.54; Hector Arana, Buell, 6.948, 194.16 def. Adam Arana, Buell, 7.002, 188.04; John Hall, Buell, 6.977, 188.62 def. Eddie Krawiec, Harley-Davidson, 7.011, 189.73; Hector Arana Jr, Buell, 6.982, 191.46 def. Craig Treble, Suzuki, 7.049, 188.65; QUARTERFINALS — Pollacheck, 7.032, 186.82 def. Savoie, 7.027, 190.70; Hall, 7.156, 186.25 def. Ray, 7.116, 186.82; Tonglet, 6.997, 188.75 def. Arana Jr, 7.015, 191.05; M. Smith, 6.992, 191.00 def. H. Arana, 7.001, 192.77; SEMIFINALS — Hall, 7.006, 190.24 def. Tonglet, 7.256, 188.12; M. Smith, 7.018, 190.54 def. Pollacheck, 7.019, 189.92; FINAL — Hall, 7.034, 188.38 def. M. Smith, 7.065, 189.66.
BROWNSBURG, Ind. — Sportsman final-round results from the 59th annual Chevrolet Performance U.S Nationals at Lucas Oil Raceway Park at Indianapolis. The race is the 18th of 24 in the NHRA Mello Yello Drag Racing Series.
Top Alcohol Dragster — Jim Whiteley, 5.353, 268.81  def. Chris Demke, 5.375, 267.85.
Top Alcohol Funny Car — Frank Manzo, Chevy Monte Carlo, 5.562, 261.27  def. Annie Whiteley, Ford Mustang, 5.571, 257.78.
Competition Eliminator — Jason Coan, Bantam, 8.160, 157.15  def. Mike Farrell, Bantam, DQ.
Super Stock — Todd Frantz, Beretta, 9.675, 132.95  def. Jeff Dona, Firebird, 9.861, 132.76.
Stock Eliminator — Brad Plourd, Nova, 11.419, 113.25  def. Mike McGinley, Firebird, 11.563, 112.74.
Super Comp — Frank Kohutek, Dragster, 8.902, 165.92  def. Troy Stone, Dragster, foul.
Super Gas — Philip Smida II, Cavalier, 9.900, 139.79  def. Marlin Snyder, Opel GT, 9.893, 158.63.