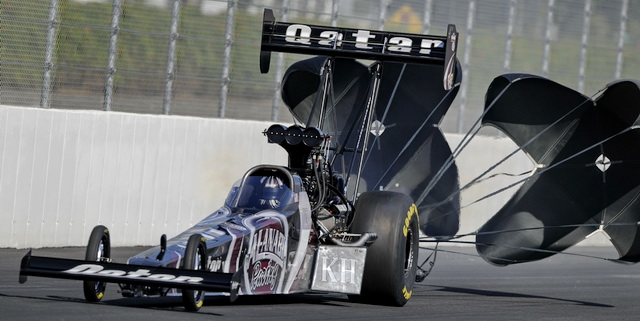 Newly-crowned NHRA Top Fuel World Champion Shawn Langdon (above) finished off his year in style by racing to his seventh victory of the season Nov. 10, in the 49th annual Auto Club NHRA Finals at Pomona, CA.
Matt Hagan (Funny Car), Rickie Jones (Pro Stock) and Eddie Krawiec (Pro Stock Motorcycle) also were race winners at the 2013 NHRA Mello Yello Drag Racing Series season-finale.
Langdon held off a hard-charging Doug Kalitta at the finish line in the final round.  Langdon powered to a 3.784 second run at 323.58 mph in his Al-Anabi Racing dragster to finish in front of Kalitta's Mac Tools dragster, which posted a 3.808 at 322.04-mph pass. Langdon defeated Steve Torrence, David Grubnic and Clay Millican in the first three rounds.
"This is the top of the cake this weekend," said Langdon, who secured his first Top Fuel crown following Saturday's qualifying. "It's an absolutely special weekend for everybody involved with Al-Anabi Racing.
"This is what I envisioned as a kid wanting to be a professional drag racer. When you're living a dream and being part of something special, it almost puts you at a loss for words. I'm very fortunate to be a part of a great team. I still have to keep pinching myself."
The Southern California native became only the sixth Top Fuel driver to sweep both Pomona races, as he opened the season with a victory at the NHRA Winternationals. Tony Schumacher (2004), Gary Scelzi (2000), Mike Dunn (1999), Darrell Gwynn (1989), and Gary Ormsby (1986) also accomplished the feat.
"There are certain races you go to when you feel like you need to win the race as soon as you pull in the gates, and we definitely have that in Pomona," Langdon said. "Alan (Johnson, team principal) works his magic out here, and you can see by his track record.
"My crew chief, Brian Husen, gave me a phenomenal car all weekend. The team has been in this position before, but it's all new to me as a driver. I was a nervous wreck coming in, but I built up some confidence as the weekend went on. My lights started getting better and better, and the car was getting better as well."
In Funny Car, Hagan gained a bit of revenge by defeating arch-rival Force in a marquee final-round pairing between the top two points finishers.
Hagan, who won the race without the assistance of crew chief Dickie Venables, who was recuperating in Indianapolis after a recent medical procedure, posted a 4.018 at 320.66 in his Magneti Marelli/Rocky Boots Dodge Charger to edge the 16-time series champ's Castrol GTX Ford Mustang at the finish.
"I'm on cloud nine that our assistant crew chief stepped up and was able to fill some big shoes," Hagan said. "Dickie Venables was sick this weekend, and Mike Knudsen has never tuned a race car and had to jump in here, and there hasn't been a crew chief [from another team] up in our lounge. I mean, this guy has done a phenomenal job. It just shows you when something happens someone else can step up and take the reins and run with it."
Hagan earned his 10th career victory and second at this event by also outrunning Alexis DeJoria, Johnny Gray and Cruz Pedregon in earlier rounds. Hagan, who led the series standings for much of the season, finished second to Force for the second time (also 2010).
"My guys have been working so hard; I'm so proud of them," said the 2011 world champ who moonlights as a cattle rancher in his native Virginia. "I wish we could have won the championship, but that goes to John this year. I'm young in this sport, and I'll just come in and fight for it next year."
Jones scored an emotional first career victory in Pro Stock, defeating defending world champ Allen Johnson in the final round with a holeshot.
The 26-year-old driver, who became the ninth different winner in the competitive category, left with a .015 advantage off the start and clocked a 6.584 at 210.28 in his Elite Motorsports Chevy Camaro to hold off Johnson's quicker and faster Team Mopar Dodge Avenger, which finished in 6.581 at 211.03 mph.
Jones outran Matt Hartford, four-time champ Greg Anderson and Buddy Perkinson to advance to his fourth career final round. He broke down as he was climbing out of his car in the shut down area.
"Man, it was so emotional," Jones said. "You work for something so long, driving the race truck across the country, and keep beating on it. This is what I've always wanted since I was racing junior dragsters when I was 10.
"It seemed like it took forever for the win light to come on, and when it did, there were so many tears in my eyes that I almost couldn't see the turnoff road. To get my first win at the Finals at Pomona, which is one of the biggest races of the year, is really awesome."
In Pro Stock Motorcycle, defending world champ Krawiec claimed his third win in his sixth consecutive final round at this event when he rode his Screamin' Eagle Vance & Hines Harley-Davidson to a performance of 6.918 at 192.41 to deny Scotty Pollacheck his first win. Pollacheck trailed with a 6.963 at 193.57 on his Quality Tire Buell.
"It was an awesome day," Krawiec said. "I'm fortunate that this race track has been my house. That's the way I look at it. I do the best I can to not let anyone else win here.
"The odd stat is that I've won here every year that I've lost the championship, and won this race in years when I've lost the championship. I guess that it's a good way to cap the season either way."
Krawiec, who finished the season in third place in the standings, outran Steve Johnson, John Hall and Michael Ray en route to taking his second victory of the season and 22nd of his career. He celebrated the win with several Harley-Davidson execs, including Willie G (Davidson), the icon of Harley-Davidson Motorcycles.
"I look up to him for what he's done in the sport," Krawiec said. "He has a long history of success in motorcycle racing. I ended up giving him the race-win Wally. He has everything he's ever wanted, but he didn't have a Wally. That was just a small token of my appreciation for him."
The 2014 NHRA Mello Yello Drag Racing Series opens Feb. 6-9, with the NHRA Winternationals at Auto Club Raceway at Pomona in Southern California.
POMONA, Calif. — Final round-by-round results from the 49th annual Automobile Club of Southern California NHRA Finals at Auto Club Raceway at Pomona, the final of 24 events in the NHRA Mello Yello Drag Racing Series:
TOP FUEL
ROUND ONE — Morgan Lucas, 3.793, 325.22 def. Terry McMillen, 4.969, 145.61; Clay Millican, 3.791, 325.30 def. Troy Buff, 9.993, 77.20; Brandon Bernstein, 4.410, 222.07 def. Billy Torrence, 8.151, 83.24; Shawn Langdon, 3.781, 322.42 def. Steve Torrence, 17.243, 44.03; Doug Kalitta, 3.757, 328.70 def. Tony Schumacher, 5.441, 133.99; Antron Brown, 3.762, 324.75 def. Bob Vandergriff, 9.300, 85.11; David Grubnic, 3.839, 309.70 def. Khalid alBalooshi, 4.250, 205.47; Brittany Force, 4.594, 188.25 def. Spencer Massey, 4.763, 224.21; QUARTERFINALS — Force, 3.855, 313.37 def. Bernstein, 6.311, 105.96; Millican, 3.776, 325.77 def. Lucas, 3.782, 320.13; Kalitta, 3.797, 325.22 def. Brown, 3.825, 310.84; Langdon, 3.779, 326.08 def. Grubnic, 3.802, 319.45; SEMIFINALS — Kalitta, 3.791, 325.77 def. Force, 12.487, 43.18; Langdon, 3.756, 326.87 def. Millican, 4.155, 199.67; FINAL — Langdon, 3.784, 323.58 def. Kalitta, 3.808, 323.04.
FUNNY CAR
ROUND ONE — Cruz Pedregon, Toyota Camry, 4.101, 309.56 def. Jack Beckman, Dodge Charger, 4.495, 233.40; Gary Densham, Charger, 4.100, 305.91 def. Del Worsham, Camry, 4.131, 303.91; Bob Tasca III, Ford Mustang, 4.108, 309.56 def. Courtney Force, Mustang, 4.260, 256.50; John Force, Mustang, 4.036, 317.12 def. Bob Bode, Chevy Impala, 5.316, 132.09; Matt Hagan, Charger, 4.059, 315.27 def. Alexis DeJoria, Camry, 4.056, 314.24; Ron Capps, Charger, 4.089, 315.19 def. Robert Hight, Mustang, 4.657, 183.97; Johnny Gray, Charger, 4.092, 313.07 def. Chad Head, Camry, 4.212, 257.43; Jeff Arend, Charger, 4.452, 207.46 def. Tim Wilkerson, Mustang, 5.138, 161.00; QUARTERFINALS — C. Pedregon, 5.207, 267.43 def. Tasca III, 5.626, 242.93; Densham, 4.128, 302.48 def. Capps, 4.312, 254.86; Hagan, 4.070, 309.98 def. Gray, 4.086, 311.56; J. Force, 5.533, 183.94 def. Arend, 11.451, 66.72; SEMIFINALS — J. Force, 4.043, 314.83 def. Densham, 4.128, 297.16; Hagan, 4.057, 315.56 def. C. Pedregon, 4.134, 288.09; FINAL — Hagan, 4.018, 320.66 def. J. Force, 4.057, 317.94.
PRO STOCK
ROUND ONE — Shane Gray, Chevy Camaro, 6.586, 211.03 def. Erica Enders-Stevens, Camaro, 6.595, 211.59; Buddy Perkinson, Camaro, 6.680, 207.02 def. Bruno Massel, Camaro, 6.750, 208.07; Greg Anderson, Camaro, 6.537, 212.09 def. V. Gaines, Dodge Avenger, 6.555, 212.03; Allen Johnson, Avenger, 6.536, 211.56 def. Rodger Brogdon, Camaro, 6.586, 210.77; Jason Line, Camaro, 6.560, 211.76 def. Greg Stanfield, Camaro, 6.583, 210.28; Kurt Johnson, Pontiac GXP, 10.021, 104.02 def. Mike Edwards, Camaro, no time; Rickie Jones, Camaro, 6.532, 211.73 def. Matt Hartford, Avenger, 6.635, 209.39; Jeg Coughlin, Avenger, 6.544, 211.26 def. Vincent Nobile, Avenger, 6.601, 210.57; QUARTERFINALS — K. Johnson, 6.587, 210.08 def. Gray, 16.018, 53.75; Perkinson, 6.567, 211.96 def. Line, 6.685, 211.43; A. Johnson, 6.566, 211.63 def. Coughlin, foul; Jones, 6.546, 211.96 def. Anderson, 10.800, 83.97; SEMIFINALS — A. Johnson, 6.548, 211.23 def. K. Johnson, 6.598, 210.34; Jones, 6.548, 211.86 def. Perkinson, 6.574, 211.83; FINAL — Jones, 6.584, 210.28 def. A. Johnson, 6.581, 211.03.
PRO STOCK MOTORCYCLE
ROUND ONE — Michael Ray, Buell, 6.894, 193.71 def. LE Tonglet, Suzuki, 6.934, 192.49; Katie Sullivan, Suzuki, 6.973, 194.52 def. Angie Smith, Buell, 7.500, 145.52; Eddie Krawiec, Harley-Davidson, 6.930, 190.70 def. Steve Johnson, Suzuki, 6.923, 193.13; Scotty Pollacheck, Buell, 6.856, 194.91 def. Chaz Kennedy, Buell, 6.875, 193.54; Shawn Gann, Buell, 6.912, 193.79 def. Adam Arana, Buell, 6.923, 195.82; Hector Arana Jr, Buell, 6.926, 193.24 def. Jim Underdahl, Suzuki, 6.979, 195.00; Hector Arana, Buell, 6.871, 195.73 def. Andrew Hines, Harley-Davidson, 6.931, 192.08; John Hall, Buell, foul def. Matt Smith, Buell, DQ; QUARTERFINALS — Ray, 6.987, 191.24 def. Gann, foul; Sullivan, 6.918, 195.34 def. Arana Jr, 6.878, 193.18; Krawiec, 6.928, 191.46 def. Hall, 7.056, 186.00; Pollacheck, 6.882, 194.10 def. H. Arana, 6.905, 195.36; SEMIFINALS — Krawiec, 6.957, 191.05 def. Ray, 6.979, 191.29; Pollacheck, 6.949, 191.51 def. Sullivan, 7.004, 185.54; FINAL — Krawiec, 6.918, 192.41 def. Pollacheck, 6.963, 193.57.
POMONA, Calif. — Sunday's sportsman final results from the 49th annual Automobile Club of Southern California NHRA Finals at Auto Club Raceway at Pomona. The race is the final of 24 in the NHRA Mello Yello Drag Racing Series:
Top Alcohol Dragster — Johnny Ahten, 5.428, 259.86  def. Jim Whiteley, 8.590, 95.50.
Top Alcohol Funny Car — Frank Manzo, Chevy Monte Carlo, 5.531, 265.06  def. Clint Thompson, Monte Carlo, 6.758, 161.59.
Competition Eliminator — Jeff Lane, Chevy Cobalt, 9.863, 95.50  def. Doug Lambeck, Pontiac Sunfire, foul.
Super Stock — Jeff Adkinson, Chevy Cobalt, 8.722, 153.74  def. Don Keen, Ford Mustang, foul.
Stock Eliminator — Bo Butner, Ford Mustang, 9.951, 133.65  def. Peter Biondo, Chevy Camaro, 10.393, 124.37.
Super Comp — Bobby Dye Jr., Dragster, 8.915, 169.06  def. Andrew Madrid, Dragster, 8.938, 166.15.
Super Gas — Pete Zak, '27-T Ford, 9.881, 147.29  def. Dave Kelly, Pontiac Firebird, 9.877, 153.00.
Summit Super Pro — Edmond Richardson, American, 7.269, 170.82  def. Mark Simons, Yancer, 7.566, 178.99.
Summit Pro — Alvie Merrill, Chevy Camaro, 10.231, 129.47  def. Kip Norup, Ford Thunderbird, 9.892, 137.37.
Summit Bike — Chad Isley, Suzuki GSXR, 8.842, 148.36  def. Jon Haner, Honda, 9.688, 137.25.
Summit Sportsman — Jeff Hefler, Chevy Impala, 12.233, 105.36  def. Gary Hairfield, Chevy Corvette, 12.108, 119.46.