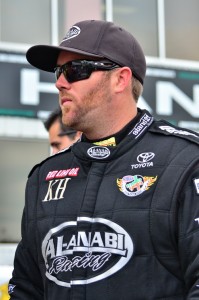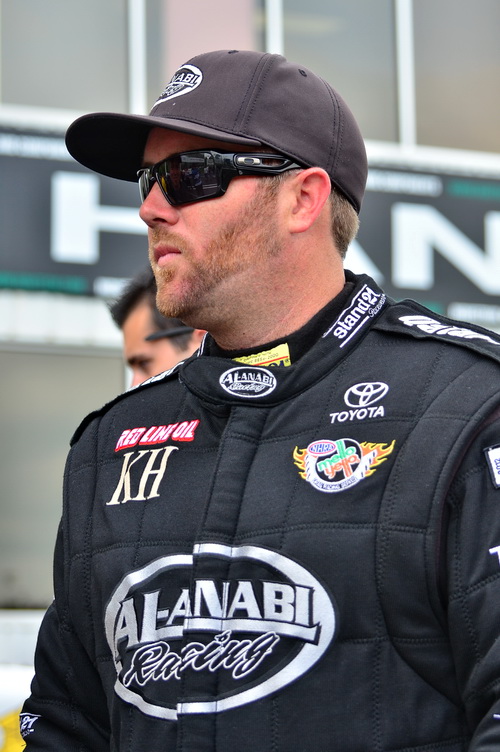 Defending NHRA Mello Yello Drag Racing Series world champ Shawn Langdon (right) in Top Fuel and NAPA Auto Parts Dodge Funny Car veteran Ron Capps posted the best numbers on Friday's pre-season test session in preparation for the 24-race NHRA Mello Yello Drag Racing Series and the season-opening Circle K NHRA Winternationals, Feb. 6-9, in Pomona, Calif.
Langdon who had seven wins and three runner-up finishes in his championship season, set the pace with a category leading pass of 3.726 seconds during Friday's test session.
"When you are the defending champion, you're always concerned about how you're going to do the following year but I still feel like we're at the top of our game," Langdon said. "Those runs are a nice confidence booster for all of us."
"I know it's only testing but after winning the championship, the last thing you want to do is come out and struggle early in the season. We've made some really good runs today I think we're all pretty happy with what we've accomplished so far."
2012 Top Fuel world champ Antron Brown, who won four national events and reached six final rounds in 2013, followed Langdon with 3.735 second at 325.37 mph run in his Matco Tools dragster while Al-Anabi gold dragster driver Khalid al-Balooshi also made an impressive 3.75 second run.
"It was a good boost of confidence for this Matco Tools team here at DSR," Brown said. "More and more cars are getting down the track running really good ETs. We'd like to be low and quick of the session, so tomorrow we'll go to work a little bit harder and get after it a little bit more and see what we got for (Shawn) Langdon. We don't want to be second, we want to be the quickest. But it was a great job by the entire Matco/Toyota team. It was a good day."
Other notable performances included a fellow teammate Spencer Massey at 3.770, Bob Vandergriff at 3.817, and 2013 NHRA rookie of the year Brittany Force embarking on her sophomore season who's best pass on Friday was at 3.824-seconds.
"We finished my rookie season on a high note with a semifinal finish at the Auto Club NHRA Finals in Pomona and then winning rookie of the year," said Castrol Edge Top Fuel driver Brittany Force. "I made my first side-by-side Top Fuel run at last year's [test event], so I want to come back and show all the Florida fans how much my team has improved."
Capps, who is seeking his first Funny Car world championship title, powered his NAPA Dodge to a 4.003 under the guidance of new crew chief Rahn Tobler on Friday's testing.
"Up until today we've all struggled down here but we figured a few things out," said Capps, who won three events in 2013. "We still don't race in these conditions but this tells you what kind of a mentality that [crew chief Rahn] Tobler has. He wasn't going to give up until we had this figured out. It's just nice to put a couple decent runs in the bank."
Reigning NHRA Mello Yello Funny Car world champion John Force recorded an impressive 4.039 second run at 319.37 mph Friday in his Castrol GTX Ford Mustang followed by teammate and 2009 world champ Robert Hight who also posted a 4.039 second run at 315.56 mph in his Auto Club Ford Mustang.
"I am ready to get back into my hot rod," said the 16-time world champ. "I took some time off, but now I am ready to get that 17th Funny Car championship. It won't be easy, especially when you look at my drivers like Robert Hight in the Auto Club Ford Mustang and my daughter Courtney Force in the Traxxas Ford Mustang. They are hungry for their own championships. There will be some heavy hitters at the event, and it will be a great way to get the season started."
Hight said his run "felt great" and he was happy to be back behind the wheel in 2014.
"We have made a couple other runs in the 4.0s the past couple of days but with the fans in the stands and someone in the lane next to you it is just great to race," he said. "(Crew chief) Mike Neff and this Auto Club team have been testing a few things and we are focusing on the NHRA Circle K Winternationals. It has been cold here but we are working around that and seeing some good numbers,"
Meanwhile in the Don Schumacher Racing camp Jack Beckman and Matt Hagan also reached the 4.0 second club with runs of 4.061 and 4.072 respectively. Tommy Johnson, who is returning to the NHRA Mello Yello Drag Racing Series behind the wheel of Terry Chandler's Make-a-Wish Foundation car, posted a competitive 4.134 second pass.
Other Funny Car drivers who made test runs included Chad Head, Courtney Force, Alexis DeJoria, Del Worsham and Bob Tasca III.
(Photos courtesy NHRA; JFR; Click to enlarge)
Below is a listing of the Top Fuel and Funny Car categories best performance from Friday's testing:
TOP FUEL
1.            Shawn Langdon, 3.726, 325.37
2.            Antron Brown, 3.735, 325.37
3.            Khalid al Balooshi, 3.750, 328.70
4.            Spencer Massey, 3.770, 320.58
5.            Bob Vandergriff, 3.817, 322.42
6.            Brittany Force, 3.824, 317.87
7.            Terry McMillen, 4.391, 181.64
8.            Tony Schumacher, 7.558, 81.74
9.            Richie Crampton, 7.807, 74.08
10.          Steve Torrence, 9.222, 76.10
FUNNY CAR
1.            Ron Capps, 4.003, 320.28
2.            John Force, 4,039, 319.37
3.            Robert Hight, 4.039, 315.56
4.            Del Worsham, 4.056, 315.93
5.            Jack Beckman, 4.061, 312.06
6.            Courtney Force, 4.067, 320.51
7.            Bob Tasca III, 4.067, 314.46
8.            Matt Hagan, 4.072, 304,67
9.            Alexis DeJoria, 4.108, 311.27
10.          Tommy Johnson Jr., 4.134, 299.93
11.          Chad Head, 4.170, 279.21
12.          Cruz Pedregon, 7.790, 89.25