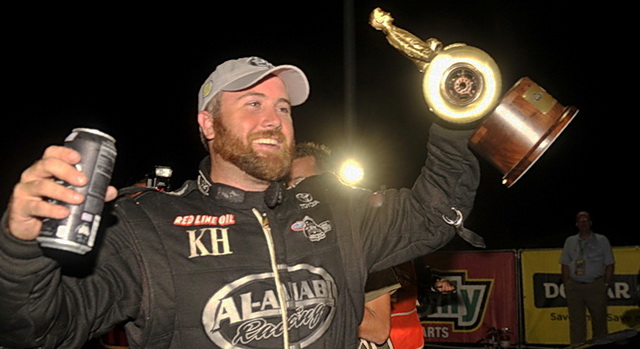 Shawn Langdon (above) raced to his career-first Top Fuel victory Sunday at the rain-delayed O'Reilly Auto Parts NHRA Nationals presented by Super Start Batteries at zMAX Dragway. Ron Capps (Funny Car), Jason Line (Pro Stock) and Andrew Hines (Pro Stock Motorcycle) also earned victories in their respective pro classes after the first of six playoff races in the NHRA Full Throttle Countdown to the Championship.
Langdon defeated Tony Schumacher Sunday with a performance of 3.785 seconds at 326.71 mph in his Al-Anabi Racing dragster, holding off the hard-charging Schumacher, who finished in 3.808 at 322.27 in his U.S. Army dragster. Langdon won from the top qualifying position and beat Chris Karamesines, Bob Vandergriff and Brandon Bernstein to advance to the final round.
"I'm a firm believer that everything happens for a reason," Langdon said. "Eighty-seven races into it (his TF career), I've always kind of wondered, 'Man, what does it feel like? Why haven't I won? Is there something I'm doing wrong?'
"I had a car capable of winning at times driving for the Lucas family for three years, and I came to this team that Sheikh Khalid [Al Thani, team owner] and Alan Johnson [team manager] that was built around winning. It gets to the point where it's the Countdown and it's crunch time. You couldn't have scripted it any better. It's a surreal feeling."
Schumacher took over the points lead with the runner-up finish after playoff top seed Antron Brown was eliminated in the first round when his Aaron's/Matco Tools Top Fuel dragster encountered a mechanical issue midway down the track, sending Al-Anabi driver Khalid alBalooshi into the second round.
Langdon moved to third in points with the victory and Brown dropped to fourth overall.
In Funny Car, Capps raced his NAPA Auto Parts Dodge Charger to his fourth victory of the season, defeating Mike Neff's Castrol GTX Ford Mustang in the final. Capps sped to a winning run of 4.067 at 315.49 and increased his points lead as he heads into the second round of the six-race Countdown.
"We were pretty pumped up," said Capps, who beat Jim Head, Cruz Pedregon, and Matt Hagan in early rounds. "It just happens so fast, but what a race car. The car gives me confidence, but I learned a long time ago not to get overconfident.
"I was still a nervous wreck before the first round. I don't take anything for granted. Mike Neff is a guy who can throw down at any time. He ran the table and won the race in Indy, and, lo and behold, we were able to gut it out without lane choice in the second round in the semis."
In Pro Stock, Line claimed his second win of the season in his Summit Racing Equipment Chevy Camaro with a final round performance of 7.518 at 200.20, outrunning series points leader Allen Johnson in the final round.
Johnson's Team Mopar Dodge Avenger made quick move toward the center line off the starting line and he shut it off. Line defeated Frank Gugliotta, Larry Morgan and Warren Johnson in the first three rounds.
"Winning this race is a big way for us to start the Countdown but it doesn't mean a whole lot unless you can keep going," Line said. "To get any kind of lead at all is a good thing. Right now, the top six cars are all so good that whoever lets the clutch out first is usually going to win. That's a lot to ask from anybody."
Hines scored his fifth win of the season and 30th in his career in Pro Stock Motorcycle, beating teammate Eddie Krawiec to the finish line with a time of 6.862 seconds at 194.49 mph on his Screamin' Eagle Vance & Hines Harley-Davidson.
"We just tried to stay calm," said Hines, who had a bye run and then beat Shawn Gann and Hector Arana Sr. to advance to his 51st career final round.
"We just had to keep our focus all day long and we were on a mission when we came here, to defend our regular season win streak of 10 in a row and we needed to come out here and see if we could do that. Luckily, everything all in the end panned out for us and it's just a great feeling to start off the Countdown this way."
Krawiec continues to lead the Countdown to the Championship points by 10 over Hines.
The NHRA Full Throttle Countdown to the Championship continues Sept. 20-23 with the AAA Texas NHRA Fall Nationals at the Texas Motorplex near Dallas.
(Photos courtesy NHRA/National Dragster; Click to enlarge)
CHARLOTTE, N.C. — Final round-by-round results from the Fifth annual O'Reilly Auto Parts NHRA Nationals presented by Super Start Batteries at zMax Dragway, the 18th of 23 events in the NHRA Full Throttle Drag Racing Series:
TOP FUEL
ROUND ONE — Bob Vandergriff, 3.831, 323.27 def. Steve Torrence, 3.824, 320.58; Khalid alBalooshi, 4.425, 182.43 def. Antron Brown, 4.716, 159.31; Brandon Bernstein, 3.838, 321.50 def. Cory McClenathan, 3.842, 311.92; Shawn Langdon, 3.888, 311.34 def. Chris Karamesines, 4.105, 283.85; Tony Schumacher, 3.793, 324.83 def. David Grubnic, 5.147, 131.99; Spencer Massey, 3.812, 322.73 def. Terry McMillen, 3.949, 314.83; Doug Kalitta, 3.807, 325.92 def. Clay Millican, 3.882, 314.75; Morgan Lucas, 3.808, 325.85 def. Larry Dixon, 3.897, 296.31; QUARTERFINALS — Langdon, 3.796, 325.45 def. Vandergriff, 3.851, 321.58; Massey, 3.777, 324.36 def. alBalooshi, 5.819, 113.99; Bernstein, 3.822, 324.36 def. Kalitta, 3.827, 323.50; Schumacher, 3.788, 323.66 def. Lucas, 3.865, 262.18; SEMIFINALS — Langdon, 3.808, 322.19 def. Bernstein, 3.948, 298.73; Schumacher, 3.749, 324.75 def. Massey, 3.804, 321.04; FINAL — Langdon, 3.785, 326.71 def. Schumacher, 3.808, 322.27.
FUNNY CAR
ROUND ONE — Jeff Arend, Toyota Camry, 4.335, 305.77 def. Robert Hight, Ford Mustang, 6.165, 114.33; Tim Wilkerson, Mustang, 4.096, 307.58 def. Todd Lesenko, Chevy Impala, 4.223, 293.73; Ron Capps, Dodge Charger, 4.069, 312.06 def. Jim Head, Toyota Solara, 5.423, 137.30; Jack Beckman, Charger, 4.066, 312.42 def. Alexis DeJoria, Camry, 4.110, 311.20; Mike Neff, Mustang, 4.271, 262.18 def. Johnny Gray, Charger, 5.931, 114.88; Cruz Pedregon, Camry, 4.035, 314.31 def. Tony Pedregon, Camry, 6.031, 116.83; John Force, Mustang, 4.142, 313.37 def. Courtney Force, Mustang, 12.473, 30.42; Matt Hagan, Charger, 4.057, 311.56 def. Bob Tasca III, Mustang, 6.313, 108.04; QUARTERFINALS — Neff, 4.065, 312.57 def. J. Force, 4.129, 314.17; Beckman, 4.063, 310.48 def. Arend, 4.108, 313.44; Capps, 4.064, 313.88 def. C. Pedregon, 4.541, 188.31; Hagan, 4.062, 307.09 def. Wilkerson, 9.461, 81.00; SEMIFINALS — Neff, 4.050, 314.53 def. Beckman, 4.298, 305.49; Capps, 4.047, 317.05 def. Hagan, 4.343, 218.65; FINAL — Capps, 4.067, 315.49 def. Neff, 10.406, 79.25.
PRO STOCK
ROUND ONE — Dave Connolly, Chevy Cobalt, 6.657, 209.04 def. V. Gaines, Dodge Avenger, 6.624, 208.97; Larry Morgan, Ford Mustang, 6.639, 207.08 def. Ron Krisher, Pontiac GXP, 6.641, 208.39; Warren Johnson, GXP, 6.658, 208.65 def. Erica Enders, Cobalt, 6.785, 165.25; Mike Edwards, GXP, 6.623, 209.98 def. Ronnie Humphrey, GXP, 6.665, 208.78; Shane Gray, Chevy Camaro, 6.675, 208.39 def. Greg Anderson, Camaro, 7.215, 155.96; Vincent Nobile, Avenger, 6.596, 210.21 def. Lewis Worden, Mustang, 9.986, 92.07; Jason Line, Camaro, 6.576, 211.06 def. Frank Gugliotta, Mustang, foul; Allen Johnson, Avenger, 6.594, 210.73 def. Jeg Coughlin, Avenger, 6.644, 208.42; QUARTERFINALS — W. Johnson, 6.637, 208.36 def. Gray, DQ; Nobile, 6.620, 208.04 def. Connolly, 6.872, 169.32; A. Johnson, 6.585, 210.08 def. Edwards, 6.619, 208.46; Line, 6.567, 210.97 def. Morgan, 6.643, 206.67; SEMIFINALS — A. Johnson, 6.567, 211.00 def. Nobile, 6.588, 209.46; Line, 6.554, 211.39 def. W. Johnson, 6.651, 208.71; FINAL — Line, 7.518, 200.20 def. A. Johnson, 11.800, 78.71.
PRO STOCK MOTORCYCLE
ROUND ONE — Shawn Gann, Buell, 6.984, 191.70 def. Karen Stoffer, Suzuki, 6.989, 191.08; Scotty Pollacheck, Buell, 6.927, 189.92 def. John Hall, Buell, 6.981, 190.14; Michael Ray, Buell, 6.950, 191.65 def. Jim Underdahl, Suzuki, 7.032, 190.19; Andrew Hines, Harley-Davidson, 6.899, 194.30 was unopposed; Hector Arana, Buell, 6.900, 193.88 def. Michael Phillips, Suzuki, foul; Eddie Krawiec, Harley-Davidson, 6.871, 194.55 def. LE Tonglet, Suzuki, 7.078, 190.43; Hector Arana Jr, Buell, 6.939, 190.83 def. Chip Ellis, Buell, 6.959, 190.22; Matt Smith, Buell, 6.954, 191.46 def. Steve Johnson, Suzuki, 7.039, 188.60; QUARTERFINALS — Arana, 6.893, 192.49 def. Smith, 7.075, 184.09; Arana Jr, 6.914, 190.89 def. Ray, 6.918, 191.76; Hines, 6.871, 192.99 def. Gann, 7.739, 131.28; Krawiec, 6.846, 194.91 def. Pollacheck, foul; SEMIFINALS — Hines, 6.858, 193.16 def. Arana, broke; Krawiec, 6.831, 195.45 def. Arana Jr, foul; FINAL — Hines, 6.862, 194.49 def. Krawiec, 6.858, 195.14.
CHARLOTTE, N.C. — Sunday's Sportsman final results from the 5th annual O'Reilly Auto Parts NHRA Nationals presented by Super Start Batteries at zMax Dragway. The race is the 18th of 23 in the NHRA Full Throttle Drag Racing Series:
Top Alcohol Dragster — Richard Bourke, 5.373, 266.32  def. Ken Perry, foul.
Top Alcohol Funny Car — Frank Manzo, Chevy Monte Carlo, 5.575, 260.01  def. John Anderika, Monte Carlo, 5.829, 250.92.
Super Stock — Larry Miller, Plymouth Barracuda, 9.951, 128.90  def. Bryan Worner, Chevy Camaro, 9.908, 134.55.
Stock Eliminator — Dan Fletcher, Chevy Camaro, 11.026, 115.15  def. Larry Hill, Plymouth Baracuda, 10.463, 121.41.
Super Comp — Scot LaMar, Dragster, 8.903, 176.37  def. Sherman Adcock, Dragster, 8.902, 172.47.
Super Gas — Ray Sawyer, Chevy Camaro, 9.912, 166.31  def. Steven Furr, Camaro, 9.912, 152.47.