Scott Lang picked up his first career victory in the PDRA's WS Construction Pro Boost presented by P2 Contracting and Ty-Drive class Saturday night at the PDRA Red Line Oil Carolina Nationals. The Charlotte-based driver won in the final round when points leader Jason Harris went red by .010 seconds at Darlington Dragway in Hartsville, South Carolina. Lang lifted to a 4.066-second pass at 142.50 MPH.
Brian Clauss also became a first-time winner in M&M Transmission Pro 632. Winners in the other professional classes included past world champions Tommy Franklin in Switzer Dynamics Pro Nitrous and Chris Garner-Jones in Drag 965 Pro Nitrous Motorcycle, as well as Alan Drinkwater in Liberty's Gears Extreme Pro Stock presented by AED Competition and Derek Mota in Afco Racing Super Street presented by Menscer Motorsports.
Victories in the sportsman classes went to Jamie Fowler in MagnaFuel Elite Top Sportsman presented by PAR Racing Engines, Frank Falter IV in Laris Motorsports Insurance Elite Top Dragster, Nick Meloni in MagnaFuel Top Sportsman presented by Corbin's RV, and Nick Reavis in Laris Motorsports Insurance Top Dragster. Todd Comer picked up the win in Edelbrock Bracket Bash presented by COMP Cams.
Brayden Davis and Wyatt Stanley were victorious in Coolshirt Systems Pro Jr. Dragster presented by PRP and Classic Graphix Top Jr. Dragster presented by PRP, respectively. Davis, the points leader going into the weekend, won on a double breakout in the final round with a 7.895 to Ava Meloni's 7.893, both on a 7.90 index. It was the fourth win in five races for Davis. Stanley, who was appearing in his second final round of the year, won when Victoria Beaner broke out in the final round with an 8.845 on an 8.90 dial-in, while Stanley ran an 8.998 on an 8.90 dial.
PRO BOOST
As a former competitor in Piedmont Dragway's monthly Big Dog Shootout series, Scott Lang is no stranger to racing against Carolina doorslammer hitters like Jason Harris, Travis Harvey, and Todd Tutterow. It's a little different in Pro Boost, though, where the class newcomer proved his mettle Saturday night when he earned his first career win in the category. He beat Harris in the final round when Harris went red by .010 seconds on a 3.613 at 207.28, while Lang coasted to a 4.066 at 142.50 in his ProCharged AML Motorsports '18 Camaro.
"These are the baddest racers on the planet," Lang said. "Randy Weatherford said that, and that is the truth. You qualify and the bump spot is .60 something. That's flying. I'm racing the guys that have been out here for years, and like I said, I have a lot of support, but these are the best guys in the business, period, and I'm just ecstatic that I got the opportunity to do it."
Lang joined the Pro Boost scene earlier this season when he brought out a proven car previously campaigned by Randy Weatherford. In just six races, the North Carolinian is a Pro Boost winner. He's the fourth first-time winner this season.
"I want to thank God first, and my team: Lee White, Kyle Pettis, Walter McBride, Michael Lane, Robert McClure," Lang said. "You can't do this without a good crew. I want to thank Randy Weatherford for giving me a great car and standing behind us. The car was broke. Randy helped fix it last night and tonight. I can't even tell you how much help they give me. I'm just grateful for that because you can't do this without a team. This ain't a one-man show. I know I get the credit, but teamwork makes the dream work. I also want to thank Pro Line, Mark Micke [of M&M Transmission], all my sponsors, AML Motorsports, Keenan Allen, my son, KA13. I can't tell you how I feel right now."
Lang qualified No. 12, one of 14 drivers to run in the 3.60s in qualifying. In a bizarre first-round match, Preston Tanner couldn't stop after his burnout, then Lang left before the tree activated. A fierce battle with Weatherford followed, as Lang cut a .002 light to Weatherford's .006, then he ran a 3.642 at 202.79 to a 3.661. Lang then beat No. 1 qualifier Melanie Salemi on a holeshot with a 3.623 at 206.42 to Salemi's 3.620 at 208.33 in the semifinals.
Harris, who qualified No. 2 in his ProCharged "Party Time" '69 Camaro, was the hero of the opening round with his 3.66 over Bubba Greene's career-best 3.709. He got a close win in the second round with a 3.651 to Rob Cox's 3.671. The two-time Pro Nitrous world champion fired off a 3.607 at 206.80 to beat Scott Wildgust's 3.819, racing to his fourth final round of the season.
PRO NITROUS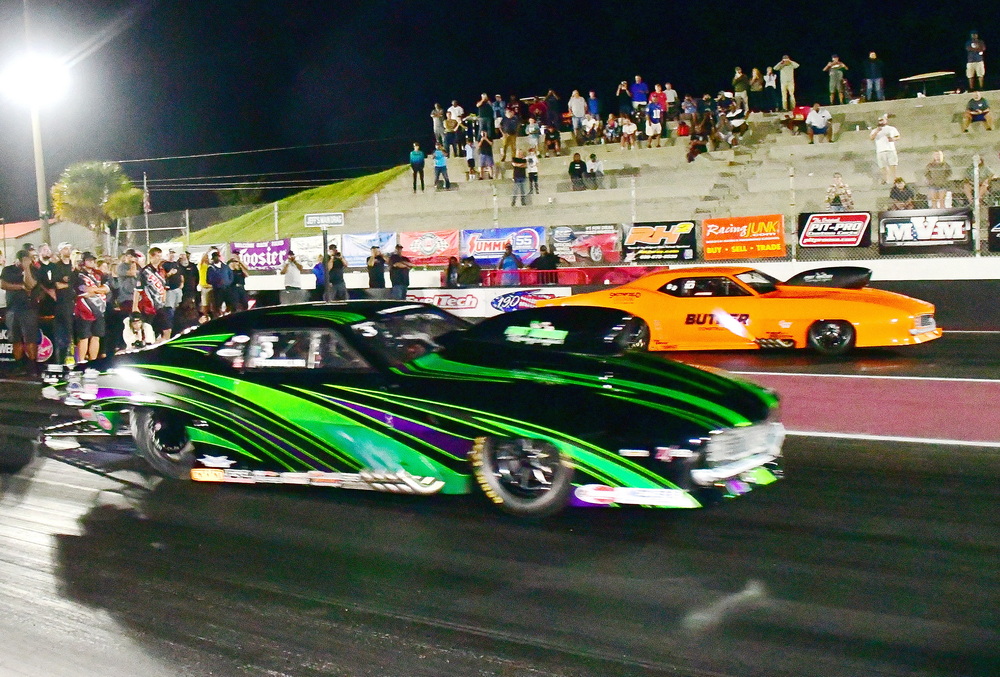 In a classic Pro Nitrous final round between two-time world champion Tommy Franklin and perennial contender Jay Cox, Franklin emerged victorious to make a big move towards a third title. Franklin left the starting line first in his Musi-powered "Jungle Rat" '69 Camaro and was ahead at the finish line with a 3.65 at 206.33, while Cox slowed to a 3.972 at 149.95. It was Franklin's second consecutive win and third of the season, capitalizing on points leader and four-time world champion Jim Halsey's second-round loss.
"Everybody wants to win, but we're out here racing for a championship," Franklin said. "That's what we want to do. I always say to beat any of these teams out here, you're doing something, and Halsey is obviously a great team. It's far from over. We made up a couple of rounds this weekend and that's great. But I know they'll come back swinging for everything else. All we can do is keep trying to turn on win lights, and that's what we're focused on. We don't look at anything else – just try to turn on win lights."
Franklin was sure to share the credit with his Tommy Franklin Motorsports team and its partners.
"We've got a great group between my whole crew – Chris [Murray, crew chief], [wife] Judy, my family, my friends, everybody that's here, Jeff Pierce. Mark Menscer has been helping us, got the car just flawless right now. Ty-Drive, Liberty, Red Line Oil, and thank you to Mark Beatty [Red Line's brand director]. He's here this weekend. It's great to be able to get a win for him and to get him in the winner's circle."
Franklin started the day with a 3.872 at 200.27 over Cam Clark and his 4.61. He improved to a 3.69 at 205.01 to knock out Brian Shrader and his 3.728 at 203.53 in the second round. Semifinal opponent "Tricky" Rickie Smith negated his 3.687 at 206.99 with a .005 red light, but Franklin was ready with a 3.657 at 205.95.
Cox, who qualified No. 1 in his Musi-powered Butner Construction "Pumpkin" '69 Camaro, held off Travis "the Carolina Kid" Harvey's holeshot advantage and 3.744 with a 3.709 in the first round to win by just .003 seconds. He set low E.T. of the second round, 3.661 at 206.99, to beat Tylor Miller's 3.738. Cox advanced to his first final round of the season by making the quickest pass of eliminations, a 3.645 at 207.09, over Jim Widener and his 3.673 at 204.36.
EXTREME PRO STOCK
The Carolina Nationals had major championship implications for Extreme Pro Stock rookie Alan Drinkwater, who raced to his second win in his second consecutive final round and the third of the season. He defeated points leader and 2021 world champion Chris Powers to narrow the points gap between the two drivers. Drinkwater used a slight starting line advantage and a 4.078 at 178.01 in his Kaase-powered IronListing.com '08 Mustang to beat Powers and his 4.077 at 176.96 by just .006 seconds.
Drinkwater was without his tuner and teammate, two-time world champion Johnny Pluchino, who stayed home from the Carolina Nationals to be with wife Monica as they welcomed their first baby over the weekend.
"I hate it that our buddies from Long Island couldn't make it here, but I'm glad we were able to rise to the occasion and really do this for them," Drinkwater said. "Johnny just had a baby, so I'm glad we were able to put it in the winner's circle and just represent us as a team, as a whole. We thrashed on the car all weekend. Pat with Ram Clutches helped us out a bunch. Johnny, obviously on the phone, my crew: Kenny, Termite, Preston, David, Mike, my mom and dad. It's been a hell of a weekend, and it feels good to be in the winner's circle."
Drinkwater, who qualified fifth, picked up a first-round win on a holeshot with a 4.373 at 170.84 over Dwayne Rice and his 4.22. Drinkwater and past world champion John Montecalvo left the starting line together in the second round, but Drinkwater pulled ahead to win with a 4.087 at 177.30 to Montecalvo's 4.112. He then made his best pass of race day, a 4.077 at 177.58, to move past the semis over No. 1 qualifier John DeFlorian, who ran into traction issues.
Powers qualified No. 7 in his Chuck Samuel-tuned Sonny's Racing Engines '21 Camaro. He and Elijah Morton both struggled to get down the hot track in the first round, but Powers recovered quicker with a 4.46 to Morton's 6.681. He bounced back with a 4.092 in the second round over Kurt Neighbor, who was backed off the line. Powers and semifinal opponent Dillon Voss were separated by just .001 off the starting line, though Powers charged on to a 4.069 to beat Voss and his 4.093.
PRO 632
Maryland's Brian Clauss delivered a career-best performance behind the wheel of his nitrous-fed '57 Chevy to earn his first win in Pro 632. He used a huge holeshot advantage and a 4.283 at 165.75 in the final round to defeat No. 3 qualifier Doug Nicholl and his 4.168 at 170.84 in his Musi-powered '68 Camaro.
"It's me and my daughter [Samantha] here, and a couple of my bracket racing buddies, just having a ball this weekend," Clauss said. "We worked hard all weekend. We're fighting some little issues, but we got through them and did what we had to do. I had to do my job on the tree and I feel like I did it and that's it, man. It was awesome. I can't believe it. When I let go of the button and I didn't see him, I said, 'I can't believe it.' I just can't. And then I see my win light. I was like, 'You've gotta be kidding me.' But it's awesome. Calvin [Starcher], the car owner, is here. Great guy. It's Meade Baldwin's engine and transmission in the car. A lot of guys help me. Three years into this, for this first time, it just feels great."
After qualifying No. 8, Clauss used a 4.309 at 165.93 to win the first round over Lexi Tanner, who lifted to a 6.894. The holeshots started in the second round when Clauss left on No. 1 qualifier Daryl Stewart, who recorded a quicker 4.22 at 170.58 to Clauss' winning 4.285 at 165.75. Clauss and newcomer Hank Hughes were both hesitant to leave the starting line in the semis, but Clauss got to the finish line first with a 4.285 at 166.17 to Hughes' 4.46.
Nicholl's first-round opponent, Patrick Patterson, couldn't start his car for the round, while Nicholl laid down a 4.215. His next opponent, Chris Holdorf, also ran into issues as Nicholl set low E.T. of the round with his 4.184. Nicholl's Troy Russell-tuned '68 Camaro was quickest of the semis as well, running a 4.167 at 171.10 for the win over Jason Ventura, who broke in the previous round.
PRO NITROUS MOTORCYCLE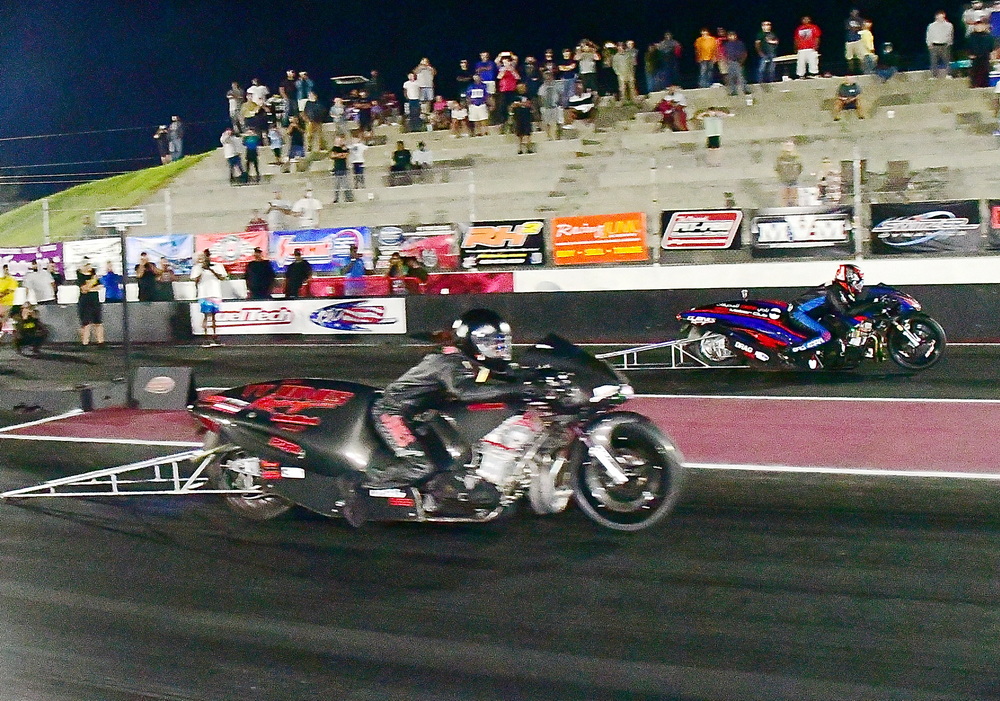 Chris Garner-Jones set two goals for race day after qualifying No. 1: run in the 3-second range and win the race. The 2021 Pro Nitrous Motorcycle world champion accomplished both goals in the final round when he fired off a 3.985 at 177.73 to defeat T.T. Jones Racing teammate Mohammed Alawad, who ran a 4.051 at 175.30. It was Alawad's first final round in PDRA competition, though the two riders have faced off in final rounds during winter races in the Middle East.
"That was a win for me, seeing [Alawad] in the finals," said Garner-Jones, who thanked his brother and tuner, William Garner-Jones, the rest of his family-based team, and Jerry Meddock of Red Line Motorsports Media. "After the semis, we got to the trailer, took the clutch apart, and our crank was messed up. So we had to change motors in between rounds. That was the first pass on that motor and it went 3.98. It took a lot to get the win, and of course, my tuner is pretty good."
As the No. 1 qualifier, Garner-Jones started eliminations with a bye run, which he used to set low E.T. of the round, a 4.037 at 177.30. He stepped up in the semis with a 4.014 at 178.57 to beat Tyrone Lemons' 4.076.
Alawad ran a 4.142 in the first round over Gerald Smith. His second-round match with points leader Brayden Davis was decided on the starting line, as Davis went red by .004 on a 4.039 pass. Alawad got the win with his 4.076.
SUPER STREET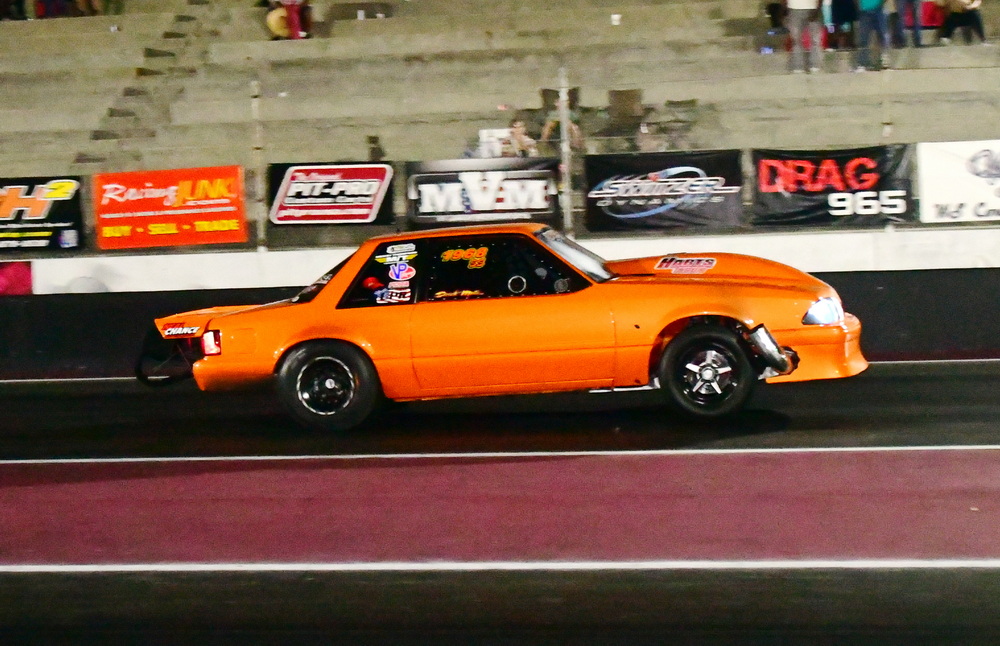 Derek Mota has had a trying season since winning in his debut at the Super Street season opener at Virginia, but a decisive win at Darlington put the Massachusetts driver back in the championship conversation. He was unopposed in the final round, as Brad McBride broke his one-of-a-kind '63 Volkswagen in the semifinals and couldn't return for the final. Mota used the opportunity to solidify a new class record, running a 4.629 at 165.02 in his turbocharged Mustang.
"Pulling this win off, we gained a lot of points back in the championship," said Mota, who thanked tuner Jamie Miller, his team, and girlfriend Nicole Walker. "We set the record. That gave us 50 points. We got the No. 1 qualifier, and then we went on to win the race. That should bring us right back up to the points to try to win this thing. That's our plan. Get ready for the next one and be there. I couldn't have done this without my team and Jamie and just everybody involved in my program. We put so much work and so much time and effort into the car, and this weekend, it actually paid off."
Mota ran in the 4.60s on all but one pass, a 4.700. He raced past Connor McGee and Dan Whetstine before getting a bye into the final round.
McBride had a fairytale debut weekend in his home-built '63 Volkswagen Fastback until he broke in the semis. He earned the Best Engineered Car award early on race day, then picked up round wins over Kaitlin Quartuccio, David Knight, and points leader Blake Denton to reach the final.
TOP SPORTSMAN
Top Sportsman veteran Jamie Fowler couldn't have picked a better place to earn his first win in Elite Top Sportsman, as it's the home race for the Chester, South Carolina-based driver, as well as for his sponsor, Pee Dee Fleet, and his engine builder, Fulton Race Engines. Fowler laid down a 3.842 on a 3.83 dial-in in the final round to beat past world champion Buddy Perkinson, who broke out with a 3.708 on a 3.72 dial-in in his Musi-powered LAT Racing Oils '69 Camaro.
Two consistent late-round finishers, Nick Meloni and Robbie Crenshaw, outlasted a tough Top Sportsman 32 field to reach the final round. Meloni was victorious in his Nesbitt-powered TT Motorsports '69 Camaro with a 4.272 on a 4.25 dial-in. It was Meloni's second consecutive win. Crenshaw followed with a 4.413 on a 4.30 dial-in in his Albert-powered '89 Cutlass.
TOP DRAGSTER
Two of the quickest cars in the 16-car Elite Top Dragster field were left standing in the final round, as No. 2 qualifier Brian Anderson in his ProCharged '23 Race Tech entry lined up against No. 3 qualifier Frank Falter IV in the supercharged "Candy Man" '20 Miller dragster. Both drivers slowed from their usual pace, though Falter's 3.778 was closer to his 3.73 dial-in for the win. Anderson recorded a 3.849 on a 3.74 dial-in in the runner-up effort.
The Top Dragster 32 final round came down to two North Carolina-based drivers, Nick Reavis and Cameron Manuel. Reavis secured the win in his '13 Race Tech dragster with a 4.507 on a 4.50 dial-in, while Manuel broke out with a 4.417 on a 4.42 dial-in in his '18 American dragster.
The 10th PDRA season will continue in just three weeks at DragWars presented by ProFab, October 5-7, at GALOT Motorsports Park in Benson, North Carolina