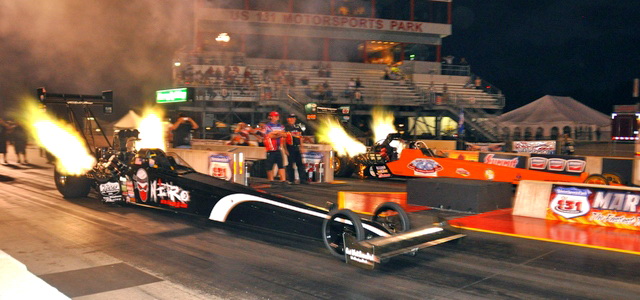 Just moments after crossing the finish line Saturday night during round one of the CarSafe Northern Nitro Jam at U.S. 131 Motorsports Park, Dom Lagana leapt from his car and sent the IHRA safety crew into a tizzy.
Was his Top Fuel Dragster on fire? Was there an issue no one could see?
Then the call came in from top end: "Don't worry guys, he is just celebrating."
Indeed Lagana had stopped on the track, but it was just to release some energy and give his big brother and crew a hug worthy of a record-setting occasion. After all, Lagana had just made the fastest pass in the 40-plus-years history of the International Hot Rod Association.
In front of a capacity crowd at U.S. 131 Motorsports Park Saturday night (Aug. 10), Lagana set the new benchmark in IHRA Top Fuel competition with the fastest pass in IHRA history at 330.79 miles per hour, covering the quarter-mile in 4.633 seconds.
"Man, that was unbelievable. I thought on that first pass we were going to be conservative, but just before we pulled out of the pits Bob (Lagana) leans in and says 'the track looks good, let's go for it' and we did," Lagana said. "It is such a cool feeling to put our names up there with so many legends that have raced with IHRA. To be listed with guys like Clay Millican, Bruce Litton, Shirley Muldowney, Doug Herbert – all drag racing legends – is amazing.
"When I heard them on the radio say 330, I told them to say it again. When they did I really couldn't contain my emotion. I stopped right there on the track, several people thought I blew up or was in trouble. But I just kept thinking 'hell, I just want to get out of this thing and hug somebody.' It is such an unreal moment, something I will never forget."
Lagana's record setting run came during round one of Saturday's CarSafe Northern Nitro Jam presented by Perry Harley-Davidson. To add to the excitement Lagana produced another tremendous run, a 4.664, 296.24 even with a broken belt, in the final to sweep the weekend in Top Fuel over Bruce Litton.
Litton had a 4.812, 278.72 in the runner-up effort, also sending the blower belt flying during his run.
Other winners Saturday night were Mike Minick in AMSOIL Prostalgia Nitro Funny Car, Ron Maroney in Fuel Altered and Tracy Kile in Nitro Harley.
"The car has just been working good all weekend. We made a great run last night and I knew we had something for the fans today," Lagana said. "We have such a great history with this track. Our team had our first 300-mile-per-hour run and our first four-second pass off of the ramp truck exactly 10 years ago at this race. To reach another milestone here at U.S. 131 Motorsports Park is incredible.
"You literally have to have everything go right to reach a number like that and I think it is a testament to our team to put it all together and run a number like that."
Lagana's historical weekend included four bracket-like passes with runs of 4.715, 4.682, 4.633 and 4.664 in sweeping the weekend. The win was especially important for the one person missing from the crew Saturday night, Lagana's father who is at home recovering from a heart condition.
"Certainly it is upsetting that he isn't here, but I think we just sped up his healing process," Lagana said. "Without our dad we would not be here. He has done so much for us and it definitely isn't the same without him around. When we got back to the pits we called him up and said 'Hey dad, hopefully you are sitting down because we don't want you to have another heart attack.' He was as excited as we were."
In other professional competition Mike Minick completed the weekend sweep in AMSOIL Prostalgia Nitro Funny Car, taking the "Chi-Town Hustler" to four-straight round wins and four great passes. In Saturday's final Minick ran a 5.842, 247.72 over Mike McIntire in the "McAttack" Camaro who ran a 6.035, 237.79.
Ron Maroney won Saturday's Nostalgia Fuel Altered class in the "Blind Faith" entry, nipping Mike Hilsabeck in the "Arizona Thunder" at the line with a 6.069, 200.74 to a 6.533, 196.17.
Wrapping up Saturday's pro competition was Tracy Kile who won in Nitro Harley over Jay Turner. Kile had a 6.837, 204.19 in the final as Turner ran into trouble during his run.
Joining the capacity crowd was an equally impressive car count as the Summit Racing Equipment Pro-Am Tour and U.S. 131 Motorsports Park's regular ET program were unable to be completed Saturday night. Sportsman racers wrapped up the weekend on Sunday with a full day of racing.
But it was Lagana's record-setting night that stole Saturday's show and left the capacity crowd on their feet.
"This whole weekend puts in perspective how far we have come," Lagana said. "We have had a lot of great moments, but this may top them all. That is why we work day in and day out, for moments like this. And to do it in front of a packed house for Jason, Stephanie and the IHRA, what more could you ask for?"
The 2013 IHRA Nitro Jam season will conclude Oct. 11-12, with the Summit Racing Equipment World Finals at Memphis International Raceway.
(Photos courtesy IHRA; Click to enlarge)