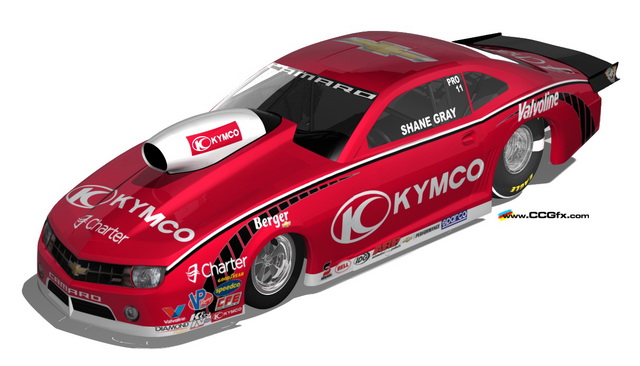 Gray Motorsports and KYMCO USA, the official scooter and ATV of NHRA, jointly announced Feb. 26, that they have entered a multi-race agreement that will include primary sponsorship of the championship-caliber team for the 2014 season of NHRA's Mello Yello Drag Racing Series.
KYMCO USA has long been associated with the Gray Motorsports family, an NHRA Pro Stock team owned by veteran motorsports enthusiast Johnny Gray and managed by Pro Stock mainstay Victor Cagnazzi, and has already exhibited strong support by providing scooters for use at NHRA events and at the Gray Motorsports race shop in Denver, NC.
Now, KYMCO USA is stepping up their support of Gray Motorsports drivers Shane Gray and Dave Connolly with a four-race primary sponsorship package beginning Mar. 13-16, with the 45th annual Amalie Motor Oil NHRA Gatornationals at Auto-Plus Raceway in Gainesville, FL. A striking KYMCO USA red-and-white paint scheme will adorn the brand new Jerry Haas-built Chevrolet Camaro piloted by Shane Gray.
"We're just thrilled to pieces that KYMCO USA has established themselves as such a great supporter of the Gray Motorsports team, because we sure love their product," said Gray, a three-time winner on the NHRA circuit.
"It's a great match for us, and I'm proud to represent them. We can't thank KYMCO USA enough for coming on board, and hopefully, we'll make them proud."
KYMCO also will be featured on a Gray Motorsports Pro Stock Chevrolet Camaro at the O'Reilly Auto Parts NHRA SpringNationals in Houston and at the last two races on the schedule: the Toyota NHRA Nationals at The Strip at Las Vegas Motor Speedway and the Auto Club NHRA Finals in Pomona.
"We've been associated with the folks behind the scenes at Gray Motorsports for quite awhile now, and KYMCO USA is pleased to expand on our relationship," KYMCO Director of Marketing Rick Pawelka added. "We look forward to continued success with this team and in NHRA drag racing."