Kye Kelley made history this past weekend in Denver with his screw-blown Buick, "JangALang," doubling up at what is likely to be the very last Street Outlaws: No Prep Kings event at Bandimere Speedway.
Kelley started the weekend off strong, winning Friday night's Great 8 race – his third Great 8 win in the past four events. On Saturday, he followed it up by winning the $40,000 Invitational class for the third time this season.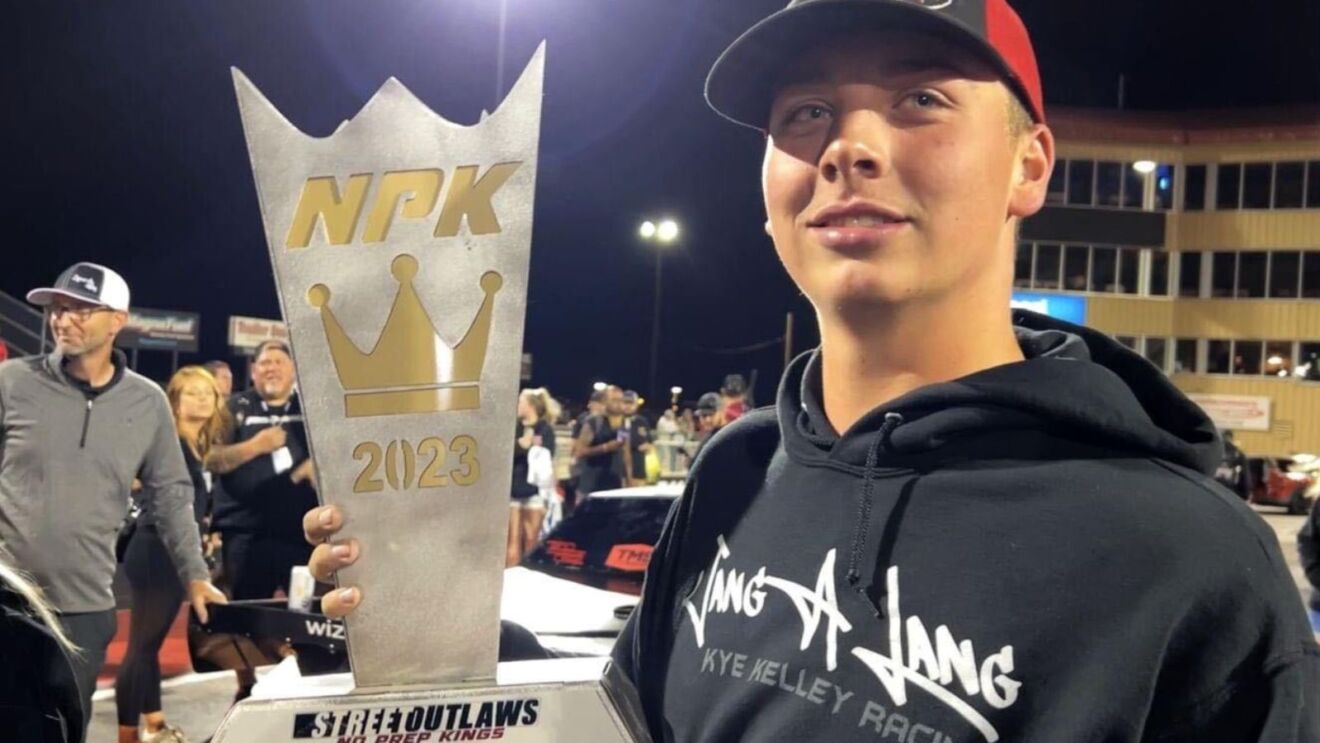 "That's a clean sweep for the final No Prep Kings event at Bandimere Speedway!" Kelley stated on social media. "I've always said this was my favorite track, and it's unbelievable to win this special event both Friday and Saturday. Couldn't ask for a better weekend."
After defeating Kayla Morton in the first round of the Great 8, Kelley received a bye in the semifinals when Larry "Axman" Roach couldn't make the call. In the final round, Kelley outran Giuseppe Gentile to earn a $10,000 payday. He now has 47 points for the Individual championship. Gentile sits in second with 27 points, and Roach is third with 19.
On Saturday, Kelley drew Chuck Seitsinger in the first round. He moved on to defeat Kallee Mills in round two, setting up a massive quarterfinal matchup against three-time defending points champion Ryan Martin and the Fireball Camaro. After a close victory, Kelley drew his former fiancé, Lizzy Musi, in the semifinals, which received one of the loudest ovations of the evening.
Fresh off two enormous round wins, Kelley found himself in the finals against relative newcomer Clay Cole, with Kelley taking home the money and the trophy. He was quick to give praise on social media to his entire team after his Denver double-up.
"Thanks [to] Adam Drzayich and Evan Salemi for tuning ole JangALang right through the field all weekend, and my crew for putting in the work and kicking ass," Kelley posted.
Team Kye Kelley also made a huge statement Saturday in the chase for the new NPK Team Championship, boasting three of the four drivers represented in the semifinals – Kelley, Musi, and Cole. Their performance catapulted the team to a huge lead, with 790 points. Team Daddy Dave now trails by 110 points, with 680. Team Ryan Martin is third with 610 points.
The No Prep Kings series moves on to Las Vegas September 15-16, continuing a brutal schedule of eight races in eight consecutive weekends, where Kelley will look to continue his hot streak.
"We got a hot rod, folks!" Kelley stated. "Looking forward to Vegas, hope to see y'all there!"