Kyle Kelley has found his next challenge and it won't take long to see how he fares.
The STREET OUTLAWS star is primed to race at next month's Donald Long-produced Lights Out 8 event in the much-talked-about Radial vs. World eliminator at South Georgia Motorsports Park in his revamped third-generation Camaro known best as "The Shocker".
A crash in November brought about wholesale changes for the television-and-internet famous doorslammer, and Kelley heads to Lights Out 8 on Feb. 16-19 confident he can make a favorable impression. The new-look Camaro now features a 903 cubic inch Pat Musi Racing Engine, courtesy of Mike Bankston and the Bankston Boyz Racing Team, helping Kelley believe he can accomplish a couple of specific goals during the highly-anticipated weekend.
"This is a whole new challenge for me and it's something I'm excited about," Kelley said. "Everybody else has tried the radials, so I figured I would, too. My goal is to go out there at Lights Out and qualify – just get in the show. I know I can't run with some of those guys – guys like Dewayne Mills. My car is not set up to run with them.
"But I can qualify with the car. Last year with the times I was running I think I would have qualified, and this year I know I'll be faster. My goal is to be in the 3s. Just being part of the race is going to be awesome. Donald ["Duck" Long] puts on a great race and there's so many fans. It's a great chance to meet a lot of them, to race in front of a huge crowd and be a part of a special event. Everyone you talk to loves being a part of this radial movement, and I'm excited to have the chance to be a part of it – and hopefully go faster than I ever have before."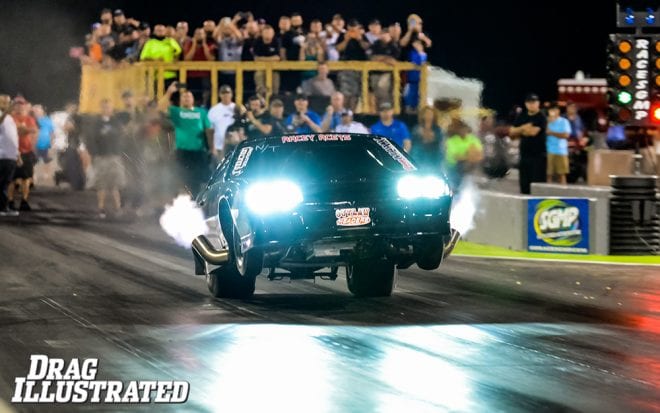 Kelley has already seen glimpses of what his car can do without even pushing the engine. It has made rapid improvements with each pass, thanks in part to an overhaul on parts and equipment.
Rather than buying hundreds of pounds of ankle weights from Wal-Mart to make the car work with traction at a minimum, Kelley has spent the last few months putting "The Shocker" on a serious diet and, as previously mentioned, doubling-down on horsepower.
"The sky is the limit with this new motor," Kelley said. "I've gone faster than I ever have without even leaning on it. It's crazy how fast it is. It's got the power and it's really been flying. Plus I've got better equipment. Nothing on my car was built for radial racing before – and now it is. I'm more prepared than I've ever been. We lost about 350 pounds off the car after the wreck, too. It's going to be fast."
Perhaps more so than anything else, though, Kelley praised the help he has received from Stevie "Fast" Jackson and Phil Shuler, as well as Mike Bankston and the Bankston Boyz Racing Team. Kelley will be driving a Bankston Boyz Racing Pro Mod in NMCA this season – where Kelley said he plans to be Rookie of the Year – adding another layer to what will be a big 2017 for the Mississippi native.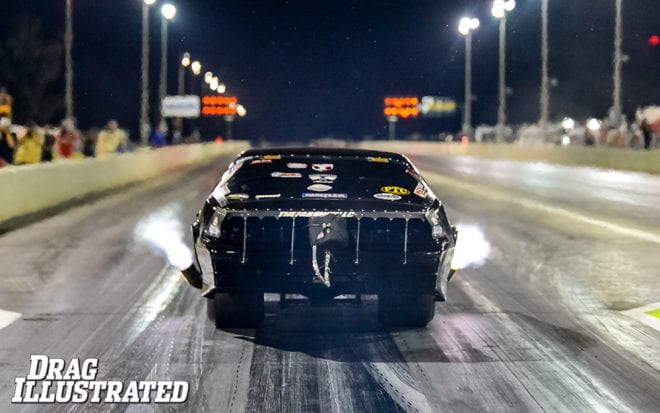 "I can't say enough about Mike and all the guys on the Bankston Boyz Racing team," Kelley said. "I couldn't compete at this level without him and I'm really thankful for it."
Kelley's appearances on STREET OUTLAWS brought him a significant amount of notoriety and a great deal of wins over the last few years, and while Kelley is clearly making some big changes to his racing program, one thing he believes will remain the same is his ongoing rivalry with Justin "Big Chief" Shearer.
Shearer plans to compete at Lights Out 8 as well, meaning the rivalry will now shift from the streets to the radial world. Kelley, though, expects to continue to stay on the winning side of their battles, which includes qualifying better at South Georgia Motorsports Park next month.
"In my opinion, as long as he keeps that small block in his car he'll never be faster than me," Kelley said. "But I'm starting to get real tired of people comparing me to 'Chief', saying I'm riding his coattails. I do my own thing and I've proved my point.
"I've beat him several times and I know I'm faster than them in my eyes. My goal is to run faster than all those guys as a group. I'm a guy that sits back and minds my own business, and lets my car do all the talking."