Sometimes, in racing, as in life, it's not only about the victories; it's about the milestones, too.
Doorslammer ace Krusty Ramsey has won his fair share of trophies throughout his decades-long career. There are moments, however, that transcend the notion of wins and losses; this past summer offering a perfect example.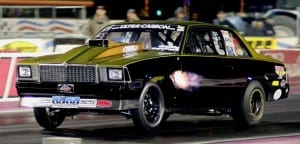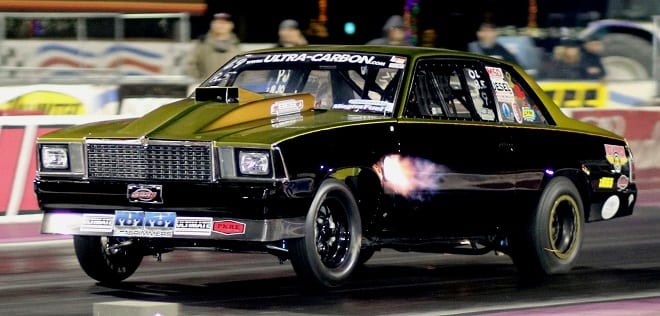 Ramsey, a regular in the recently rebranded Premier (formerly Pacific) Street Car Association's eighth-mile Outlaw 8.5 class, was poised to take the 2015 title in the PSCA's Rocky Mountain Summer Series at Bandimere Speedway, near Denver. Ramsey's legendary, nitrous-equipped 1978 Chevy Malibu was at the show and not only won the race, but set event records in both speed and elapsed time, too. But the man himself wasn't there. He elected to miss the race—and the opportunity to take the season title—in order to attend the wedding of his best friend's son.
Milestones.
Ramsey's greatest memory at the drag strip doesn't involve winning, either. It involves an amazing pass three years ago during the Street Car Super Nationals (SCSN) at The Strip at Las Vegas Motor Speedway.
"When we went 4.98 (at Vegas) we didn't win, but it was the first nitrous car to go in the 4s and it was just amazing. It was the coolest thing ever," he said approximately five minutes after laying down a 4.82-second run at this year's SCSN event. "I didn't even come here thinking about the four-second zone. We just wanted to go faster. We went (5).50s, then we went .20s; we just needed to go faster, so we had Bischoff build the motor and we came here and went 4.98 on it."
The man who earned his nickname from the infamous clown on The Simpsons (his real name's Brent, by the way, although good luck getting him to answer to it), comes by his drag addiction honestly. He was raised at the drag strip by a father who passed his love of win lights down to a son more than eager to take up the cause.
The senior Ramsey raced Comp and C Altered in a '48 Anglia with Krusty always on hand to assist. When the junior Ramsey was 15, the pair built a V-8 Vega. Predictably, the local gendarmes became acquainted with the young racer almost immediately.
"Drove it around on the street, had my license for about four days, and got a 12-point ticket," he said. "I had to call my dad to get my ass outta' jail and he said, 'Did you beat him?' That was the first thing out of him. He wasn't mad at me; he just wanted to know if I beat him. I've raced ever since."
Milestones.
His pairing with the familiar olive green-and-black Malibu that has terrorized drag strips all over the West Coast was initiated when he began racing with PSCA in what was then known as the Limited class.
"Paul Klyczek and I ran the car for two years until Limited went away and Outlaw 8.5 became a class," Ramsey explained. "Paul was racing the car and a customer of his owned it; he just let us race it. He needed to sell the car to put his kid through college, so I bought the car and let Paul finish racing it for like a year."
While Ramsey, whose "real job" is the body shop he owns near his home in Peckham, Colorado, has yet to win the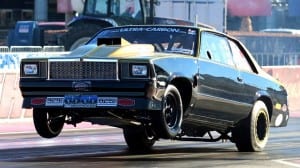 SCSN in Las Vegas, he earned the inaugural win at its sister event in St. Louis last year and was runner-up there this year. The win at Gateway Motorsports Park was doubly impressive not only due to the field of racers at the event, but the fact that ambient temperatures on event weekend were in the triple digits. He said making the switch to a new tire was a large factor in the win.
"Some of the smart kids had been running Hoosiers before us," he said, "and the first race we put a Hoosier on the car, we won the (Rocky Mountain Summer Series) race in Denver and then we won in St. Louis. We thought it was pretty fast at the time for the amount of nitrous we had in the combination."
Milestones.
Mel Roth, president of the PSCA as well as promoter for SCSN, said Ramsey's racing style comes from the veteran driver's intensity of focus and his lack of apologies. "He's all or nothing," Roth described. "Krusty uses every bit of his nitrous small block on each and every pass. He wants to be the number-one qualifier and he wants to win no matter what parts or opponents' feelings he hurts along the way."
Ramsey is equally complimentary of Roth and the event he's built at Las Vegas from the ground up, a race that celebrated its 11th running this November.
"It's Mel, man," Ramsey declared when asked why he believes the Street Car Super Nationals is the premier doorslammer race in the country. "He puts together the baddest race on the planet. The employees are nice; the tech guys are nice; the lady at the gate's nice. You don't get that stuff at all the race tracks. There's a different atmosphere here. People care about what we do."
Intensity, drive, and a finely-tuned car are fine things, but for Ramsey, there's a good chance he has one more advantage over his opponents; a secret weapon. Socks.
His mighty Malibu isn't the only famous thing about Ramsey. He's also well-known for his random footwear. "I've always just wore different colored socks," he said. "I have a five-gallon, cast-iron milk bucket from the '50s or '60s next to my dresser and my wife puts all my socks in there. I have people send me socks who I don't know. In the mail, I'll get a sock. I don't know who it's from. It's weird."
Foot gloves aside, Ramsey has built a career off speed and relationships. The PSCA promotes him on t-shirts, DVDs, and its Facebook page due to his willingness to do whatever he can to make the series bigger and stronger.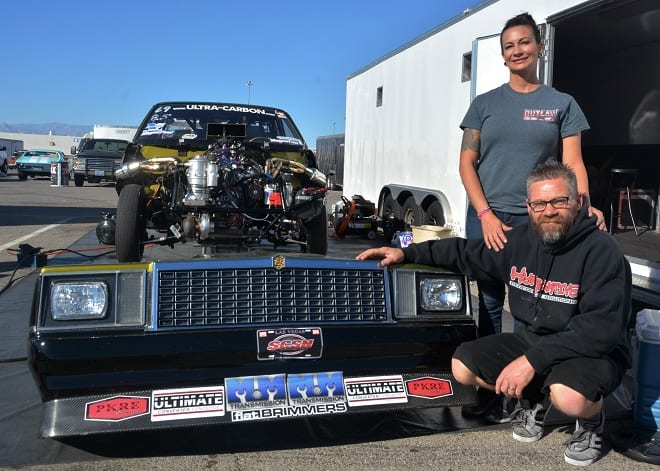 "The PSCA is all about family and so is Krusty Ramsey," Roth said. "If anyone needs anything, whether it's racing related or in real life, Krusty and his amazing wife Meg are right there with the needed part, lending hand or a hug. Even when we're not racing, Krusty and his family take time out of their busy lives to help the PSCA promote its events."
Ramsey, for his part, appreciates being involved so deeply in the series, one that continues to grow.
"I think it's amazing," he said. "It's so cool to be part of something so big. I know we're in the Podunk 8.5 class and you've got half-a-million-dollar Pro Mods here; we're a big part of that show. There are guys with, easily, quarter-million-dollar 8.5 cars. It's unreal. It's stupid the amount of money we spend to do this; but I can't not do it. It's what makes me wake up in the morning."
And continue to go after those milestones.
Story by Brandon W. Mudd
This story originally appeared in Drag Illustrated Issue No. 105, the Champions Issue, in November of 2015.