Krista Baldwin will make her A/Fuel Dragster debut this weekend at the NHRA Circle K WinterNationals. She will be piloting Anthony Dicero's dragster in the Top Alchohol Dragster category. This will be her first national event competition at the Auto Club Raceway in Pomona, CA. Baldwin will be running under the McLeod Racing colors for the weekend.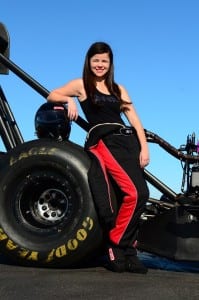 Baldwin is no stranger to the sport of drag racing. Being the granddaughter of legendary drag racing pioneer, Chris "the Greek" Karamesines, she has grown up in this sport. Karamesines was the first to break 200 mph barrier in Alton, Il in 1960. He is currently the oldest active Top Fuel dragster driver at the ripe age of 83. But Karamesines is not the only one in the family who has jumped into a Top Fuel dragster. Her late father, Bobby Baldwin, also drove his own Top Fuel dragster from the late 1980s until his unexpected passing in 2001. Baldwin was a local to Pomona and grew up just on the other side of the hill from the Fairplex grounds. His memory lives at his home track as his friends and family celebrate "Bobby Baldwin Day" on Fridays at Pomona. Krista Baldwin is keeping his memory alive as she drives this weekend in Top Alcohol Dragster category.
"When I get into that dragster and I make a pass down the quarter mile I feel like I am living both his dream and mine. It's a surreal feeling getting to drive a nitro car. Ever since I was little I knew I wanted to drive. It's awesome being able to make my first race at my home track in Pomona with all my family and friends. I'm so excited to share this experience with them. I have some great people backing me this weekend on the sponsorship and I'll remember this weekend for the rest of my life," says Baldwin.
Baldwin will be driving the Nitro University A/Fuel Dragster owned by Anthony Dicero. Dicero has been around the sport for years and decided a few years ago to begin the Nitro University. Nitro University gives people the chance to earn their A/Fuel license or learn to work on the car. The university offers a variety of classes throughout the drag racing season. Last year Dicero licensed over 12 people in his A/Fuel Dragster with Baldwin being one of them. Dicero met Baldwin last year during the 4-Wide race in Charlotte and the two hit off right away knowing that they can make a successful partnership.
"We have the mindset to win and that's what we're going to do this weekend. We made some test passes last weekend in Phoenix and we are ready to hit the ground running for the 2016 season. This has already been an awesome year and it's just getting started. Krista and I make a great team and we both are excited for what's to come next," says car owner and crew chief, Anthony Dicero.
Baldwin will be flying the McLeod Racing colors this weekend along with Clevite, CP Carillo, Lucas Oil, TBM Brakes, Shelton's Poultry, Nitro University, PXP Race Wear and HK's Bar and Grill.