Krista Baldwin will be competing at the NHRA US Nationals with McLeod Racing and will be re-introducing Raybestos Powertrain back to the sport of drag racing. Baldwin will run the A/Fuel entry of Anthony Dicero and will share an alliance with the new Justin Ashley Racing operation and will work closely with veteran crew chief, Lance Larsen. Baldwin also has support of Zore's Towing, an Indiana-based towing company.
Raybestos Powertrain, based in Crawfordsville, IN, will be represented for the weekend on the McLeod dragster. The two companies work together for the McLeod by Raybestos Performance Automatic Transmission Rebuild kits. It's an one-stop shop box for a transmission rebuild with the world's best friction plates and steels at an affordable price.
"Over the last year, McLeod has worked with the Raybestos team to market the kits," says Baldwin, McLeod Racing Creative Director. "Every time I visited the facility, you can see their innovation and acute attention to detail with every friction material they produce. I had the great privilege of touring the facility and learning more about how the material is made and the in depth engineering and technology they have created to become the best."
With the alliance with Justin Ashley Racing, Baldwin will be sharing information and resources with the new team.
"For the past month, Anthony (Dicero) and I have been working with Justin Ashley Racing to debut the new team," says the 25 year old. "We are both extremely excited to see what the future unfolds with the Ashleys and the crew they have assembled."
Zore's Towing has transformed the car from the regular red and gold leaf scheme to a bright, lime green machine, definitely cannot miss it.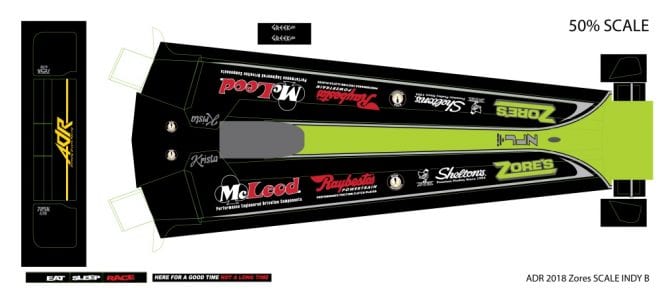 "I am so excited about this weekend. With Raybestos and Zore's coming on board and being the biggest race of the year, I can't wait to hit the gas for Q1. The green on the car is a little funky, but if you know me, it matches who I am. And whenever I get to share the track with my grandpa, Top Fuel pilot Chris "the Greek" Karamesines, is always memorable."
Baldwin will also be representing Nitro University, Clevite, CP-Carrillo, Eat Sleep Race apparel, Shelton's Poultry, Lucas Oil, Manton Pushrods, PXP Racewear, and Racepak.