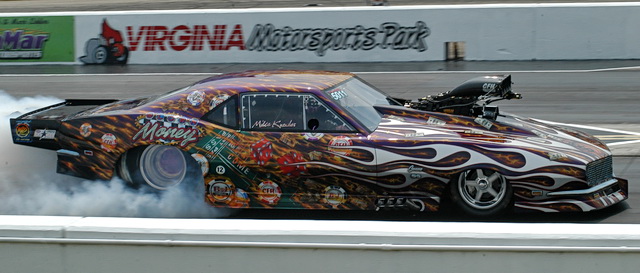 As if running over 240 miles per hour in less than six seconds isn't enough of a thrill, "Speed Junkie" Mike Knowles continues to feed his need for speed.
Last year he was lucky enough to receive a VIP flight with Blue Angel 7, a two-seat F/A-18B Hornet, and more recently Knowles took a trip to Driven Experiences, a  Pro-Baja Truck driving experience run on a two-mile course in Colorado's Emerald Desert.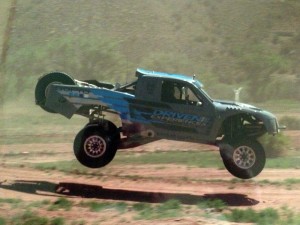 "It was a blast! I don't know if I've ever had that much fun in an automobile before. You have to keep adapting to the changing course and anticipate the truck," the Colorado native said. "It really keeps you on your toes and makes for a real fun time."
The focus at Driven Experiences is on teaching the science of driving by educating drivers through engineering and vehicle dynamics.
Knowles exited the recently completed NHRA Summer Nationals at the hands of eventual winner Mike Janis, who trailered him with a 6.04 elapsed time to Knowles' 6.07 seconds.
"We had a good run against Mike, but we just came up short. We came looking for the usual Englishtown conditions but the weather and track temp weren't what we thought we'd get. We were able to adapt and put up a good run but it just wasn't enough," said Knowles.
Now the Blown Money team is off to Bristol, TN for the 13th annual Ford NHRA Thunder Valley Nationals. Bristol is the fifth of 10 stops on the NHRA Pro Modified Series schedule.
Mike Knowles and the rest of the NHRA Pro Modified Series teams are scheduled for three qualifying sessions, two on Friday (5:00 PM / 7:00 PM) and one on Saturday (2:00 PM) prior to the first round of eliminations (4:00 PM). Eliminations continue with the second round on Sunday during Professional eliminations.