Mike Knowles powered to his first victory of the season Sunday in the J&A Service Pro Mod Drag Racing Series portion of the AAA Insurance NHRA Midwest Nationals at Gateway Motorsports Park near St. Louis.
In the final round, Knowles earned his second career victory with his winning performance of 5.901 seconds at 242.71 mph in his '67 Ford Mustang to the losing run of 5.953 at 244.52 for two-time world champ Rickie Smith.
Knowles also defeated Mike Castellana, Steven Whiteley, and Troy Coughlin in earlier rounds. This is second career victory at Gateway Motorsports Park.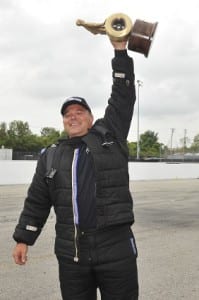 "It's been pretty good to us, we like it. It's fun and it's great for the team," said Knowles. "Friday we had some engine damage and instead of rushing back up and trying to make the run, we just stopped and regrouped and the team made some good decisions and we came back and made a good run, qualifying to get in the show, and here we are."
Points leader Mike Janis lost in the second round to Bob Rahaim and his lead over second place racer Troy Coughlin is 28 points going into the final race of the season.
The NHRA J&A Service Pro Mod Drag Racing Series season concludes at the NHRA Toyota Nationals, Oct. 29-Nov. 1 at The Strip at Las Vegas Motor Speedway in Nevada.