When Kirk Wolf turned on the final win light in Top Alcohol Dragster competition at the Summit Racing Equipment NHRA Nationals at Summit Motorsports Park last weekend, he achieved a lifelong goal of winning an NHRA national event. Driving Dean Dubbin's Kentex Roofing Systems/DMP Awnings A/Fuel dragster, Wolf defeated Cody Krohn in the final round, adding to his one regional event win.
"I'm still in shock that it happened," Wolf said Tuesday after the race. "Before even going to the race, I got to the shop and said, 'With the competition that's entered, it's going to be difficult just to qualify.' Of course, the only reason I would even go to a race is because I want to win it, but I wasn't expecting to go four rounds and actually get a Wally and the ice cream scoop and all that stuff. I was 10 years old when I started racing Jr. Dragsters, so here we are 27 years later and I finally get a Wally. I've had the regional one, but to win a national event is quite a bit more spectacular."
Wolf and the DMP Awnings team, led by co-crew chiefs Chase and Clay Copeland, started the weekend with a strong 5.319-second pass at 273.11 MPH in the first qualifying session, which was cut short due to rain. He improved to a career-best 5.229 at 275.34 in the second session, then smoked the tires in the final session.
"We smoked the tires or shook the tires one pass all weekend, but that was all planned," Wolf said. "We wanted to see how much that track could take, and the track had teeth. I think it went .920 to the 60-foot mark and it rattled them. We were lucky enough to be one of the six cars that went down the track on Friday night. That gave us a baseline, and that third pass, we just wanted to see what it could take. It didn't like it, but Chase and Clay were able to tune around that."
Wolf qualified No. 5 out of 24 cars and went into eliminations with a first-round matchup against Ohio native Corey Michalek. The race was over at the starting line when Michalek went red, while Wolf laid down a 5.282 at 265.22. The second round saw Wolf leave first ahead of national points leader Julie Nataas and finish first with a 5.286 at 273.61 to Nataas' 5.287. He then led wire to wire against Matt Cummings, winning with a 5.26 at 273.16 over Cummings and his 5.287. In the final round, Wolf was off the line first yet again and powered to a 5.269 at 274.00, while Cody Krohn slowed to a 5.413. It was Wolf's first national event final round.
Wolf credited Dubbin and the father-son Copeland duo for giving him a winning car, which was built by the Copelands at Copeland Race Cars and uses engine components from Noonan Race Engineering.
"That's one of the smoothest cars I've ever been in," Wolf said. "It's brand-new – I think that was our 12th pass on the car. It was flawless. They'd say it rattled the tires a little bit, but I didn't feel it. Just the whole way down, it feels like you're riding on glass."
Along with Dubbin and the Copelands, Wolf was joined by his mother, Dovie, and sister Amber, as well as Kenneth Woods, owner of Kentex Roofing Systems.
"That was very emotional, getting to share that win with my mom and my sister," Wolf said. "It was great having Ken with Kentex there too. They worked him to death doing the clutch. He's the main reason why I've gotten back out here. He kind of boosted my ego and got me to come back out racing again, and now I'm ruined because I'm addicted to it. I want to race every weekend now."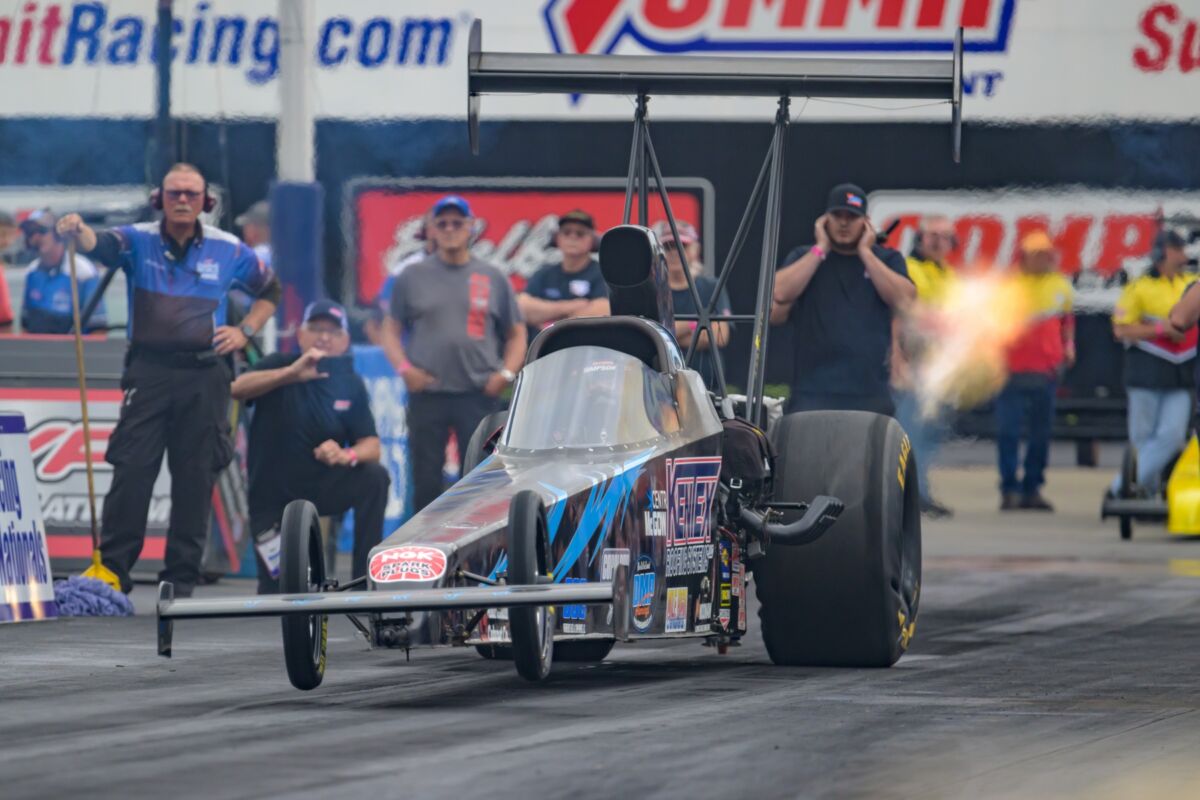 Wolf said the win and the support he received all weekend has him energized for the rest of the season.
"Every round I had people texting me like, "You got this, you got this.' It made me feel like, man, I can actually win this deal," Wolf said.
The Norwalk success also boosted Wolf's efforts to secure funding to run more races this season and beyond.
"I've got a little of attention from some of the people out there," Wolf said. "The people I've been chasing for sponsorships, it opened their eyes a little bit about how much visibility they get out of this. I've had two or three guys that have called and said, 'Hey, let's talk.'"
In addition to Kentex and DMP Awnings, Wolf thanked team supporters Copeland Race Cars, ESC Engineered Seals & Components, Goodson Tools & Supplies, Aluminum Cabinet Supply, Mile High Crankshafts, and Central McGowan.
Fans can keep up with Wolf through the Kirk Wolf Racing Facebook page.