Lucas Oil Top Dragster competitor, Justin Kirk, currently sits second in PDRA championship points, just over three rounds behind points leader David Brown. Despite the fact that Kirk has put himself in a position to possibly win the PDRA Top Dragster World Championship, he admits it's been a difficult year. This season he hasn't seen much of the success he's become known in his budding career.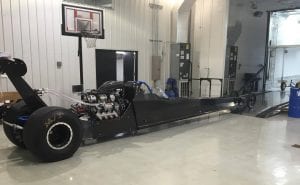 After fighting their current dragster for the first five events, Kirk and his team decided they'd had enough. They were planning to build a new dragster in the off season, but they found a deal they couldn't pass up. With the help of backer BWC Trucking, Kirk quickly decided to purchase Bob Sheridan's 2014 Spitzer dragster. "Bob Sheridan was wanting to go a different route with his racing," Kirk explained. "The dragster has only got about six or eight races on it. We just decided to snatch that one up now instead of waiting to build a new one. It's practically brand new; he just got the bugs worked out for us."
Sheridan has been a 3.91 with the dragster, proving it has what it takes to compete in Lucas Oil Top Dragster. With Kirk's engine and drivetrain in the car, he expects it to be even quicker. "We've been 3.87 with our other combination and this car's 200 pounds lighter," Kirk continued. "We should be able to go in the .80s fairly easy. We're really not trying to go fast. Our other car was built as a four-link and we had it converted to a hardtail. We've been having problems leaving the starting line. We were hoping we could stick that car out through the season, but it's a must-do thing I guess.
"It's definitely not ideal to switch cars in the middle of the season being second in points, but we were just having problems. One round we're good and the next round it won't leave the same. My lights are all over the board."
Kirk pinpoints the problems he saw in his old car to the four-link to hardtail conversion. The Spitzer dragster that he'll debut at the Memphis Drags, August 11-13, is a hardtail, and is also 26 inches longer than his previous dragster.
"The blower combination seems to be hard on driveshafts. We've slung two driveshafts out the car. The ProChargers, I think they can get away with a four-link because they don't leave as hard. Their power comes in on out. I just think the initial hit with a four-link in a blower car a lot of flexing goes on.
"Every racer seems to say they don't have no luck, but the best package in first round seems to be beside me most of the time. We're hanging in there. There's 16 rounds of racing left and we got three rounds left to catch David Brown so we're trying to chip away it."
Kirk thanks Randy and Cathy of BWC Trucking, Matt Hornbuckle of PEN Performance Engines, and his father, Doug, for supporting him as he chases his first championship. "We want to thank the PDRA for giving us a place to race. As long as PDRA is there we're going to be there," he adds. "I also want to thank Andrew, Jason, and all the boys back at Randy's shop for making the car switch happen! They put in about 25 extra hours just for the race car on top of what they do for Randy!"
Kirk will test the new-to-him dragster before the Memphis Drags, making every effort to ease the transition into the new car and give him the best chance at chasing down David Brown in the final four events of the season.
"It's always exciting to debut a new car. Not something you want to do in the middle of the season, but something we have to do to give us the best chance at fighting for the championship."
As the PDRA heads into their sixth event of the season Jason Scruggs leads the pack in NAS Racing Pro Extreme. Swizter Dynamics Pro Nitrous presented by MoTeC is in a tight battle led by Jay Cox. Kevin Rivenbark holds on to his early season success with a sizeable lead in GALOT Motorsports Pro Boost. The battle is extremely close in Drag965 Pro Extreme Motorcycle where Eric McKinney holds a slim lead over Chuck Wilburn. With just two races left in their five races with the PDRA, John Pluchino and Richard Penland are neck and neck in Extreme Pro Stock.
The 2014 Champ, Dan Ferguson, is once again leading the points in Ronnie Davis Top Sportsman presented by MagnaFuel. Kendall Little leads Talbert Pro Junior Dragster and Mia Schultz is on currently on top in MegaCorp Top Junior Dragster.