If Kevin Rivenbark's performance at the U.S. Street Nationals in Bradenton, Fla., was an indication of what's to come, 2019 just might be the year of the ProCharger in PDRA Pro Boost. Driving the Pro Line-powered GALOT Motorsports '69 Camaro, Rivenbark recorded the quickest and fastest eighth-mile pass for a ProCharger-boosted car with a 3.613-second burst at 207.37 mph on a second-round single.
Rivenbark and the Steve Petty-led team started testing last Tuesday with weeklong intentions of running in the mid-3.6-second range. The M&M Transmission-equipped car was previously driven by Pro Line Racing Engines co-founder Eric Dillard at the Mid-West Pro Mod Series Elite 16 event at Texas Motorplex last November, with a best of 3.67 out of a string of 3.6-second passes. That track record gave Rivenbark and company confidence, but their subsequent 3.6-second runs weren't exactly effortless.
"The guys worked their butts off in testing," Rivenbark said. "We changed four-link, shocks, everything to try to get the car working the way they wanted it to. Finally on Friday it came together. We were trying for a .65 or .66 and ended up with a .61 (Saturday night). You can't argue with that."
Before the record 3.61, Rivenbark fired off a series of strong passes: 3.704 at 204.22 and 3.643 at 207.08 in qualifying to lead the 26-car field, then a 3.637 at 206.75 in the opening round of eliminations over Tony Wilson.
"We went down every pass since qualifying started," Rivenbark pointed out. "To me that was the most important thing. Guys were having issues – and we were having issues earlier in the week – but when we started Q1 we went down the track every time. We knew it was fast, but knowing it would go down every pass was the biggest confidence boost for me."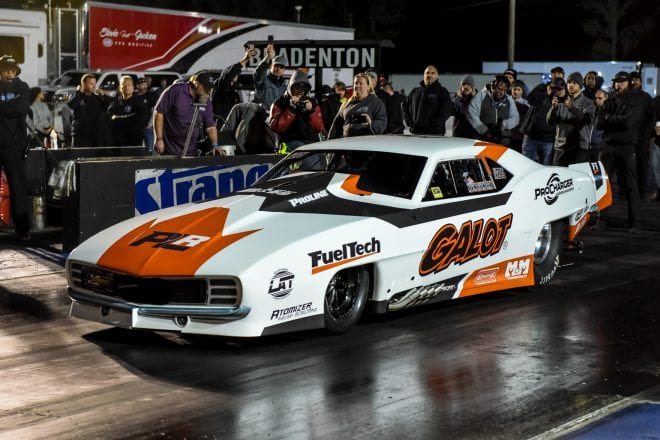 The race was called off late Saturday night and all remaining drivers after the second round split the purse, preventing Rivenbark and the Pro Line gang – Petty, Dillard, Kyle Pettis, Chris Foster, Brandon Stroud and Bud Hodge – from continuing to chip away at the ProCharger's best numbers.
The U.S. Street Nationals was merely a warm-up for a full season on tap for Rivenbark. The 2016 PDRA Pro Boost world champion plans to run the eight-race PDRA schedule and GALOT Motorsports Park's Mad Mule Shootouts. But first the Camaro will be outfitted with radials to run Radial vs. the World at Lights Out 10 next month, a venture that gives Rivenbark mixed feelings.
"I'm excited and a little cautious at the same time," Rivenbark admitted. "I've never ran on radials, so it's going to be something completely different. It's something that I'm not just going to jump in and take off running 3.70s or whatever. Of course, we have to get the car working with the radials, but adjusting my driving to the radials too."
Rivenbark just returned the car to Pro Line's Ball Ground, Georgia, facility for its small-tire makeover. The '69 Camaro belonging to John Strickland, Rivenbark's GALOT Motorsports teammate, is just down the road at RK Racecraft, where the previously roots-blown Pro Boost entry is being converted to fit a ProCharged Pro Line Hemi setup.
With the pair of ProCharger-boosted entries, Rivenbark believes the GALOT team will be back to top 3 status in Pro Boost. Plus, he feels the combination of a ProCharger with FuelTech EFI is more manageable than the previous roots-blown MFI setup in terms of cost and maintenance.
"As far as the cost standpoint, I think it is a better suited thing for the future," Rivenbark said. "The (roots) blower motors have gotten crazy with how much blowers cost, even if you have the best blower out there. I think this is something you can buy right off the shelf and be competitive, which makes it good for a lot of people.
"The FuelTech pretty much runs everything: ignition, electronic fuel injection, the data logger. FuelTech is the car. It controls everything," Rivenbark added. "I had put it on the new Camaro that we had. It seemed to me to be the way of the future. Those guys are great to work with and it's user friendly. I think it's the simplest system for anyone out there who's scared of digital and computers and electronic fuel injection."
Chris Sears photos