A capacity crowd at Orlando Speed World Dragway on hand for an import show Friday night got to see the first-ever five-second pass by a radial car.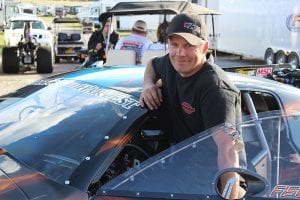 Jacksonville, Florida-native Kevin "Flash" Fiscus was in attendance for this weekend's Sports Compact World Challenge and decided to run his Fiscus-Klugger Racing Mustang down the quarter mile a couple times. The impromptu test session, in preparation for the upcoming Import vs. Domestic World Cup Finals at Maryland International Raceway Nov. 4-6, netted the drag racing veteran an unheard-of 5.973-second ET at 251.77 mph.
"The track looked pretty good," Fiscus said in a phone interview Sunday morning. "(OSW President, Racing Operations) Wade (Rich) and (OSW Owner) Ozzy (Moya) always do a good job on the track. So we thought we'd run this thing out there and see what we've got, you know, the baseline."
The first pass resulted in a 6.18 at 229 mph. Not a terrible lap, but Fiscus knew the car was capable of more. Much more. So he and his crew headed back to the pit to work on a car that has rarely been utilized for quarter-mile racing in the past. After adjusting the fuel, timing, plugs, and making a score of other changes, Fiscus returned to the starting line expecting a 6.05 run. The plan was if the car made it A-to-B cleanly, they'd put it back on the trailer and get ready for the World Cup.
The car definitely went back on the trailer, but not before carving out a piece of drag racing history.
"It left the line decent at a 1.13 (at 60-foot), 2.79 at the 330-foot, and at the eighth-mile, from in the car, I just knew it was moving," Fiscus said. "It got to a thousand feet and I said 'Wow! This thing is really picking up some steam!' At that point, I thought it had the chance of being the first five-second pass."
After getting loose upon popping the parachutes, the track's safety crew met Fiscus. The multi-faceted driver heard the news over a crew member's radio.
"I could hear some static on the guy's radio and I'm like 'What'd I run? What'd I run?" and I could hear the static and I swore that I heard '5.97 at 251' and I was like 'Huh?' It was almost unbelievable. It took a second for it to set in and I said 'Did they say 5.97 at 251?' and he said 'Let me confirm.' After that, I think I almost tackled him."
Making the moment more special was not only the fact Fiscus considers OSW his home track, but the addition of a rabid crowd of import fans who were not bashful in showing their respect for the history-making moment.
"It was amazing to do it here, but it was amazing to do it in front of the import crowd," he said. "A lot of the domestic guys have never been around it. They think the cars are just loud and obnoxious, but it's truly an amazing atmosphere. The stands erupted.
"If you see some of the videos, it just shows how much those guys like the racing atmosphere and just the whole competition and everything. If an import would've done that in front of a domestic crowd, you wouldn't have seen that reaction."
With a couple weeks to prepare for Maryland, Fiscus said the momentum is there and his 5.973 won't last long.
"We've been doing this radial stuff, Josh (Klugger) and I've been together for ten years, so we've got some tunes, we've got some swagger going in there," Fiscus said. "And the .97 is just the beginning. This is going to be a low 5.80 car with no doubts. We're going to go up there on a non radial-prepped track, we're guessing they're going to prep it pretty close to what Wade did down here for this import race. Not that import prep is any different, but it's not going to be a glue glue glue prep, so that's why we wanted to test here.
"We've got a lot of confidence going into MIR and I think that little Fox body is going to bring that $20,000 back to Florida."