He's hard working, he's patient, he's humble, and he's successful. He's everything a millennial usually isn't, and he's making it look easy. Big money bracket racer Kevin Brannon has got the talent, and mindset, to become a career racer.
Hailing from the small town of Boiling Springs, South Carolina, horsepower has been in Brannon's blood since day one. "My mom and dad both raced since before they had me, and I've been in it my whole life," says the prize wheelman of his father, Terry "Turtle" and mother, Dotti. "I got started in junior dragsters when I was ten, and ran those until I was fifteen. Then, I drove my mom's bracket car and it took off from there."
Dotti's car, a 1980 Chevy Monza, helped Brannon learn the ropes during local events at Greer Dragway – his home track, in Greer, South Carolina. As a teenager, he raced frequently and eventually moved up to a dragster that had also belonged to his mother. The two were extremely close, and Brannon now races in his mother's honor, as the remarkable woman passed away several years ago.
Around 2009, Brannon took a position as an engine assembler at PAR Race Engines in Spartanburg, South Carolina. "They helped me to get a better car, and a better engine," notes Brannon, who still works at PAR and has built a strong relationship with the company as both a valued employee, and a team driver.
Working with the folks at Maddox Race Cars in Piedmont, South Carolina, Brannon acquired a 2012 Maddox chassis and engine. Powered by a 655ci PAR engine with Brodix heads and APD Racing carburetors, the dragster also features a Paul's Transmission gearbox and FTI Performance torque converter. In addition to support from Brannon's fiancée Ivey Nicole Hutto's parents' business, Ivey Hutto's Golf Carts, Brannon also relies on Mickey Thompson tires and Lucas Oil for backing.
Now, at just 28 years old and thanks to his outstanding achievements with the car, Brannon is known for being one of the biggest names and fiercest competitors on the sportsman scene.
In 2014, Brannon accomplished his first major success with the car when he took home the IHRA Top Dragster championship and a payout of $10,000. "With the IHRA deal, if you finish top three in your division, you come together to race to win the championship so it was kind of in my own hands," explains Brannon.
At the championship competition – the 2014 IHRA Summit Racing Equipment Tournament of Champions presented by AMSOIL – Brannon found himself racing against Hutto in the semifinals. The two cut nearly identical lights – 0.003-seconds for Brannon and 0.007-seconds for Hutto – but Brannon bested his soon-to-be-bride and took the win with a 6.985-second at 183.00 mph run on his 6.97 dial in over her 7.098 at 186.20 mph effort on a 7.08 dial. "I've had to run her a few times in the finals and semifinals, and we both want to beat each other much as anyone else," says Brannon, laughing, as he talks about the stress of racing his intended. "I have the same attitude whether I'm racing her or anyone else. There's no hard feelings afterwards, it's just business." So far, Brannon's won each of the pairings, but Hutto is hot on his heels and will undoubtedly turn the tables soon enough.
The following year, Brannon earned even more gold when he took the big kahuna – the 2015 NHRA Super Comp world title – as well as the 2015 IHRA Top Dragster title for a second straight year, and clinched his second consecutive Division 2 NHRA Super Comp title.
"The NHRA championship was a pretty big deal for me since I was chasing a points series and was going against so many good racers in the country, many I'd never even met or raced. Anyone could have taken it," he recalls. "That was the one I had always wanted to win, too – to win on the big stage with NHRA. It meant the most to me." Having worked towards his dream, and having actually achieved it, made the moment where he was named the champion even more substantial for Brannon, who committed his year to making it happen.
Brannon often pulls double-dutry, running in both Super Gas and Super Comp. "I like them because they're heads up and I prefer the 8.90 and 9.90 stuff," says Brannon. "I have one of the faster Super Comp cars, and it's better for me to be driving from behind. It's more in the hands of the drivers. I'm all motor, and I know I'd be faster if I sprayed it, but I don't want to worry about that because I bracket race so much."
Racing multiple classes in one day can be pretty stressful, but Brannon's such a pro that it doesn't get to him – he actually prefers the added runs. "I like just making laps down the track, you learn something every time and the more laps you get, the better off you are," he admits. The additional runs actually act as an advantage as they allow Brannon to gather data, which he can share between his Maddox dragster, and his other car.
That car, a Race Tech-built '68 Camaro, is one he shares with Hutto. Its setup is surprisingly similar to Brannon's dragster, as the Camaro runs a 582 ci PAR engine and transmission and converter from FTI. A personal best of 4.80 to the eighth-mile marker for the Camaro shows its potential, and in 2015, the car carried Brannon to a runner-up finish for $20,000 at the Bristol Spring Fling race at Bristol Dragway in Tennessee. "Somehow, out of the 500 cars there, my buddy and I made it to the finals together and raced each other," says Brannon, who finished a close second to his friend Tommy Cable. "That was my first big win. I had won some $5,000 and $10,000 races, but that was the most until then."
Big money bracket racing is nothing new for Brannon, who's racked up a significant chunk of change during his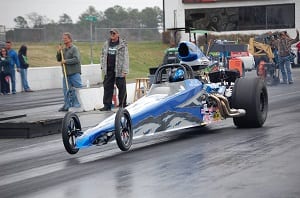 relatively short racing career. His first-ever big win came in 20105 at Mooresville Dragway in Mooresville, North Carolina, where he went home $5,000 richer. "Bracket racing is where I grew up, and I enjoy going to these huge races and having to run a lot more rounds to win. It's tough, but worth it," he shares.
A several year stint of successes at various events held at Montgomery, Alabama's Montgomery Motorsports Park resulted in payouts of $10,000 in 2010, $7,000 in 2010, and a runner-up finish for $20,000 in 2013 for Brannon.
"I also won Atco's $25,000 race in 2014, and was the runner up there in 2015. This year, I lost in the semi-finals in Las Vegas at the Million Dollar race," explains the talented young man, who also earned a $10,000 payday at Virginia Motorsports Park in North Dinwiddie, Virginia, in 2015. Most recently, however, while racing at the 2016 Spring Fling race at Bristol, Brannon was deemed the overall Wiseco 5-Day Points Chase winner and took home a check for $5,000 and a beautiful champion helmet for his efforts.
Winning such large purses certainly helps ease the cost of competing overall. While it continues to get more and more expensive to remain competitive, winning just one bracket race with even an average purse in this day-and-age can help fund a racer's entire season. "You can really make some good cash in big money bracket racing, and that's one of the main reasons why I run 'em. It costs more to run there, but you can win a lot," says Brannon.
Interestingly, Brannon feels that the money is one area where both NHRA and IHRA can improve. "The biggest challenge is with the contingency programs. You used to be able to win so much more than you can now. NHRA has improved a bit recently, but from what I've been told, it used to be possible to take home $15,000 in contingency payouts and now it's only about $8,000," says Brannon, candidly. "I don't know why it's dropped so significantly, maybe the economy, or maybe companies just can't afford to spend that kind of money anymore."
In addition to funding and the costs associated with campaigning a competitive car, Brannon's biggest challenge with making it to races is simply coordinating the time off from work. "My job's pretty good about it, but it adds up taking days here and there to go racing. I wind up spending a lot of time at the track," he continues.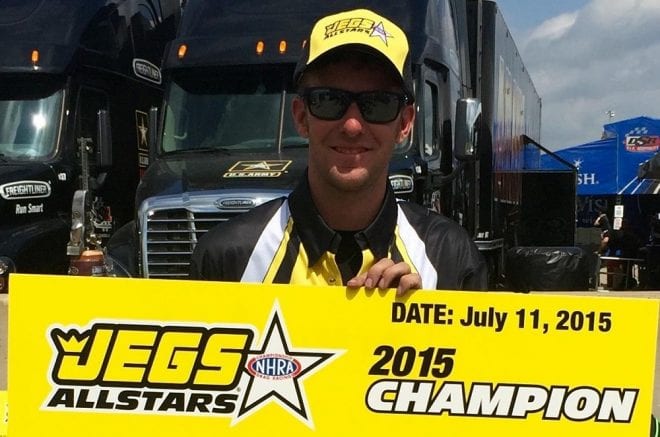 Understanding that responsibility comes first, and that hard work yields more results than waiting around for Lady Luck to arrive, has put Brannon in the position of being a role model for other up and coming racers. His success, too, is an integral part of his role model status, and it's something that he takes quite seriously. "It's a big honor for me to be thought of that way, and I try to present myself as best as I can. I don't want to be a racer who's out there and does well but is drinking and partying or doing all that. I don't drink or smoke and I try to be a good role model for kids. I give advice if they ask, and I'm always happy to help," he says, demonstrating wisdom and compassion well beyond his years.
For those who wish to follow in his footsteps, Brannon puts major emphasis on practicing and being dedicated. "Make as many laps down the track as you possibly can, and be able to work on your stuff," he recommends, clarifying how he sees many younger drivers at the track who don't even know how to change their own oil. Brannon's father was a mechanic, and as a result, he grew up in the shop and learned how to work on cars. "Be involved as much as you can. Practice, go race, and know how to work on your car and how to set it up – it'll make it a lot easier in the long run."
With a strong start to his 2016 season already in the books, Brannon intends to focus the remainder of his year on doing as well as possible in the Drag Race Results "Big Buck" bracket races. He'll also continue in NHRA's Super Comp series, has plans to race at three $50,000 events at Piedmont Dragway, and will attend the JEGS All Stars race held in conjunction with the NHRA event at the Route 66 NHRA Nationals in Chicago, Illinois.
Between his big bracket appearances, Brannon will also get back to his roots in his mother's Monza. He recently spent considerable time restoring it to its former condition; new paint, a freshened up engine, and some other goodies were all part of the Monza's revival. Brannon will stick to local bracket events and maybe some IHRA outings with the car, with which he's run a personal best of 5.70 at 120 mph in the eighth-mile.
Brannon is the first to acknowledge that he wouldn't be where he is today in the big bucks bracket world if it weren't for help from his family, his fiancée, and her parents Ivey and Rene Hutto. "They help me out a lot, and it makes it a whole lot easier," says the grateful young racer. However, no amount of help guarantees performance – it's the talent, the drive, and the relentless pursuit of success that must come from within that enables success. Brannon has been able to hone those traits, and his constant quest for self-improvement as a sportsman racer is one of the key factors that set him apart from the rest.
This story originally appeared in Drag Illustrated Issue 110, the Sportsman Issue, in June of 2016.