Kenny Nowling witnessed his first-ever drag race as a fugitive.
Told by his mother at four years of age he couldn't attend the drags with his father, a bracket racer, at I-55 Raceway in Pevely, Mo., he hid away behind the seat of Dad's truck for the two-hour drive to the track.
"I can remember my dad pleading with my mom to let me go and my mom finally just said 'I'm not going to be there and you're going to be racing and he'll be running around by himself,'" Nowling reminisced during a phone interview. "So when Mom went back inside, I snuck behind the seat of my dad's I believe it was a '66 Chevy pick-up. The impressions from the springs from that old Chevy truck seat made in my face paled in comparison to the ones my mom made on my butt when I got home that night."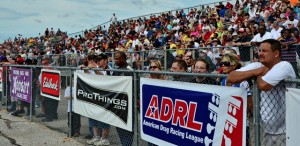 And now, much like he did as a child in the mid-1970s, Nowling is emerging from the shadows to race. This time, the oft-embattled promoter is bringing his reborn American Drag Racing League (ADRL) to Gateway Motorsports Park, Nov. 4-5, for Dragstock XI, using his tried-and-true method of free tickets to hopefully recapture the glory days of the series. At the 2009 event at what was then Gateway International Raceway, traffic was shut down for miles both days with carloads of would-be spectators told the event was at capacity. Like an overfilled nightclub, fans were made to wait until others left the track to make room at what is still the biggest drag racing event in the track's history.
Nowling doesn't expect that kind of crowd at the Madison, Illinois-based track this weekend, but does expect a respectable attendance. The veteran promoter said there is also the matter of potential "damage" cause by other now-defunct racing groups trying to copy the ADRL blueprint.
"In November, admittedly we're a little behind the eight ball," he said. "We're trying to overcome a couple of things. Other series have gone in there and tried to mimic what the ADRL did and quite frankly, I don't know how much of that potentially could have done damage to the ADRL as far as our spectators expecting something different."
His falling out with former ADRL and Al-Anabi financier, Sheik Khalid al Thani, is well known, as are the repercussions of that split. For Nowling to come back to drag racing with the ADRL brand, returning to Gateway was imperative.
"It was really important," he said. "We needed to kind of knock the rust off a little bit."
Some of the changes awaiting fans and racers the first weekend of November at GMP include the move of all classes from eighth-mile to 1,000 feet, with the exception of the Outlaw Pro Mod category. Another big change is the addition of Top Alcohol Dragsters and Funny Cars.
The return of former series stalwarts such as Bubba Corzine in the role of vice president of competition has also given Nowling confidence in his product, as does the partnership with Gateway owner Curtis Francois and track general manager, Chris Blair.
"We thought it would be great to reintroduce (the series at Gateway), especially geographically, it's right here in our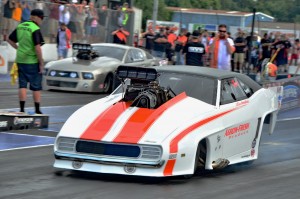 home market," Nowling said. "I could write a book on the great job and not have enough pages to ever thank Curtis Francois enough for not only keeping Gateway open and viable, but for investing millions of dollars and making it one of the nicest facilities in the country.
"Curtis has done a remarkable job building that back up and he hired the right guy, Chris Blair. I'm probably as excited about that as anything that I finally get to promote an event together with Chris Blair because I think he's one of the best in the country at running a race track."
As anyone with even a passing affiliation with motorsports knows, it takes money, and lots of it, to race. Nowling is convinced this time around, he has the investors to make ADRL, well, great again. Former team owner and Extreme Pro Stock titleholder Mark Eckman is onboard with his company, Gateway Powder Coating, as a major sponsor. Also, Nowling said facilities have been eager to bring his travelling circus back.
"Obviously, the track owners were extremely excited," he said. "They were all champing at the bit to get the ADRL back from a simple revenue standpoint. I think what we do next is going to be more important than what we've already done and that's sad because we've done a lot of great things."
Vital to a successful series is car count and careful scheduling. With the addition of the two Top Alcohol classes, Nowling went out of his way to ensure racers won't have to choose between racing his dates and those of the NHRA Lucas Oil Series. His respect for Forrest Lucas, the billionaire responsible for the sponsorship of both the Lucas Oil Series and racers all over the country, is evident.
"Short of only Wally Parks, I think Forrest Lucas has done more for the sport of drag racing than I think any one single human being in history; than any ten combined people in history," Nowling said. "We're certainly not looking to take away from the Lucas Oil Sportsman series, whether at a divisional or national level. But I am excited about putting the alcohol Funny Cars and Dragster drivers, those guys and gals, on a big stage in front of huge crowd."
Nowling has no illusions of where he stands in regards to NHRA, whether it's divisional races or Nationals events. "NHRA will always be the number-one big kid on the block," he said. "We're not trying to compete with them in any way. We want to work with them, as a matter of fact. That's why we went to the thousand-foot format.
"You know, we want people to be able to run an NHRA divisional, a National, and I'll use our Martin, Mich. Summer Drags event, June 30th through July 1st. It's sandwiched purposely between NHRA Norwalk and NHRA Joliet so from Norwalk to Chicago, instead of just going to Martin and just testing, now these guys and gals can go and run a national event and race for trophies and purses and championship points. I think just as a fan the Alcohol Funny Car and Dragster thing has me really stoked, but we're also sticking to our roots."
A fan since the age of four, raised in the sport, and a part of some truly historical moments, Kenny Nowling finds he's unable to leave drag racing. Despite involvement in St. Louis-area endeavors such as an MMA series and an indoor football team, he always returns to the drag strip.
"I love it, man. I'm addicted 500 percent, like most of us guys and gals that are involved. Drag racing can be a good addiction and a bad addiction, and it's certainly provided me with some of the best memories of my life."
Story by Brandon W. Mudd