As the owner or co-owner of nine new car dealerships, Keith Haney knows a thing or two about selling cars. Few mean as much to him personally, though, as the pair he's just put on the sales floor—"Notorious" and "Enigma"—his dual championship-winning Pro Modified and Radial vs. the World entries.
The pair of nearly identical appearing, nitrous-boosted 2014 Camaros are both race winners and both carried Haney to season titles last year in the Frankenstein Engine Dynamics Mid-West Pro Mod Series (MWPMS). But the Tulsa-based businessman said it's time to pass them on to a new owner.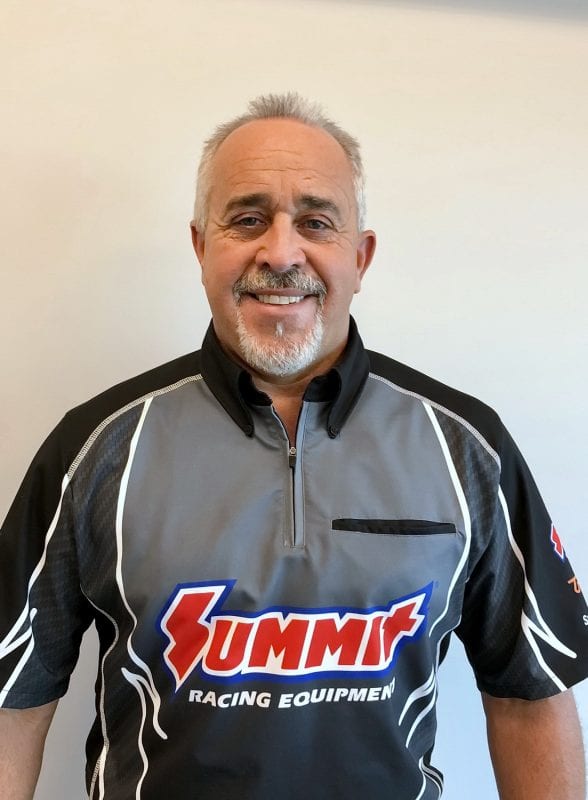 "First of all, I want to make it perfectly clear that this decision to sell is only about the cars. I'm not getting out of racing and even more specifically I'm not leaving the Mid-West Pro Mod Series. I am not getting away from the Mid-West Pro Mod Series in any way, shape or form. I'm not leaving the series; I haven't sold the series; so we can crush any rumors about me selling it. I have not," stressed Haney, who also owns and promotes the all-eighth-mile drag racing organization with eight sanctioned events this year, plus a special, winner-take-all, $50,000 race Nov. 1-3, at the Texas Motorplex, near Dallas.
"I'm dedicated to the Mid-West series and I'm not going anywhere. It's taken us a while to build the Mid-West Pro Mod Series and it's my baby, I love it. I love the racers, I love the fans, and I love the race tracks that believe in us. That is not changing and I can't stress it any more, none of that is changing."
However, Haney said he feels ready to pursue new goals for Keith Haney Racing, his well-established drag racing team.
"Right now, having two cars is making it a little difficult to just have enough people to run everything. So what I'm doing next, I'm not quite ready to say, but both cars are for sale. You can buy either one turnkey, or you can buy either one as a roller. Or you can buy 'em both! Just reach out to me if you're interested," Haney suggested to prospective buyers.
"Obviously you'll be better off if they're bought turnkey, because they come with a tune-up, so you can go out there and be a frontrunner pretty much anywhere right off the bat. We'll help you for a couple of races, not at the track, but with tuning help over the Internet."
Despite the impending sales, Haney confirmed he'll still be racing "Notorious" in the MWPMS Pro Mod class next weekend (Aug. 2-4), at Gateway Motorsports Park, near St. Louis. As usual, crew chief Brandon Switzer will monitor event data via the Internet before calling in his engine tune-ups, while co-crew chief Brandon Pesz will handle all on-site chassis tweaks and trackside decisions.
"I just don't have the help that I need to be able to run two cars at the level they need to be run, so we'll concentrate on just the one class for the rest of this year," Haney said. "So the next time you'll see 'Enigma' out this year will be at No Mercy, Donald Long's race at South Georgia Motorsports Park in September—unless someone decides they want to buy it. And if that happens, then we'll go to No Mercy with them and put them in the limelight—if that's what they want."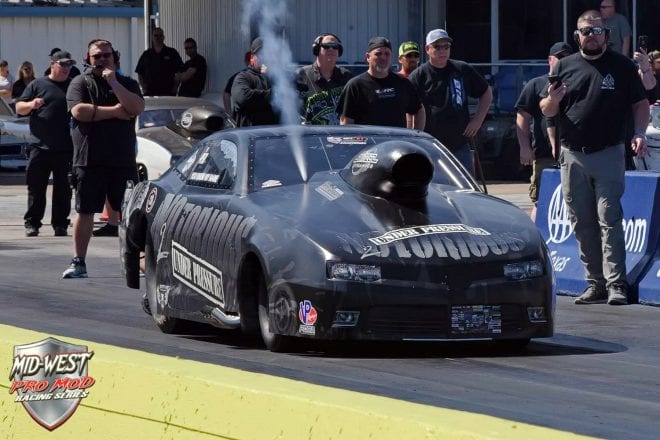 Regardless, Haney has a lot of racing left on his busy schedule this year. Following next weekend's MWPMS event, he'll again be racing with the MWPMS Sep. 7-8, at the new Xtreme Raceway Park in Ferris, TX. Two weeks later (Sep. 21-23), he will return to the Gateway facility near St. Louis to compete in just his second-career NHRA Pro Mod event, driving a Summit Racing Equipment-backed 2016 Camaro for car owner Rickie Smith.
"I'm excited about being able to run the NHRA quarter mile again with Rickie and course my tuner, Brandon Switzer, and that's basically the start of four races in a row because the week after that we'll be running 'Enigma' again at No Mercy; the week after that I'll be running the NHRA series again in Dallas, and the week after that it's the Mid-West series finals in Tulsa," Haney said.
"Then finally, one month after that, we'll be at the $50,000-to-win race presented by Elite Motorsports at the Motorplex, which will be one of the biggest Pro Mod races ever held, so yeah, there's still a lot of racing for us to do this year."