The Keith Haney Racing team rolled into World Wide Technology Raceway in St. Louis, Missouri, with high expectations and the Stroud Safety Pro Mod points lead.
"When we left [St. Louis] July 1st, the weather was a mess. It was hard to leave knowing I was leading the points and wanted to finish the event so badly," stated Haney. "I couldn't wait to finish it. We've had consistency this year, and Brandon (Switzer) has Black Mamba on a string."
In the makeup race from June, Haney bested Chris Juliano in the first round but fell to Brandon Snider (driving the Steven Whiteley Camaro) 3.701 to his 3.643 in the second round.
In Race Star Wheels Pro Junior Dragster, Kilee bested Sarah Stewart in the first round, but a red light start (-.002) in the second round to Brody Zimmerman ended her day early.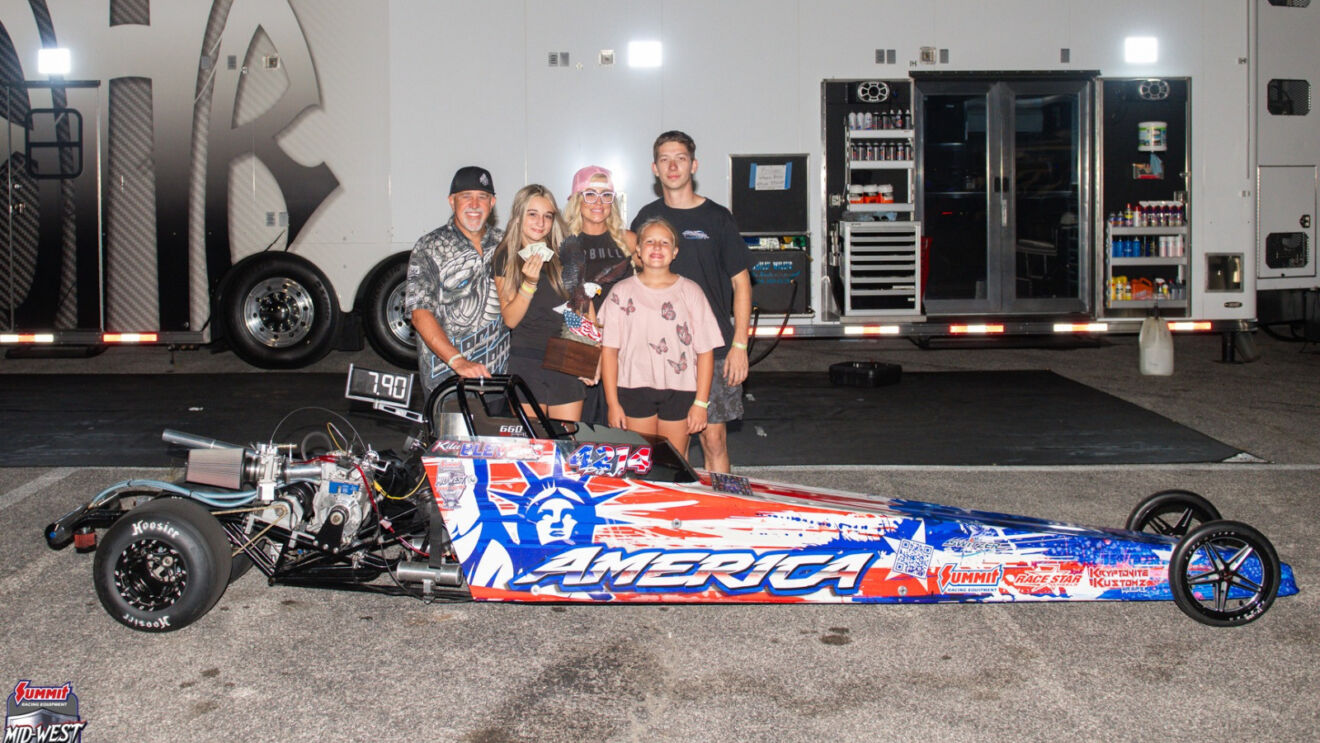 "It was great to get that round win. I've been working on my lights since I started driving, and it was just a little too quick in the second round," stated Kilee.
With little time to spare, the pair had to turn their focus on running another complete event soon after.
For the scheduled second event, Kilee unfortunately made a first-round exit against Alexis Kesterson. The weekend didn't end there, though, as the first-round losers from both junior classes can enter the Junior Slammers class.
"I really wanted to make more passes. It helps me to be able to work on my reaction times and top end numbers," said Kilee. "I love being out here racing with everyone."
Once in the Junior Slammers class, Kilee was on a mission. Three consistent passes over opponents, including Jaxin Reed and the finals over Cayden Duell, gave Kilee her first win.
"I couldn't be more excited," she said. "I am so thankful to my mom and Keith, as well as all the help from the KHR crew. Lots of other racers in my class have offered advice, and it has really helped me."
In Stroud Safety Pro Mod, Haney was eager to get back into competition and earn the points lead back from YNot Racing. With a solid qualifying effort of 3.685 E.T., Haney started eliminations from the third qualifying position.
First round, Haney ran 3.707 E.T. over Mark Werdehausen. Second round momentum carried him to a 3.672 E.T. over Tony "Sandman" Williams. Heading into the semis, the competition also stepped up. Steven Whiteley ran a 3.631 E.T. to beat Keith's 3.659 E.T.
"Even though we went out in the semis, I'm so excited about the consistency and the mid-60s passes," said Haney. "Brandon (crew chief Switzer) said he would 'leave the crankshaft on the track' if he needed to."
The Summit Racing Equipment Mid-West Drag Racing Series heads to US 131 Motorsports Park in Martin, Michigan, September 8-9 for the Funny Car Nationals. All the MWDRS events are streamed live on FloRacing.
For further information about the Midwest Drag Racing Series and upcoming events, visit midwestdragracingseries.com or connect on social platforms.