John Taylor vividly recalls those exhilarating radio spots he used to hear as a kid growing up in New Jersey, where the iconic sounds of "Sunday, Sunday…SUNDAY!" blasted across the airwaves in a sensory overload that detailed upcoming events at Englishtown. Ironically, though, Taylor never once laid eyes on Old Bridge Township Raceway Park, because his scenery changed dramatically in 1969 when at age 14 his family relocated to Naples, Florida, where Taylor still resides to this present day.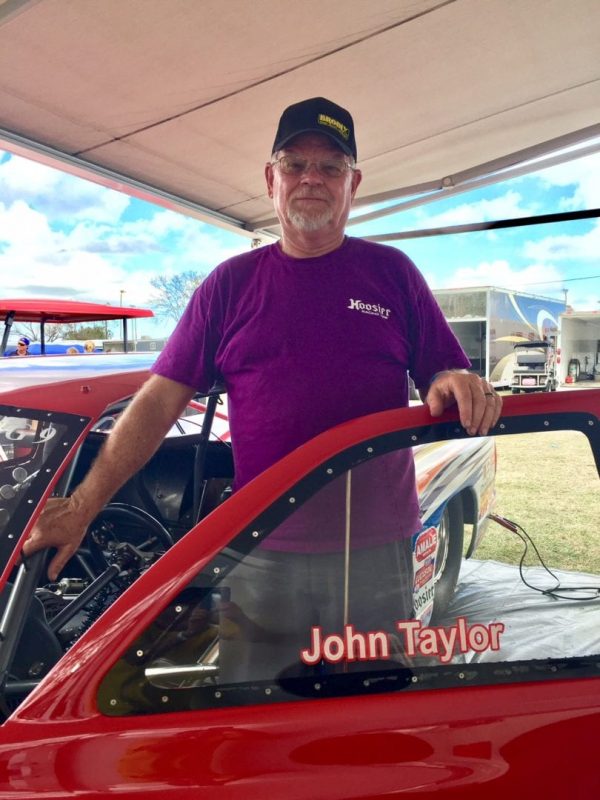 To be certain, the life-changing move was never questioned for a second. "Naples is so beautiful, I loved the place immediately and I've never wanted to leave here," he says with assurance. Taylor finished out his last few years of high school in Florida, and began tinkering with his daily driver, a 1970 Camaro. It was right about then Taylor would meet Mike Thompson, a local gearhead who would eventually become a well-known engine builder along Florida's Gulf Coast. The two made fast friends and amazingly, Thompson is still building engines for John 45 years later!
It all started with John's high school Camaro, on which they performed an engine swap with a Z28 car that was acquired. Certain sparsely populated areas of Florida created some street racing hot spots in the early 1970s and Taylor found himself to be a usual suspect of the practice. When he finally did venture out to enjoy drag racing on the organized level, Taylor, then 17, drove his Camaro across the opposite side of the Sunshine State to visit a track just outside Miami in the town of Hialeah.
"We used to throw our slicks in the trunk and back seat and head off to Hialeah to race our cars, not giving a second thought to how we'd get home if we broke our cars!" Taylor laughs. He and his newly-made friends were regulars at the track in Hialeah until the facility shut down sometime in the 1970s. "After that, I started following some NHRA stuff and I used to drive up to Gainesville to the Gatornationals to watch Mike and his brother Tony race."
Taylor eventually sold his Camaro at age 21 to buy his first house, and he would later take an even more drastic approach at responsibility when he briefly left the sport of drag racing so he could launch Taylor Elevator in 1991. The elevator business is a unique occupation, one that began for Taylor in 1972 when he went to work for one of his good friend's father. "Me and a buddy went to work at his dad's elevator company and my friend ended up leaving after a few months, but I stayed on and continued working there until I started my own elevator business nearly two decades later," explains Taylor.
All the while, the allure to go racing was strong, although Taylor fought the urge tooth and nail as he concentrated on building a successful enterprise. It sure didn't help matters that Taylor's business headquarters was located exactly one building down from Thompson's engine shop, and for the first three years, John avoided his neighbors like the plague. "They all thought I was mad at them," Taylor laughs, "but I knew what would happen if I started hanging around there!"
To satisfy his cravings, however, Taylor would occasionally accompany his racing buddies to Bradenton just to help out and enjoy some exposure to the sport without having any vested involvement on his part. Right about then, Thompson laid a clever trap for Taylor when he encouraged John to make a pass in a dragster he had for sale. "Mike set me up good on that one, and after one pass my hands were shaking!" As expected, Taylor bought the dragster the following day, and he's been in the thick of things ever since.
Although Taylor didn't immediately set the world on fire in his return to drag racing with the dragster, he did win a bunch of rounds and had a whole lot of fun, even if a trip to the winner's circle wasn't in the cards. Then, sometime in the late 1990s he had the urge to buy a 1957 Corvette. The car was purpose-built for Super Gas, though Taylor found himself pushing the envelope as he experimented with index racing. While running the 'Vette wide open in the 5.50 category, he crashed the car at South Florida's Immokalee Regional Raceway in 2005. "In the long run, that crash was actually the best thing that ever happened to me, because that's when I found my first truck," he says.
Taylor has admittedly always been a pickup enthusiast, so it only made sense to drag race a truck as well. The piece he acquired first was the red Dodge Dakota, a Rick Jones-built vehicle that Todd Patterson formerly campaigned in Pro Stock Truck. Taylor immediately began racing it in NHRA's Super Gas class, as well as IHRA's Super Rod category. A few years later he acquired the second truck, a former David Nickens-owned Dodge Dakota built by Jerry Haas, which Taylor now competes in Top Sportsman. Both Dakotas are 1999 models, and according to the build tags, were constructed just a month apart. Each truck is motivated by 632 c.i. power plants built by Mike Thompson Racing Engines.
Taylor routinely competes both vehicles at the same event, and has nearly put them both in the winner's circle on the same day! "I've won the most races in the Super Gas truck, but haven't done too awfully bad in the other one," he smiles. Taylor has won four NHRA national event – twice at Bristol – and was also victorious at the nationals in Atlanta and Gainesville.
Additionally, he's collected five Lucas Oil divisional wins in Super Gas, finishing second in the world in 2016 and ninth in the world for 2017. In 2012, he picked up the NHRA Division 2 championship in Top Sportsman, and has been to the Jegs All-Star race twice, collecting a runner-up as his best finish. On the IHRA side, he's likewise won four national events, and earned divisional championships twice, with a whopping nine victories in Division 2. He's finished second in the world, and placed third nationally on two occasions.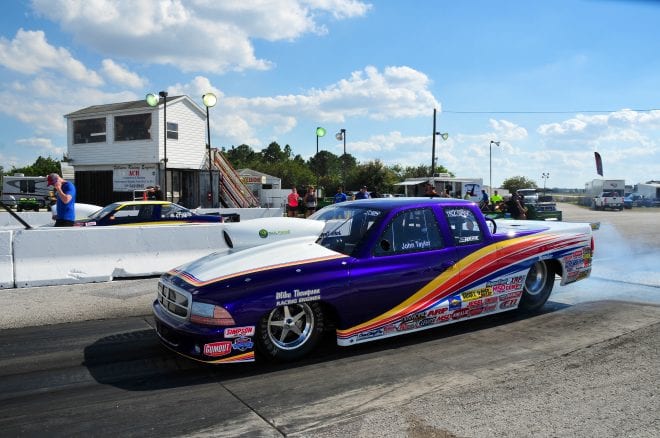 While winning races is the steadfast goal, Taylor will say with certainty it's the life-long friendships in racing that he treasures most. "We're all buddies until we get to the starting line, and then we're back to being buddies again at the finish line!" he jokes.
As in many segments of racing, Taylor travels with a group of close friends, and in this group they're also motorcycle fanatics, so they routinely take their bikes with them and ride in the mountains, on the parkways or whereever life and racing take them. "Two years ago we went to the IHRA race in Memphis, and then took an additional two weeks to travel to Las Vegas." John's wife, Julie, and the other racers' wives in the group insist on getting to the track a day early so they can play golf together.
The fun times and great memories are vast, but for Taylor, none compare to the Gatornationals in 2014. "I ended up winning Super Gas on my 60th birthday, and both my daughters were there with their families, including our five grand kids. It was an awesome time…my number-one memory!"
The support from family and friends have been vast over the years, and Taylor appreciates each of them. "My wife and family have been real understanding, and I must also thank Jim and Debbie Perry, as Jim is essential in helping me race Top Sportsman." Taylor is also quick to credit his longtime friends at Mike Thompson Racing Engines, Hoosier and FTI.
The team got off to a rousing start in 2018 at the Gatornationals, when Taylor dipped into the 6-second zone for the first time with the Top Sportsman truck. "I got some nitrous help from Jeffrey Barker and also Greg Samuel from FTI, who assisted with a new converter. We clocked a 6.975 at 196.22 mph at 2,520 pounds. And my buddy Jim Perry also won Super Gas at the Gators in his S-10 truck for the third time!" Taylor grins.
"We all have a blast whenever we go racing together and I plan to keep doing this as long as I can remain competitive. When I stop being competitive, that's when I'll take up fishing again!" he laughs. Either way, it sounds like a pretty good gig.
This story originally appeared in DI #132 in May of 2018.