The final day of qualifying at the In-N-Out Burger NHRA Finals concluded under much warmer conditions than the first day of the event in sunny Southern California, but Greg Anderson and the KB Titan Racing (KBT) crew had no problem keeping hold of their tune. Anderson, driving the HendrickCars.com Chevrolet Camaro, scooped up the 124th No. 1 qualifier award of his career and third of the season to further bolster his bid for a sixth NHRA Pro Stock world title. The most winning driver in the history of the class also claimed 14 bonus points with one of the quickest cars in each session.

"I'm super pumped with the job these KB Titan Racing guys have done this weekend," said Anderson, who will race Mason McGaha in the first round of eliminations. "I love racing here in Pomona – the cars love it, the drivers love it. You saw it today; there were a lot of great runs in the class, and I had two of them."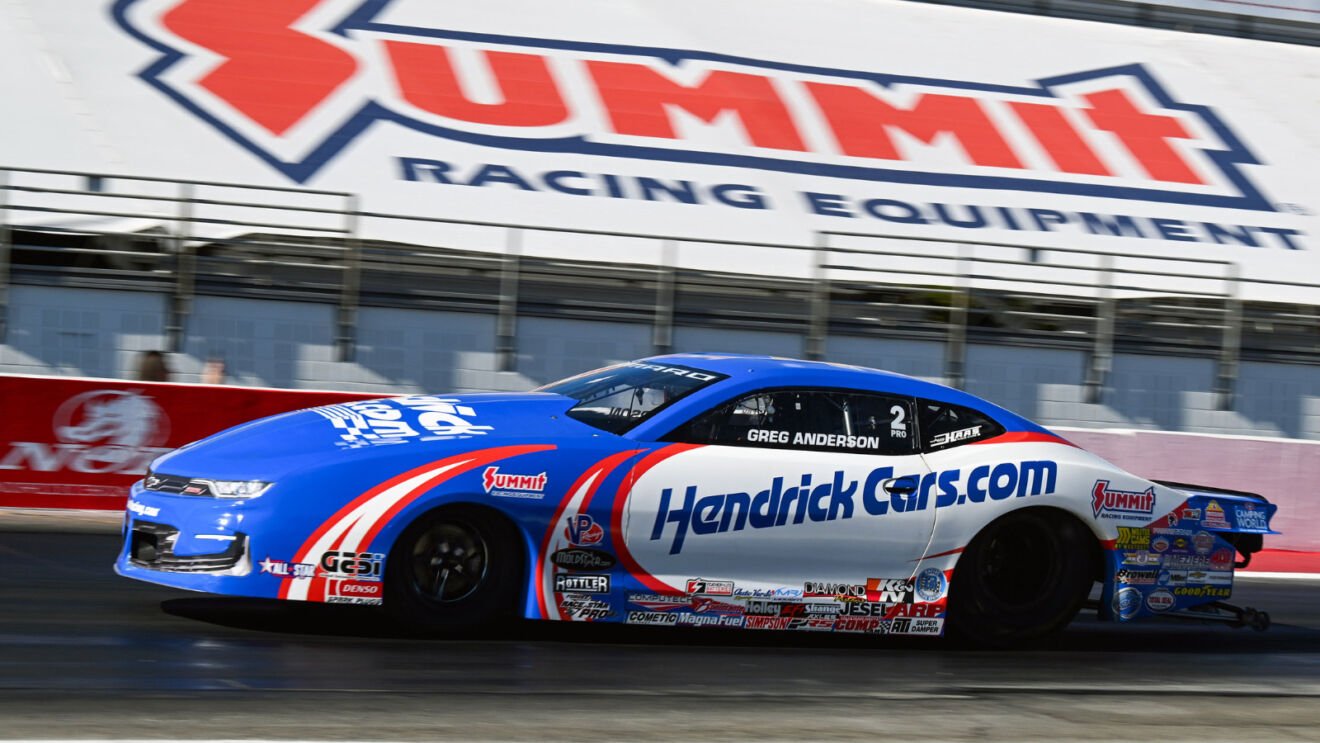 Anderson, the most winning Pro Stock driver in Pomona with 14 momentous victories, threw down a 6.501-second pass at 210.50mph in the first session for a pair of bonus points, and in the later session on Friday, his blistering 6.495, 211.69 closed out the first day of qualifying as the only 6.4 run of the lot. It put him neatly at the top of the pack, while KBT teammates Matt Hartford (6.511), Kyle Koretsky (6.515), and Camrie Caruso (6.518) were also in the mix and finished Friday in the quick eight.

Saturday was a brand-new day, however, and the temperature rose as the sun beat down on the racing surface at In-N-Out Burger Pomona Dragstrip. Crew chiefs Rob Downing, Dave Connolly, and Nate Van Wassenhove hit it just right, and Anderson, along with Hartford and Koretsky, all scooped up valuable bonus points in the waning hours of the Countdown to the Championship. Anderson clocked a best-of-the-session 6.507, 211.49 in the third qualifier with Hartford's 6.510 second-best, and in the final session, Koretsky threw down a killer 6.497 that fell in line just behind Anderson's stunning 6.492, 211.69.

"I was not expecting to improve when we rolled up there, but when we rolled up there, I noticed a few cars, and then when my teammate Kyle ran like he did, I thought, 'Maybe there's something out there; maybe we can do a little better than we did,' " said Anderson. "We went up there with a great package again, and it was something special. It left like a ton of bricks, and I said, 'Oh my gosh, this feels pretty damn good.' It was absolutely fantastic.

"I'm looking forward to tomorrow. It'll be a little hotter, but that's okay. We love racing under the sun. My team has proven they're very good at that, so I'm licking my chops. I'm going to go racing with my head held high as I can, and I'll do the best job I can in the final race of the year. Hopefully, we'll create a memory here and give the guys something great to think about over the winter."

Coming into the event, Anderson was 114 marks behind incoming points leader Erica Enders, and throughout qualifying he was able to chip away at the gap. His 14 bonus points ultimately chopped the difference down to 10 as Enders earned four. If Anderson's championship hopes are to remain alive, his rival must exit in the first round on Sunday, and in order for Anderson to secure the season title, he must win the race.

"My HendrickCars.com Chevy has made four as-close-to-perfect runs as you can make, and you don't get that very often," said Anderson. "I'm extremely pleased with my racecar this weekend, and it set the table to do the best job we can do tomorrow. We don't have any clue how it'll turn out, but I've got a great horse, I've got a great racecar, and I've got a great team behind me. If nothing else, I have a great chance to win. We'll give it all we've got and let the cards fall where they may."

Eliminations at the In-N-Out Burger NHRA Finals will begin on Sunday at In-N-Out Burger Pomona Raceway at 11:00 a.m. PST.