Through a pair of unfortunate first-round losses in the Countdown to the Championship this year, Greg Anderson decided to take in the rest of eliminations from the stands.
As disappointed as he was about the early exits – ending any chance he had for a fifth Pro Stock world championship – he couldn't help but smile as he began to take in what he saw taking place in the stands.
What he witnessed and what he heard was a fanbase still passionate and still very excited about Pro Stock racing, further the legendary Anderson's contention that there is still plenty of life left in the class.
"The people in the grandstands were excited as hell," Anderson said. "I'm telling you, there was as much interest in Pro Stock as any other class. When I got to go up there and be a fan, the fans liked all of it. It reassured my belief that the majority still like this class and are a fan of Pro Stock."
Anderson and his longtime Summit Racing Equipment teammate Jason Line continue to stay positive about the future of the class, even as it has dealt with more twists and turns that to send plenty of others running.
But Anderson, Line and a host of other talented drivers have rolled with the punches, intent on persevering through what everyone will agree is a tumultuous time in the class.
The latest – and certainly the biggest – change came earlier this month when the NHRA announced Pro Stock will move to an 18-race schedule in 2018, a reduction of six races.
While some have pegged it as the writing on the wall and a possible final blow for a class rich in history, Line, Anderson, the sanctioning body and several others in the class have taken a different route.
They hope a smaller schedule leads to more participation, pointing to strong participation in Pro Stock Motorcycle, which has 16 races, and the explosion of Pro Mod, which has 12 events, and, ultimately, more excitement. Line knew it would be easy to take the change as bad news, but in the midst of earning his master's degree the past few years in dealing with change and adversity in Pro Stock, the three-time champion has maintained a positive outlook.
"As participants, our role is reactionary," Line said. "It all comes down to how we react to what
the sanctioning body tells us we need to do in order to compete. We obviously have a little bit of a different mindset going into next year, but I think it'll be fun."
It may have been a tough pill to swallow at first for both veterans, and Anderson said there was some initial disappointment from their longtime sponsor, Summit Racing Equipment. But sensing it could be a good thing for the class, Anderson senses a renewed enthusiasm from his sponsor and the KB Racing team.
"They've got the smiles back on their faces, they're ready to adapt and make changes and so are we," Anderson said.
Those changes to get the Pro Stock momentum swinging back in the right direction aren't fully known yet, but Anderson sees things in motion. As opposed to the 210-plus mph passes people are used to in the class, it's slow-moving change, but steps are being made.
Anderson knows the biggest one would be bringing back manufacturer diversity to a class now almost fully dominated in participation by Chevrolet Camaros.
"We know we have an issue right now where there's not enough different brands of cars," Anderson said. "We absolutely know that's a problem and we're trying and thinking every day to how we can get that back, and get the different brands and factories involved again."
Until that happens, Pro Stock may never recapture that excitement it once had, but there's still plenty being done.
While others have understandably lamented the departure of 2018 world champ Tanner Gray to NASCAR and others, Anderson points to 2017 world champ Bo Butner deciding to stay with the class.
He sees others returning and newcomers as well, and he believes the 18-race schedule will ensure solid participation.
"I know we're going to have enough," said Anderson, who has 91 career wins and 102 No. 1 qualifiers. "The reduction of races, it brings about some negativity, but I think it's more appealing to the racers, especially the ones who can't do all 24. This gets them closer to trying to do the full series and I think there will be more interest."
Said Line: "This gives us the opportunity to do some different things that we haven't done in the past."
For Line, that means more Sportsman racing in 2019, while it means the KB team can log even more time in the shop developing their race program.
That's something that Anderson is anxious about, and he also predicted a reduced schedule isn't far off for other classes and other motorsports.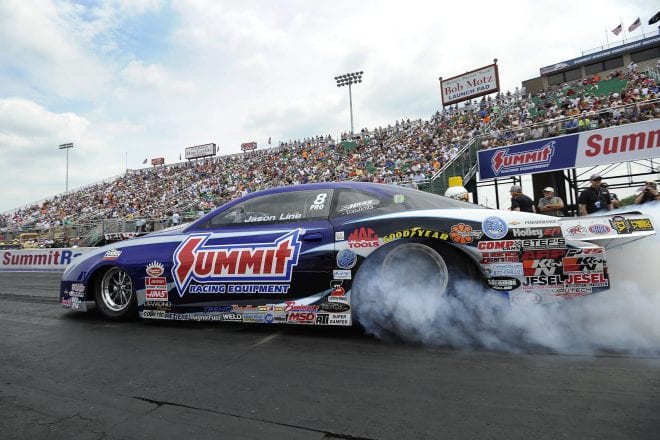 But as far as Pro Stock, the longtime star is adamant the class isn't going anywhere – not now and not in the future.
The class has managed to persevere through a number of changes in recent years and Anderson believes that's a testament to the people in the class. It's also why he remains fully confident Pro Stock will bounce back.
"We want the class to go on forever. We want our kids to be racing in this class," Anderson said. "There would be nothing better than for them to follow in our footsteps. I still believe it's the best class going and every person I come in contact with feels the same way.
"I think the product is great and I don't believe the naysayers who say it isn't. It's still a very exciting class. We don't give up and we're not going to give up. The people in this class, they do not give up. If it was another class, I feel they would throw up the white flag. But we're not going to quit until we figure it out."